Cairo, Egypt
Last updated on Apr 22, 2023
Summary: The approximate population of Cairo, Egypt is estimated to be around 20 million people. People often describe Cairo as a bustling, vibrant city with a unique culture and history. Expats love the city's diverse culture, the delicious food, and the friendly people. The weather in Cairo is generally hot and dry, with temperatures ranging from the mid-50s to the mid-90s Fahrenheit (10-35 Celsius). The average cost of living in Cairo for an expat is estimated to be around $1,000-$1,500 USD per month. The cost of a one bedroom apartment is estimated to be around $400-$600 USD per month, while a two bedroom apartment is estimated to be around $600-$800 USD per month.
What do I need to know about living in Cairo?
When we asked people what advice they would give someone preparing to move to Cairo, they said:
"Before retiring in Cairo, expats should be aware of the cultural differences between their home country and Egypt. It is important to research the local laws and regulations, as well as the cost of living in Cairo. Expats should also be aware of the security situation in the city, and take necessary precautions to ensure their safety. Additionally, expats should familiarize themselves with the local language, as English is not widely spoken in Cairo. Finally, expats should consider the availability of healthcare services in the city, and make sure they have access to quality medical care," said one expat who made the move to Cairo.
What do I need to know before moving to Cairo?
About the Author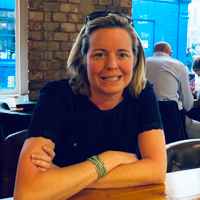 Betsy Burlingame is the Founder and President of Expat Exchange and is one of the Founders of Digital Nomad Exchange. She launched Expat Exchange in 1997 as her Master's thesis project at NYU. Prior to Expat Exchange, Betsy worked at AT&T in International and Mass Market Marketing. She graduated from Ohio Wesleyan University with a BA in International Business and German.
Some of Betsy's articles include 12 Best Places to Live in Portugal, 7 Best Places to Live in Panama and 12 Things to Know Before Moving to the Dominican Republic. Betsy loves to travel and spend time with her family. Connect with Betsy on LinkedIn.