Moscow, Russia
Last updated on Feb 04, 2023
Summary: People often describe Moscow, Russia as a vibrant and exciting city with a rich cultural history. Expats love the city's vibrant nightlife, its many cultural attractions, and its diverse international population. The weather in Moscow is typically cold in the winter, with temperatures ranging from -4 to -14 degrees Fahrenheit, and mild in the summer, with temperatures ranging from 50 to 70 degrees Fahrenheit. The average cost of living for an expat is estimated to be around $2,000 to $3,000 per month. The cost of a one bedroom apartment in Moscow is typically around $1,000 to $1,500 per month, while a two bedroom apartment can cost around $1,500 to $2,500 per month. The approximate population of Moscow is 12.6 million people.
What do I need to know about living in Moscow?
When we asked people what advice they would give someone preparing to move to Moscow, they said:
"Before retiring in Moscow, you should understand the language and culture of Russia. You should also familiarize yourself with the climate and conditions in Moscow. It's important to obtain a valid visa and residency permit or work permit if necessary. Consider your healthcare options and the cost of living in Moscow. Find out what financial services are available and research anti-money laundering regulations. Make sure to research and understand the rules, regulations, and taxes associated with retirement. It is wise to talk to other expats and ask questions about living in Moscow before deciding to retire there," added another expat who made the move to Moscow.
What do I need to know before moving to Moscow?
When we asked people what advice they would give someone preparing to move to Moscow, they said:
"Before moving to Moscow, it is important to be aware of the climate, housing availability, cost of living, transportation options, visa and registration requirements, health care, and language. The climate in Moscow is continental, with warm summers and cold winters. While housing is available, it is expensive, and rental contracts should be thoroughly reviewed before signing. Costs of living in Moscow can also be high. Transportation is convenient, with options such as the subway, buses, trams, and taxis. Visas are required to enter and remain in Russia, and holders of a valid visa must also register with the local government in Moscow, which must be done within seven days of the first day of stay. Health care in Moscow is accessible, however a private supplemental health insurance plan may be necessary. Lastly, being able to speak the language is beneficial, as most locals only speak Russian," explained one expat living in Moscow, Russia.
"Traffic is usually terrible in Moscow so you should choose an area that's convenient for work, school and anything else you do regularly. We preferred living in the centre as we like going out and being close to the theatres, music and concert halls etc. Some people prefer living out of town in the compounds, mainly for the children. There are some lovely family friendly areas in town too. It's basically about reaching a convenient compromise for your whole family," said another expat in Moscow.
Answer Question & View More Answers
How do I find a place to live in Moscow?
We asked expats how they chose their neighborhood and found a place to live. They answered:
"If you are looking for a place to live in Moscow, there are a variety of options available to you. You can start by checking out rental listings in newspapers, websites and other resources. Additionally, you can also contact real estate agents or use an online property search engine. You can also look into other locations like vacation rentals and furnished apartments. Do keep in mind that Moscow is a large city, so it is important to research the different neighborhoods and determine the best options for you," wrote a member in Moscow.
"We chose a family friendly area - Chisty Prudi - and used Evans estate agent for our first two apartments and Penny Lane for our last one. We used others too but Evans worked out to be the most reasonable overall and their agent actually listened to what we wanted, rather than showing us a whole load of rubbish. Penny Lane did a great job helping us find our last apartment," commented one expat who made the move to Moscow.
What is a typical expat home or apartment like in Moscow?
"Expat homes and apartments in Moscow tend to be spacious and comfortable with plenty of modern amenities. They usually feature modern kitchens with built-in appliances, large living room areas and bathrooms with all the latest fixtures. Expat apartments may also offer in-house amenities including saunas, fitness centers, concierge service, laundry facilities and 24-hour security. Expats can find apartments from single rooms to luxurious penthouses in the city's most sought-after neighborhoods," added another expat in Moscow.
"Apartment. Yes, in town it's almost always an apartment. Some expats prefer to live in the compounds out of town, which are usually town houses," remarked another expat who made the move to Moscow.
What is the average cost of housing in Moscow?
If you are thinking about moving to Moscow, cost of living in probably a key consideration. Expats commented about the cost of housing:
"The cost of housing in Moscow varies depending on the area, type of accommodation and other factors. On average, a one-bedroom apartment in the city center may cost between 20,000 and 40,000 rubles per month, while a larger three-bedroom apartment may cost as much as 60,000 rubles per month," remarked another expat living in Moscow, Russia.
"Much higher. I could rent a house on the beach in South Carolina for the price of a 2 room flat here. Expect to pay $1200-1800 a month if you live alone," added another expat in Moscow.
How do I meet people in Moscow?
When we asked people living in Moscow about club and activities where newcomers can meet others, they responded:
"Connect with people who have similar interests as you by joining hobby or sports clubs, attending cultural events such as concerts, art galleries, and museums, or taking language classes. Look for local events and meetups in your area or use social media platforms to connect with others. Through work, you may also meet new people: for example, anyone from local schools, universities, or businesses. You can also make connections through your neighborhood or with people from your home country living in Moscow. Make the most out of the opportunities around you and don't be afraid to reach out to people as you'll likely find more than your fair share of people in Moscow looking to make friends," added another expat who made the move to Moscow.
What should I bring when moving to Moscow?
People living in Moscow were asked what three things they wish they had brought and three they wish they had left behind. They wrote:
"Clothing for all seasons, waterproof boots and shoes, hat, scarf, and gloves for winter, warm layers of clothing for cold weather, sunglasses and sunscreen for summer, an umbrella for possible rain or snow. Toiletries, kitchenware, bedding, towels, first-aid kit, and cleaning supplies. Electronic items such as a laptop, a smartphone, and adapters. Prescription medicines. Valuables such as jewelry and important documents. Mosquito repellent, air purifier, and air conditioner (if needed). Books, music, and other entertainment items. Cash in rubles, credit cards, and travelers checks," wrote a member in Moscow.
"You can pretty much get everything in Moscow now (although some basic things are still ridiculously expensive!), but I would take Marmite and Pimm's. We left most things at home due to customs as we didn't want any hassle when leaving the country in terms of additional paperwork," commented one expat who made the move to Moscow.
Where should I setup a bank account in Moscow?
We asked expats in Moscow what banks they use and there advice about banking. They advised:
"Setting up a bank account in Moscow can be done through banks located throughout the city. The four main government-owned banks in Moscow are Sberbank, VTB24, Alfa Bank, and Gazprombank. Private and international banks with branches in Moscow include Citibank, BNP Paribas, and HSBC. In order to open an account, you may need to bring your passport, proof of residence, and other documents," said another expat in Moscow.
"Yes, Raiffeisen Foreign currency accounts offered including Dollars, Euro, Sterling. No charge for transferring funds between accounts when using internet banking services. Full internet banking service available," added another expat who made the move to Moscow.
Will I be able to find a job in Moscow?
When we asked people about industries and career opportunities in Moscow, they reponded:
"Finding a job in Moscow depends on your qualifications and the city's current job market. Moscow is a large city with a diverse economy, so there are many opportunities for employment. To increase your chances of securing a job, you should research the specific skills and experience needed for the type of position you are interested in, as well as familiarising yourself with the Russian language and culture. Additionally, networking to build contacts in the city is a good way to find potential job opportunities," remarked another expat living in Moscow, Russia.
What is life like in Moscow?
When we asked people living in Moscow what life is like and how people spend their time, they said:
"Living as an expat in the area can be a very rewarding experience as it offers the opportunity to experience a new culture, lifestyle and language. Life in the area allows for a wide range of activities and opportunities including taking part in festivals and events, exploring the local cuisine, and traditional architecture, as well as opportunities to participate in activities such as sailing, diving, or watersports. The area also has a great variety of places to shop and beautiful sandy beaches. The local people are very friendly and welcoming and there is an active expat community. The cost of living is generally low, with high quality and affordable housing, transportation and health care. The climate is pleasant, with warm summers and mild winters. In general, it is an idyllic area to live in as an expat and by taking some time to settle in, it can make adapting to a new culture much easier," said another expat in Moscow.
What do expats in Moscow appreciate most about the local culture?
"Expats in Moscow appreciate the vibrant cultural and artistic history of the city, as well as its deep roots in literature, art, and music. Moscow's theatrical heritage is also highly regarded among its expats, who can often be found attending shows at the Bolshoi Theatre, the Moscow Art Theatre, and numerous other venues throughout the city. Moscow's rich local cuisine is another popular aspect of life for expats, who are often overwhelmed by the sheer variety of restaurants and cafes. Finally, expats can often be found exploring Moscow's many iconic landmarks, from the Kremlin and Red Square to the Cathedral of Christ the Saviour and the Seven Sisters of Stalin," remarked another expat living in Moscow, Russia.
What do expats find most challenging?
"Expats often find the language barrier to be one of the most challenging aspects of moving to a new country. Additionally, they may also find it difficult to adjust to the culture and customs of their new surroundings. Financial issues can also be a challenge, such as cost of living and currency exchange rates. In addition, for those who are relocating with children, finding a suitable education for their children can be a daunting task. Finally, emotional aspects such as homesickness, missing family and friends, and feeling like a foreigner in a foreign country can be having a difficult experience," explained one expat living in Moscow, Russia.
Is there a lot of crime in Moscow?
We asked people if there is a lot of crime. They answered:
"There is crime in Moscow, just like in other cities, but the crime rate is lower than in many major cities in the US and Europe. According to reports from the Moscow police, the city has seen decreases in both the rate and number of crimes reported in recent years," added another expat in Moscow.
Is there a lot of diversity? Are people in Moscow accepting of differences?
"Moscow is a culturally diverse city, with people from around the world and from many different ethnic backgrounds. The city is home to many different ethnic and religious communities. People in Moscow generally show acceptance toward diversity. Everyone in the city is welcomed and respected for their differences. People in Moscow live together and have lively conversations about everyday topics and issues, often showing tolerance and respect for each other's opinions," remarked another expat living in Moscow, Russia.
What are the schools in Moscow like?
"Schools in Moscow generally offer a comprehensive education with a wide range of courses in a variety of fields. Many of the schools are state-funded, although there are several private schools that serve both the expatriate and Russian communities. Most schools follow the standard curriculum established by the Ministry of Education, and emphasize the use of modern technologies in the classroom. Additionally, many schools offer additional special programs such as contemporary music instruction, foreign language courses and extracurricular activities. Generally, there is a strong emphasis on academic excellence and performance," remarked another parent with kids at in Moscow.
"A pricey school with the curriculum of a mid-level American public school. It changed to common core a few years ago which is baffling and the change was done apparently without clear understanding of the international parents. It is now a mish mash of PYP, common core and IB programming. The math program is very poor. They run some standard testing but the computer systems often fail during testing and scores are therefore uneven. Teachers' kids appear to be given preferential treatment. Teachers have special use of facilities and parents are made to pay to even use the gym facilities! This school is sub par in my opinion. It is a shiny, beautiful building on the outside, without the academic structure you would expect. Administration is not responsive and can actually be unwelcoming to those who point out problems. We were glad to leave," explained one expat living in Moscow, Russia.
Answer Question & View More Answers
About the Author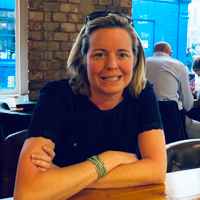 Betsy Burlingame is the Founder and President of Expat Exchange and is one of the Founders of Digital Nomad Exchange. She launched Expat Exchange in 1997 as her Master's thesis project at NYU. Prior to Expat Exchange, Betsy worked at AT&T in International and Mass Market Marketing. She graduated from Ohio Wesleyan University with a BA in International Business and German.
Some of Betsy's articles include 12 Best Places to Live in Portugal, 7 Best Places to Live in Panama and 12 Things to Know Before Moving to the Dominican Republic. Betsy loves to travel and spend time with her family. Connect with Betsy on LinkedIn.