Expats Talk about Health Insurance and Healthcare in Bangkok
Last updated on Jan 03, 2023
Summary: Expats, digital nomads and retirees talk about the best hospitals in Bangkok (i.e. Bumungrad), the cost of medical care, health insurance and more.
How are healthcare services Bangkok?
When we asked expats and global nomads about the quality of medical care in Bangkok, they replied:
"Compare hospital costs for same procedure. Use hospital web sites to review medical bios of their doctors. Consultations are inexpensive and a good way to evaluate doctors. Use private hospitals for faster service and less waiting times. Check availability of 3rd party billing for in-patient procedures," mentioned another expat in Bangkok.
"The healthcare front liners and the facility from private hospitals and government hospitals are very accommodating when it comes to immediate needs. The country's tagline "Amazing Thailand" speaks for itself," commented one expat living in Bangkok, Thailand.
What are emergency services like in Bangkok?
When we asked about emergency services, members in Bangkok wrote:
"There are many private hospitals close in Bangkok; I use four ranging in distances of about 1 to 10 kilometers. Bangkok Medical Center; Bumrungrad; Mayo; and Vibhavadi. ER services so far have been very good and inexpensive. Traffic is a problem, so I have taken a taxi when possible to save time. Hospital care has been professional and more user friendly than US. I always use private, if available, for faster service," remarked another expat living in Bangkok.
Will I need to travel to see a specialist?
"I have not needed to travel outside of Bangkok to see specialists or for serious health issues," said an expat in Bangkok.
Are common prescription medications available in Bangkok?
"So far all the meds I have needed are available locally; if not in drug stores then at the hospitals. Some are available without prescription while others are not; not sure why? Non generics are just as expensive as in the US," added another expat.
"Closest hospital is about 3 miles, do not have current info on it. There are 2 private hospitals that are like staying in a 5 star hotel not far away," remarked another expat living in Bangkok.
What have your experiences during the pandemic with the local healthcare system been like?
We asked members about local medical facilities in Bangkok, they wrote...
"It's not my own experience but as local residents here have seen the neighborhood's reaction after being treated in our nearby hospital, they feel horrible. One of our relative's experiences was more horrific because his dad had a heart attack and was sent to the nearest hospital to get immediate treatment but his dad died as soon as they reach the emergency unit, the doctors and nurses declared his dad died because of COVID19. My cousin was totally mad after hearing this since they knew it was a heart attack. Another example was our neighbors who got stabbed and died but they announce that he died because of COVID19. Later on, we've seen on television and heard in the news that our healthcare insurance and some of our medical services such as hospitals and clinics were corrupt and the government filed a lawsuit for falsification of death reports. In our govt system, every confirmed COVID-19 patient who was confined in particular hospitals will receive medical support from the govt. Some hospitals that receive new patients will automatically confirm as COVID-19 patients so that they can get the budget funds from the govt. This is sad," said one expat living in Bangkok.
About the Author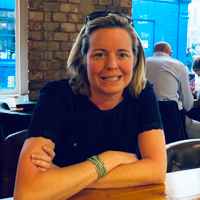 Betsy Burlingame is the Founder and President of Expat Exchange and is one of the Founders of Digital Nomad Exchange. She launched Expat Exchange in 1997 as her Master's thesis project at NYU. Prior to Expat Exchange, Betsy worked at AT&T in International and Mass Market Marketing. She graduated from Ohio Wesleyan University with a BA in International Business and German.
Some of Betsy's articles include 12 Best Places to Live in Portugal, 7 Best Places to Live in Panama and 12 Things to Know Before Moving to the Dominican Republic. Betsy loves to travel and spend time with her family. Connect with Betsy on LinkedIn.