Retire in Genoa, Italy
Last updated on Sep 17, 2022
Summary: Retirees share their experiences living in Genoa, Italy. What are the challenges and rewards of retiring in Genoa?
How do I meet people in Genoa?
When we asked people living in Genoa about club and activities where newcomers can meet others, they responded:
"Thursday night Aperitivo in Inglese. You can find them on Facebook. Internations (Genova branch). There is also Hiking in Ingese," remarked another retiree in Genoa.
"-For Books try FNAC on Via 20 September -For Curry try the Asian Super Markets along from Porto Antico toward Station Principe -For Ex-Pats try the English Bar off a side street Nr Piazza di Ferrari (on left as you head towards Via Garibaldi," said a retiree who moved to Genoa, Italy.
What do I need to know before retiring in Genoa?
When we asked people what advice they would give someone preparing to move to Genoa, they said:
"Lots of hills. Lots of rain in the winter. bitter cold. Head south for the winter," added another person in Genoa.
"Be prepared for lots of form filling and walking up and down hills. Genova is very, very hilly. Relatively un-touristed other then by Italians, and, in my opinion, an undiscovered treasure as far as the English are concerned," remarked another retiree in Genoa.
About the Author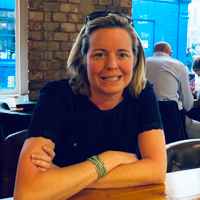 Betsy Burlingame is the Founder and President of Expat Exchange and is one of the Founders of Digital Nomad Exchange. She launched Expat Exchange in 1997 as her Master's thesis project at NYU. Prior to Expat Exchange, Betsy worked at AT&T in International and Mass Market Marketing. She graduated from Ohio Wesleyan University with a BA in International Business and German.
Some of Betsy's articles include 12 Best Places to Live in Portugal, 7 Best Places to Live in Panama and 12 Things to Know Before Moving to the Dominican Republic. Betsy loves to travel and spend time with her family. Connect with Betsy on LinkedIn.