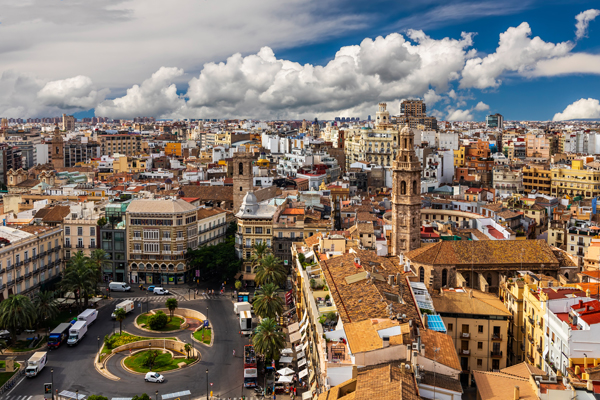 Retiring in Valencia is a dream come true for many international retirees. The city offers a unique blend of modern amenities and historic charm, with a cost of living that is significantly lower than many other European cities. However, like any major life change, retiring in Valencia comes with its own set of challenges. From learning a new language to navigating the local healthcare system, there are many factors to consider when planning your retirement in this vibrant Spanish city.
Cost of Living in Valencia
One of the biggest draws for retirees in Valencia is the affordable cost of living. Housing, groceries, and utilities are all significantly cheaper than in many other European cities. For example, a one-bedroom apartment in the city center can be rented for as little as €600 per month. Eating out is also affordable, with a meal at a mid-range restaurant costing around €10-15.
Valencia's Climate
Valencia boasts a Mediterranean climate, with hot summers and mild winters. The city enjoys more than 300 days of sunshine per year, making it an ideal destination for retirees who enjoy outdoor activities. However, the summer heat can be intense, with temperatures often exceeding 30°C (86°F).
Healthcare in Valencia
Spain's healthcare system is highly regarded, and Valencia is home to several top-rated hospitals and clinics. However, while EU citizens are eligible for free healthcare, non-EU retirees will need to secure private health insurance. It's also worth noting that while many doctors speak English, this is not always the case, so some knowledge of Spanish can be beneficial.
Residency Options
Spain offers a variety of residency options for retirees, including the non-lucrative visa, which allows you to live in the country without working. To qualify, you'll need to prove that you have sufficient funds to support yourself, and you'll also need to have health insurance.
Recreational Activities in Valencia
Valencia offers a wealth of recreational activities for retirees. The city is home to numerous parks and gardens, including the Turia Gardens, which is one of the largest urban parks in Spain. Valencia is also renowned for its vibrant food scene, with popular restaurants such as La Pepica and Casa Carmela offering traditional Valencian cuisine.
Learning Spanish in Valencia
While it's possible to get by in Valencia with just English, learning Spanish can greatly enhance your retirement experience. There are numerous language schools in the city, including Taronja and Españolé, which offer intensive Spanish courses for all levels.
Valencian Locals
Valencians are known for their friendly and welcoming nature. The city has a relaxed pace of life, and locals often spend their evenings socializing in the city's many bars and cafes. However, it's worth noting that the local dialect, Valencian, is quite different from standard Spanish, so it can take some time to get used to.
Valencia's Markets
Valencia is famous for its markets, with the Central Market being one of the largest and most popular. Here, you can find a wide range of fresh produce, meats, cheeses, and other local products. The market is a bustling hub of activity, and a great place to immerse yourself in the local culture.
Housing Options for Retirees
Most retirees in Valencia choose to live in apartments, which are plentiful and affordable. The city center is a popular choice, with its historic buildings and close proximity to amenities. However, for those seeking a quieter lifestyle, the suburbs offer larger homes and a more relaxed pace of life.
Transportation in Valencia
Valencia has an excellent public transportation system, with a network of buses, trams, and metro lines. The city is also very walkable, with many of the main attractions located within a short distance of each other. As such, owning a car is not necessary for most retirees.
In conclusion, retiring in Valencia offers a unique blend of affordability, culture, and quality of life. However, it's important to do your research and plan ahead to ensure a smooth transition to your new life in Spain.