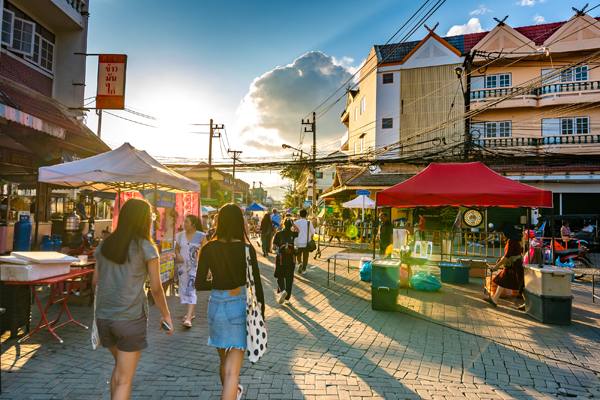 1. Understanding the Driving Culture
Driving in Chiang Mai can be quite different from what you're used to. The traffic can be chaotic and the driving rules are not always strictly followed. It's common to see motorbikes weaving in and out of traffic, and drivers often don't use their indicators. It's important to always be alert and cautious when driving.
2. Type of Vehicle
Many expats and locals prefer to drive scooters or motorbikes due to the heavy traffic and narrow streets. However, if you prefer a car, a small, compact car would be the most practical choice. It's easier to navigate through the traffic and find parking with a smaller vehicle.
3. Parking
Finding parking in Chiang Mai can be challenging, especially in the city center. However, most shopping malls, hotels, and some restaurants offer parking spaces. Parking is usually free or very cheap, but it's always a good idea to check beforehand.
4. Driving License
Foreigners can drive in Thailand with an International Driving Permit (IDP) for up to 90 days. After that, you will need to get a Thai driving license. To do this, you will need to go to the Department of Land Transport with your passport, a medical certificate, your IDP, and a proof of address. You will also need to pass a written test and a driving test.
5. Road Safety
Always wear a seatbelt when driving a car or a helmet when riding a motorbike. It's not only for your safety but also required by law. Also, be aware that drink driving is a serious offense in Thailand and the legal limit is lower than in many western countries.
6. Be Prepared for Traffic Jams
Traffic in Chiang Mai can be heavy, especially during rush hour. It's a good idea to allow extra time for your journey or consider alternative routes.
7. Be Respectful of the Royal Family
It's important to note that when the national anthem is played (usually at 8 am and 6 pm), everyone is expected to stop their vehicles and stand still. This also applies when a royal motorcade passes.
8. Be Aware of the Weather
During the rainy season (May to October), roads can become slippery and visibility can be poor. Be extra cautious when driving during this time.