Expat Chile: The Best Places to Live in Chile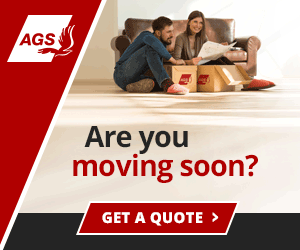 Summary: Expats in Chile enjoy the country's beaches, beautiful cities and lower cost of living. Santiago, La Serena, Vina del Mar and other destinations top their favorite places to live in Chile.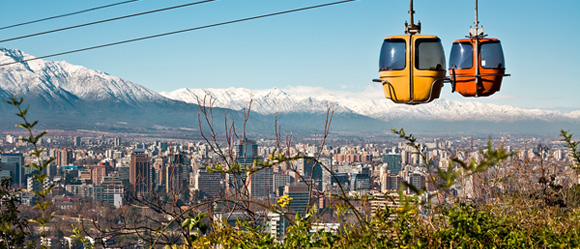 Santiago, Chile
Population: Approximately 5.6 million
Location: Inland, Central Chile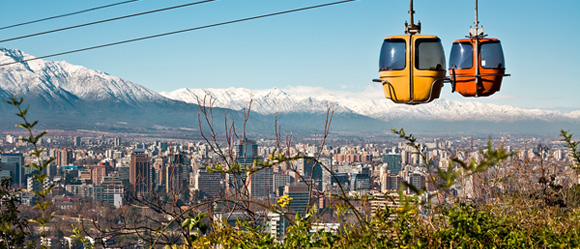 An expat living in Santiago provided an insightful overview of life there, "finding other expats here in Santiago is not very difficult at all really. Just take a stroll down Isidora Goyenechea or El Bosque and you'll feel as though you found a street somewhere in the U.S. Santiago is a very diverse city in terms of religious, racial, economic and cultural matters. They seem very accepting of any religious groups but I have noticed here a strong tendency towards "classism" and a definite prejudice (among some) towards any darker skinned people. There is a definite divide among different social classes. The job market is a bit tough here just now but if you teach English, you shouldn't have a problem finding work. Also, anyone in the technical (computer) or health fields should not have trouble finding work either. Although it is possible to find work before you come to Chile, most employers prefer that you are already here in Chile before they hire you. I would tell a friend looking to move here to learn a little Spanish first, don't bring everything you own with you because you can find all you need here and prepare to have a wonderful, new cultural experience because Chile is an interesting and beautiful place to live."
Another expat described her suburb of Santiago, "we live in a small community on the west side of the city that is now officially the 'safest' in all Chile. Where they get that statistic I am not sure but anyway. There are 250 houses here with one dead end road in and out. A river on one side and mountain behind us. There are very few houses for rent here. When is your time frame and what kind of price range do you have? I will check to see what is possible. There are many building going up as they are expanding by 60 houses down near the river but I can't imagine any of those will be rentals. Ours will be available in about 6 months as our house goes up though. If you are looking on a map it is part of Santiago and Pudahuel. It is called 'Lomas de lo Aguirre.' It looks far from the city, but by car is 15 min to town. By bus/subway during high traffic it is 1 hour plus (they use a different route and stop a lot :) But we use them a lot, you just plan ahead. Most expats live in several areas of the city that are indeed pricey and similar to the US big city. We are in a quite nice house and pay $800 USD a month for a nice 4BR house. So as usual expenses are a function of where you have to live."
Another expat said, "I have been to Santiago 3 times now....I have lived here 4-5 months this time. My experience is that the people have been very very friendly, that it is relatively cheap to live. I came from Canada so for me food prices, rents, and especially alcohol are dirt cheap! I feel safe walking alone here....my Spanish is not good but when I tell people I speak English they are very patient and try to help. I think it's a great place to live!"
La Serena, Chile and Coquimbo City, Chile
Population: Approximately 200,000
Location: About 5 hours 20 minutes north of Santiago
"La Serena is linked by the Ocean front with Coquimbo City. Both add up to nearly 350,000 people. The beach length is over 10 kilometers. So if you want to enjoy the Ocean, you should rent an apartment on the shore line. La Serena City has an Spanish architecture on the centre. It is a beautiful city. Coquimbo City is more popular. They have the pier for fishing boats and the fish market. This city is more popular, less organized and they have several pubs for dancing. Both cities have different charms, so you must choose where to live there. La Serena must be seen with Coquimbo as Twin Cities as they are neighboring cities. La Serena is more organized, one of the oldest cities of Chile, keeping some Spanish style. Coquimbo is more popular, more workers living on it, but has the charm of the port, the always attractive fish market and the fun of the lay people. Regarding weather -- it is like a permanent Spring -- never cold and seldom over 30C. Today at the start of the winter, the ranges were 12C and 21C. Both cities have a fantastic beach of more than 10 kilometers. Nice for swimming, walking and watching birds. There is always room to be alone, isolated on such a lengthy beach. If you go off season, the better. For your information, Chileans mostly have their vacations concentrated in only two months of the year: January and February. Also, another fun date for Chileans are Fiestas Patrias, the days around 18th and 19th of September when we celebrate Independence. If you like local customs, you shouldn't miss this celebration. It is an entire week of holiday, so people come massively to La Serena on these days. But the rest of the year, you have 9 months and 3 weeks of beach activity just for local people. Coquimbo people are unique in Chile. They take tents and celebrate for an entire week to a place called La Pampilla, around the end of September. La Serena is not surrounded by desert. Just look Google Earth. It is a dry area and a severe draught is affecting it. If you move 60 kilometers to Ovalle into the inner valleys, there are big green parcels of land full of grapes, avocado trees and vegetables. You have both dry soil with cactus and scarce food for the people's goats, and at the same time beautiful green areas. La Serena is really close to Santiago by air. it is a 450 kilometer ride, or 6 hours for normal, good bus lines and there are many of them. So, you always can travel to Santiago for business or for shopping. La Serena has branches of all the major department stores of Santiago. So, you can find almost anything you may need," described one expat living in Chile.
Vina del Mar, Chile
Population: Approximately 325,000
Location: on the Coast4.5 hours, approximately 1 hour 40 minutes northwest of Santiago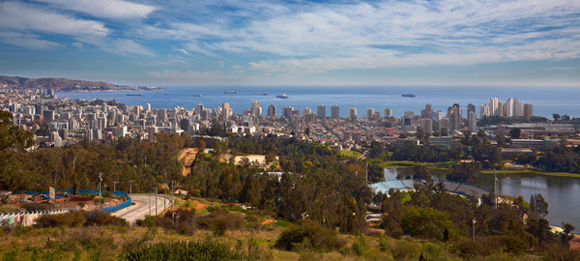 "This [Vina del Mar] is BY FAR the best city to live in Chile, we have a community of over 600 expats, at least 200 from the US, many retirees. Near the end of each month, we organize a get-together, you will be able to get all the tips from Visa to Healthcare," wrote one expat in a thread about Vina del Mar.
"I currently live in Los Angeles California with my partner and we visit Vina del Mar every year. We are planning to retire in 2016. We just bought a condo together in Vina just 3 blocks from the ocean, brand new for about 150K. Chile is beautiful, safe, the people are friendly. I have read a lot about how to immigrate to Chile and it is very easy as long as you can prove you have a retirement income," recommended one person moving to Vina del Mar. Another said, "to give you an example, if you choose to live in the resort town of Vina del Mar, you can rent a 2 bedroom in a good part of town for about 500 mil pesos (about one thousand dollars) and you can definitely pay all the other bills and live a comfortable life."
Pucon, Chile
Population: Approximately 14,000
Location: 4.5 hours south of Concepcion in the Lakes Region
An expat living in Pucon, Chile described the area saying, "Pucon is blessed with lakes, rivers, three national parks, a national forest, a ski slope, salmon fishing, river rafting, sailing, scuba diving, parasailing, parachute jumping, canoeing/kayaking, trecking, cycling, jogging and marathons. There is a golf course, the main hotels have swimming pools and in the surrounding areas there are several hot springs / day spas. There are tennis courts, massage parlors, exercise rooms, gymnasium, yoga classes. Plenty to see and do."
Puerto Varas, Chile
Population: Approximately 24,000
Location: 7 hours south of Concepcion in the Lakes Region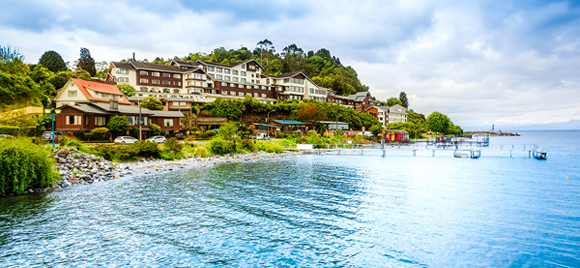 An expat who moved to Puerto Varas said, "Puerto Varas and Pucon are the two nicest places in the south of Chile that I can recommend. The expats who don't want to live in a big city like Santiago would do well to consider the beautiful, laid back but tasteful cities in the Lakes region."
About the Author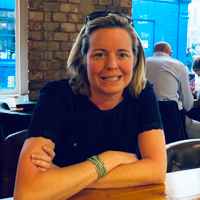 Betsy Burlingame is the Founder and President of Expat Exchange and is one of the Founders of Digital Nomad Exchange. She launched Expat Exchange in 1997 as her Master's thesis project at NYU. Prior to Expat Exchange, Betsy worked at AT&T in International and Mass Market Marketing. She graduated from Ohio Wesleyan University with a BA in International Business and German.
Some of Betsy's articles include 12 Best Places to Live in Portugal, 7 Best Places to Live in Panama and 12 Things to Know Before Moving to the Dominican Republic. Betsy loves to travel and spend time with her family. Connect with Betsy on LinkedIn.
Comments
albatross1969
I believe that expats should travel South and explore Cities that are not like the Cities they have left behind. Pucon, Valdivia, Peurto Montt, Orsorno to name a very few. I am an expat from Melbourne Australia, I came to Chile to retire and get away from the hustle and bustle of city life and be at peace with the countryside style of living.