Moving to Ukraine
Last updated on Nov 27, 2021
Summary: Moving to Ukraine? Expats talk about what you need to know before moving to Ukraine.
Should I buy or rent a home in Ukraine?
If you have not spent a lot of time in Ukraine, you should rent before even thinking about buying. We asked expats there about the buy vs. rent decision:
"We moved in with my Ukrainian mother-in-law, into her two-bed apartment. I invested time and money refurbishing the place. I agree to pay all the bills which, for the three of us, averages at 750 uah per month (£20.50). We are thinking about buying a house in one of the surrounding villages, which is a good option if you drive. You can pick up a 3 bed house relatively cheaply, and it's great to have your own "dacha" in the summer near a river of forest," explained one expat living in Kharkov, Ukraine.
"rented through an agent with the help of my partner. Very easy and did not even give first and last month rent , only first. We have 2 bedrooms , furnished nicely, flat screen tv, high speed internet, grocery shopping and parks in immediate vicinity as well as recreational facilities as mentioned above. Cost 550. to 600. US $ per month includes everything, except food of course," said another expat in Kharkov.
How are healthcare services Ukraine?
When we asked expats and global nomads about the quality of medical care in Ukraine, they replied:
"I don't know if I can give advice concerning medical centers as long as I need medical help not that often. Here I can share my experience in medical treatment in Kyiv or Kiev. For me it was necessary whether the clinic works with International insurance companies and in which way. I was suggested to pay myself and then make the reimbursement of the expenses. I was given all the necessary documents and didn't have any trouble with my insurance company," commented another expat living in Kiev.
"If you travel in Ukraine make sure you have real good international health insurance. I had a kidney stone attack and had to fly to New York for my surgery at the V.A. (Veterans Hospital) which the service is totally free. I am receiving 100% disability from the V.A. so all my medicals costs are paid by the V.A. including medicines," commented one expat who moved to Kiev, Ukraine.
"Pharmacies are everywhere in a city, on every corner. Which is great, but i suggest not to end up in a hospital. They stink. Literally as well," said one expat living in Kiev, Ukraine.
About the Author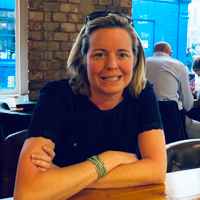 Betsy Burlingame is the Founder and President of Expat Exchange and is one of the Founders of Digital Nomad Exchange. She launched Expat Exchange in 1997 as her Master's thesis project at NYU. Prior to Expat Exchange, Betsy worked at AT&T in International and Mass Market Marketing. She graduated from Ohio Wesleyan University with a BA in International Business and German.
Some of Betsy's articles include 12 Best Places to Live in Portugal, 7 Best Places to Live in Panama and 12 Things to Know Before Moving to the Dominican Republic. Betsy loves to travel and spend time with her family. Connect with Betsy on LinkedIn.