Living in Ukraine
Last updated on Feb 04, 2023
Summary: The approximate population of Ukraine is 42.5 million people. The largest cities in Ukraine are Kiev (the capital), Kharkiv, Dnipro, Odessa, and Donetsk. Expats love living in Ukraine for its low cost of living, friendly people, and vibrant culture. Life in Ukraine is described as relaxed and laid-back, with a strong sense of community. Popular foods in Ukraine include borscht (a beetroot soup), varenyky (dumplings filled with potatoes, cheese, or cabbage), and salo (cured pork fat). The cons of living in Ukraine include the language barrier, the lack of reliable public transportation, and the lack of job opportunities. The average cost of living for an expat is around $1,000-$1,500 per month. This includes rent, utilities, food, and other expenses.
What do I need to know about living in Ukraine?
When we asked people what advice they would give someone preparing to move to Ukraine, they said:
"Ukraine is a large country with a wide range of climates, ranging from oceanic in the west to continental in the east. Before retiring in Ukraine, it's important to consider your preferred climate and lifestyle. Health care is generally good in Ukraine, but health insurance is not always available, so it is a good idea to research and compare different health insurance options to ensure your health needs are covered. It is also important to understand immigration and tax laws, as you may need to obtain residence or citizenship in order to retire in Ukraine. Cost of living can vary in Ukraine, depending on your chosen location and lifestyle. Therefore, it is important to research and consider different costs such as accommodation, food, and transportation, in order to choose an area that fits within your budget. Finally, language is an important factor to consider when living abroad. Ukrainian is the official language of the country and although Russian is also widely spoken, it is not the official language so learning Ukrainian is recommended," added another expat in Ukraine.
"Do not unless you have enough money to support yourself without working and you like long cold winters, terrible drivers and terrible food," remarked another expat who made the move to Kiev.
Answer Question & View More Answers
How do I meet people in Ukraine?
When we asked people living in Ukraine about club and activities where newcomers can meet others, they responded:
"Socializing in Ukraine is not too different from any other country. There are plenty of places to go and meet people. You can start by joining or forming a club or group that caters to your interests or hobbies - this is a great way to meet like-minded people and eventually make friends. You can also look for activities in your local area, such as attending a language class or volunteering for a local charity. Going out and making small talk with people in cafes, bars and other places frequented by locals is also a great way to meet people in Ukraine. Networking at local events and conferences can also be beneficial. Last but not least, putting yourself out there by being confident and open to new experiences is always key to connecting with people," commented one expat who made the move to Ukraine.
What is life like in Ukraine?
When we asked people living in Ukraine what life is like and how people spend their time, they said:
"Life as an expat in the area can be both exciting and challenging. The culture, language and customs are different from most home countries, and it can be difficult to adjust to a new way of life. However, there are plenty of expats who have gone before, so there is a community for expats to seek advice and make connections. Life in the area is generally multicultural, with a wide variety of restaurants, entertainment options, parks, and other activities for expats to explore. The cost of living is moderate and the transportation systems are reliable and convenient. Overall, life as an expat in the area can be a great experience, as long as one is open to new experiences and is willing to put in the effort to learn the new culture and make connections," wrote a member in Ukraine.
"Life for the girls definitely revolves around fashion. Whoever can look the best has a better chance to leave the country with a rich man is what their mother taught them and sadly enough, it's true," commented one expat who made the move to Kiev.
Answer Question & View More Answers
Is there a lot of crime in Ukraine?
We asked people if there is a lot of crime. They answered:
"Answer: The level of crime in Ukraine varies depending on the region. Generally, crime is still a concern in larger cities and tourists should take caution, particularly when travelling around at night. Petty crimes such as pickpocketing and theft are common in areas with high concentrations of people. More serious crimes, such as muggings and assaults, are also very possible, although they are not as frequent," remarked another expat who made the move to Ukraine.
"First a comment about the conflict in he Donbass region. The Ukraine is such a big country compared with England, we only had one small incident last summer in the city, but Kharkov where I live has been peaceful. I have to say the youth in this country demonstrate far more respect for adults than in the UK. I've never seen any problems. You do get a few drunks at night in the parks etc, but I don't go to any potentially risky places. As I stated above, crime takes on a different guise here in the form of corruption. And I do get ripped off occasionally by market traders because I'm foreign. On balance, especially in the evening, I'd actually say that Kharkov is a safer place to be than in England. There are many inner city areas in the UK that are best avoided at night," explained one expat living in Kharkov, Ukraine.
Answer Question & View More Answers
Is there a lot of diversity? Are people in Ukraine accepting of differences?
"Ukraine is a multicultural and multiethnic country and it is estimated that 33 nationalities live here. This includes Ukrainians, Russians, and Roma. Generally, people in Ukraine are tolerant and respectful of differences in race and belief system. There is a large LGBT community in Ukraine with some cities recognizing same-sex partnerships and hosting LGBT pride parades. Although Ukraine has a long history of religious diversity, it is still predominately Orthodox Christian," added another expat in Ukraine.
"Absolutely not diverse. Did you see the Parliament fist fighting on TV because one of the members delivered a speech in Russian language and not the Ukrainian language!," remarked another expat who made the move to Kiev.
Answer Question & View More Answers
What are the schools in Ukraine like?
"Schools in Ukraine generally have similar features to those in other countries including classrooms, desks, blackboards and curriculum. The main difference is in the range of subjects offered with some schools having a focus on either the humanities or STEM subjects depending on the course of study chosen by each student. Education is typically free at the majority of schools in Ukraine, with many only charging a small fee for books and materials. Additionally, there is an emphasis on teaching both the Ukrainian language and culture, while also incorporating foreign languages, such as English and German," added an expat with kids at in .
Is the cost of living in Ukraine high?
We asked people how much they someone comfortably live on in Ukraine, they wrote:
"The cost of living in Ukraine is generally lower than that of most other European countries. While the cost of some goods and services can be higher than in other countries, overall it is still quite affordable," commented one expat who made the move to Ukraine.
"Very broad question a lot of people call "comfortable" a lot of different things. Comfortable for me is doing what I want when I want and so that translates to about 10k per month," remarked another expat living in Odessa, Ukraine.
Answer Question & View More Answers
Are healthcare and health insurance expensive in Ukraine?
"I was extremely surprised when the administrator at IMP clinic contacted the insurance company herself, and I didn't have to call and deal with it. I was suggested to pay myself and then make the reimbursement of the expenses. I was given all the necessary documents and didn't have any trouble with my insurance company. From my viewpoint any other public clinic will render such services," said one expat living in Kiev.
About the Author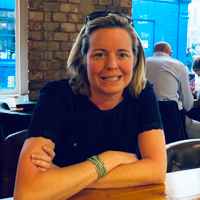 Betsy Burlingame is the Founder and President of Expat Exchange and is one of the Founders of Digital Nomad Exchange. She launched Expat Exchange in 1997 as her Master's thesis project at NYU. Prior to Expat Exchange, Betsy worked at AT&T in International and Mass Market Marketing. She graduated from Ohio Wesleyan University with a BA in International Business and German.
Some of Betsy's articles include 12 Best Places to Live in Portugal, 7 Best Places to Live in Panama and 12 Things to Know Before Moving to the Dominican Republic. Betsy loves to travel and spend time with her family. Connect with Betsy on LinkedIn.