Moving to Oman
Last updated on Nov 27, 2021
Summary: Moving to Oman? Expats talk about what you need to know before moving to Oman.
What do I need to know before moving to Oman?
When we asked people what advice they would give someone preparing to move to Oman, they said:
"No doubt. Certainly Oman is wonderful place to spend life if you are nature lover and believe in family life. The best location to move in are Al Khuwair, Al -Athaibah, Al Seeb and Al Qurum. These are decent locations with shopping mall in close vicinity," explained one expat living in Muscat, Oman.
"Take a good look around first; there are so many options. Think about the location of your chosen school, nearest shops and place of work. The biggest and newest (and often, surprisingly, the cheapest) houses are quite far out of town, and traffic jams and accidents can be a real problem as there is only one arterial road. As in most cities, the houses nearer the centre (though Muscat doesn't really have a centre, as it is spread out along the 40km main highway) are older, but usually have more character. A very important consideration is to find a good landlord, whom you get on with, and who will undertake to sort out any problems quickly. Remember that you have to sign a lease for a year so you can't get out of it once you've decided. Many people move house when their leases are up simply because they can't get basic problems sorted like AC breakdowns and water leaks. Carpe Diem; live life to the full and enjoy all the fantastic opportunities of living in another city and culture. Keep things in perspective and try not to let your pleasure be affected by the inevitable irritations of living in an unfamiliar world and the bureaucracy of another country. Of course they do things differently," said another expat in Muscat.
How do I find a place to live in Oman?
We asked expats how they chose their neighborhood and found a place to live. They answered:
"Well, I got my accommodation through my employer in decent location. The apartment was spacious and well furnished with all basic amenities provided," mentioned another expat when asked about moving to Muscat.
What is a typical expat home or apartment like in Oman?
"Detached villa - this is typical. We have lots of space, marble floors. We like our landlord. But, we have an old-fashioned kitchen. The landlord won't refurbish it because he doesn't understand the British tradition for using the kitchen as the hub of family life. In Omani culture, the kitchen is for servants and the family would never set foot in it. So it's dark, with a small window, 70's tiling, grimy grout and an old wallbanger AC," remarked another expat who made the move to Muscat.
What is the average cost of housing in Oman?
If you are thinking about moving to Oman, cost of living in probably a key consideration. Expats commented about the cost of housing:
"Lower - Cost of housing in our home city, Edinburgh, is incredibly high. We would never be able to afford to live in a house this size at home," added another expat who made the move to Muscat.
What should I pack when moving to Oman?
We asked people living in Oman to list three things they wish they had brought and three they wish they had left behind. They responded:
"Three things I would have bought are culture, respect and nature. Three things I would have left are infrastructure development, events and happenings and traffic accidents," remarked another expat in Muscat, Oman.
What cultural faux pas should I try to avoid making in Oman?
We asked people in Oman if they could share any humorous cultural blunders they commited. For new expats, keep in mind that these incidents are an inevitable part of expat life. Learning to laugh about them is the key!:
"I ate a banana in front of a very hungry Omani in the middle of Ramadan. I was shocked when I found out that I'd totally forgotten about Ramadan but the Omani was very nice about it," added another expat who made the move to Salalah.
About the Author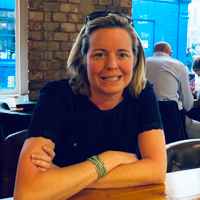 Betsy Burlingame is the Founder and President of Expat Exchange and is one of the Founders of Digital Nomad Exchange. She launched Expat Exchange in 1997 as her Master's thesis project at NYU. Prior to Expat Exchange, Betsy worked at AT&T in International and Mass Market Marketing. She graduated from Ohio Wesleyan University with a BA in International Business and German.
Some of Betsy's articles include 12 Best Places to Live in Portugal, 7 Best Places to Live in Panama and 12 Things to Know Before Moving to the Dominican Republic. Betsy loves to travel and spend time with her family. Connect with Betsy on LinkedIn.