Real Estate in Oman
Last updated on Nov 27, 2021
Summary: People living in Oman offer advice about real estate. How do you find a home in Oman? Should you buy or rent? What is the cost of housing?
How do I find a place to live in Oman?
We asked expats how they chose their neighborhood and found a place to live. They answered:
"Well, I got my accommodation through my employer in decent location. The apartment was spacious and well furnished with all basic amenities provided," explained one expat living in Muscat, Oman.
What is a typical expat home or apartment like in Oman?
"Detached villa - this is typical. We have lots of space, marble floors. We like our landlord. But, we have an old-fashioned kitchen. The landlord won't refurbish it because he doesn't understand the British tradition for using the kitchen as the hub of family life. In Omani culture, the kitchen is for servants and the family would never set foot in it. So it's dark, with a small window, 70's tiling, grimy grout and an old wallbanger AC," added another expat who made the move to Muscat.
What is the average cost of housing in Oman?
If you are thinking about moving to Oman, cost of living in probably a key consideration. Expats commented about the cost of housing:
"Lower - Cost of housing in our home city, Edinburgh, is incredibly high. We would never be able to afford to live in a house this size at home," explained one expat living in Muscat, Oman.
About the Author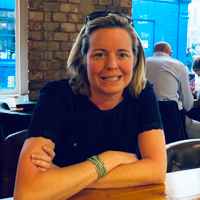 Betsy Burlingame is the Founder and President of Expat Exchange and is one of the Founders of Digital Nomad Exchange. She launched Expat Exchange in 1997 as her Master's thesis project at NYU. Prior to Expat Exchange, Betsy worked at AT&T in International and Mass Market Marketing. She graduated from Ohio Wesleyan University with a BA in International Business and German.
Some of Betsy's articles include 12 Best Places to Live in Portugal, 7 Best Places to Live in Panama and 12 Things to Know Before Moving to the Dominican Republic. Betsy loves to travel and spend time with her family. Connect with Betsy on LinkedIn.