Retire in Venezuela
Last updated on Nov 27, 2021
Summary: Retirees share their experiences living in Venezuela. What are the challenges and rewards of retiring in Venezuela?
What is it like to retire in Venezuela?
"At present things are quiet because of the Venezuelan government but many retired people here from all over the world. Margarita Island is a holiday island full of hotels and beaches," added another person in Porlamar.
What are the most challenging aspects of retiring in Venezuela?
"The language barrier, customs and food have been the most challenging aspect of living in Venezuela," explained a retiree in Porlamar.
What are healthcare services like in Venezuela?
We asked retirees if they have access to good medical care in Venezuela. They wrote:
"The private clinics in Venezuela are excellent," said another retiree in Porlamar.
What do I need to know before retiring in Venezuela?
When we asked people what advice they would give someone preparing to move to Venezuela, they said:
"In general terms people in this city are nice and kind. But you shouldn't trust everybody. Personal Security must be in your mind everytime you go out especially if you go on foot (without car), because delinquency is a serius issue here. Subway is safer than autobus unlike other countries. And if u have to take the bus avoid western routes. Indeed avoid getting around on the west part of the city and lower class zones because are the most risky," said another retiree in Caracas.
About the Author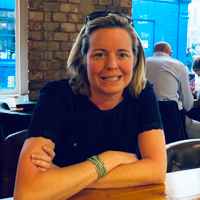 Betsy Burlingame is the Founder and President of Expat Exchange and is one of the Founders of Digital Nomad Exchange. She launched Expat Exchange in 1997 as her Master's thesis project at NYU. Prior to Expat Exchange, Betsy worked at AT&T in International and Mass Market Marketing. She graduated from Ohio Wesleyan University with a BA in International Business and German.
Some of Betsy's articles include 12 Best Places to Live in Portugal, 7 Best Places to Live in Panama and 12 Things to Know Before Moving to the Dominican Republic. Betsy loves to travel and spend time with her family. Connect with Betsy on LinkedIn.