Real Estate in Lithuania
Last updated on Dec 17, 2022
Summary: People living in Lithuania offer advice about real estate. How do you find a home in Lithuania? Should you buy or rent? What is the cost of housing?
How do I find a place to live in Lithuania?
We asked expats how they chose their neighborhood and found a place to live. They answered:
"Finding a place to live in Lithuania is relatively straightforward. Depending on your preferences, you can search online for an apartment, rent a room in a house, look for house-shares, or even book a hotel for a longer stay. If you choose to look for private accommodation, you can use various classified websites such as VZ.lt, SS.lt and Elabin.lt to find apartments, rooms, or houses. Alternatively, you can contact real estate companies, or check out rental advertisements on kiosks in larger cities. Lastly, if you are a student, you can look into student housing in your city or university," added another expat who made the move to Lithuania.
"Actually my wife at that time chose this flat due to location. Things to watch out for: a seedy neighbourhood, top and bottom floors, brand-new flats (sub-standard fixtures and settling can cause serious damage), and no shade. The sun can get pretty hot here and if you have no balcony overhand or trees to block the summer sun, June/July can get pretty warm on occasion. Insist on a steel door," explained one foreigner living in Vilnius, Lithuania.
What is a typical expat home or apartment like in Lithuania?
"Most expat homes and apartments in Lithuania are modern and well-maintained. Many of the buildings feature high-quality construction, so expats are able to find good value for money when renting in the country. Expats will generally find spacious apartments with plenty of amenities and creature comforts. Apartments often come with individually designed interiors and modern facilities such as air conditioning, cable, and internet. Most also have access to a balcony or terrace, and many come with a parking space. Expats will also find modern conveniences such as washing machines, dryers and dishwashers in many buildings," said another person in Lithuania.
"I live in a flat. Houses have only recently come into fashion. So expect to live in a flat, which is considerably cheaper than a house," remarked another foreigner who made the move to Vilnius.
What is the average cost of housing in Lithuania?
If you are thinking about moving to Lithuania, cost of living in probably a key consideration. Expats commented about the cost of housing:
"The cost of housing in Lithuania varies depending on location and type of property. Prices range from economical apartments in cities and towns to high-end luxury housing. On average, the cost of a two-bedroom apartment in a central city or town is approximately 1000-2000€ per month," explained one expat living in Lithuania.
"Probably higher since a run down flat in Vilnius a couple of years ago cost nerly as much a modern flat in Stockholm, only our wages are consideraby lower than those in Sweden. The Lithuanian ex-pats sending money back home to invest are what is driving the real estate market," said another person in Vilnius.
Should I buy or rent a home in Lithuania?
If you have not spent a lot of time in Lithuania, you should rent before even thinking about buying. We asked expats there about the buy vs. rent decision:
"Buying a home in Lithuania can be a great investment for a long-term resident. It can provide financial security and can increase in value over time. There are also a number of tax benefits associated with home ownership. Renting a home in Lithuania may be a more practical option if you are looking to stay in the country for a shorter period of time or if you do not want to invest in long-term property ownership. Renting has the advantage of providing flexibility and affordability with the potential to save money in the long run. Ultimately, the decision to buy or rent a home in Lithuania should be based on personal preference and financial capability," said another person in Lithuania.
About the Author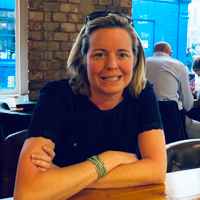 Betsy Burlingame is the Founder and President of Expat Exchange and is one of the Founders of Digital Nomad Exchange. She launched Expat Exchange in 1997 as her Master's thesis project at NYU. Prior to Expat Exchange, Betsy worked at AT&T in International and Mass Market Marketing. She graduated from Ohio Wesleyan University with a BA in International Business and German.
Some of Betsy's articles include 12 Best Places to Live in Portugal, 7 Best Places to Live in Panama and 12 Things to Know Before Moving to the Dominican Republic. Betsy loves to travel and spend time with her family. Connect with Betsy on LinkedIn.