Ajman, the UAE
Last updated on Jul 10, 2023
Summary: Expats, digital nomads and retirees talk about what it is really like living in Ajman, UAE. They offer advice about meeting people, cost of living, finding a home and more.
What do I need to know before moving to Ajman?
When we asked people what advice they would give someone preparing to move to Ajman, they said:
"Ajman is one of the seven emirates that make up the United Arab Emirates (UAE), and it is the smallest in terms of area. Despite its size, Ajman offers a unique blend of modern city life and traditional Emirati culture, making it an attractive destination for expats. Before moving to Ajman, it's important to understand that the UAE is a Muslim country, and its laws and customs reflect this. Respect for local customs and traditions is expected, and public displays of affection, consumption of alcohol outside licensed venues, and inappropriate dressing can lead to fines or imprisonment. The official language in Ajman is Arabic, but English is widely spoken, especially in business settings. However, learning some basic Arabic phrases can be beneficial and is appreciated by locals. The cost of living in Ajman is lower compared to other emirates like Dubai and Abu Dhabi. Housing is more affordable, and you can get more space for your money. However, it's important to negotiate your salary to ensure it covers your living expenses. Ajman has a hot desert climate, with extremely hot summers and warm winters. It's important to stay hydrated and protect yourself from the sun. The healthcare system in Ajman is of a high standard, with both public and private healthcare facilities available. However, health insurance is mandatory in the UAE, so ensure you have adequate coverage. Ajman is a safe city with a low crime rate. However, like anywhere, it's important to take basic precautions to protect your personal safety and belongings. The education system in Ajman offers a variety of curricula from around the world. However, school fees can be high, so if you're moving with children, it's important to factor this into your budget. Driving is the most common mode of transportation in Ajman, and the road network is extensive. However, traffic can be heavy, especially during peak hours. Public transportation is limited, but taxis are widely available and reasonably priced. Finally, it's important to note that the UAE has strict laws on certain medications. If you're on prescription medication, check whether it's legal in the UAE and if you need to carry a doctor's note or prescription with you," remarked one expat who made the move to Ajman.
How do I find a place to live in Ajman?
About the Author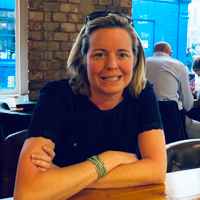 Betsy Burlingame is the Founder and President of Expat Exchange and is one of the Founders of Digital Nomad Exchange. She launched Expat Exchange in 1997 as her Master's thesis project at NYU. Prior to Expat Exchange, Betsy worked at AT&T in International and Mass Market Marketing. She graduated from Ohio Wesleyan University with a BA in International Business and German.
Some of Betsy's articles include 12 Best Places to Live in Portugal, 7 Best Places to Live in Panama and 12 Things to Know Before Moving to the Dominican Republic. Betsy loves to travel and spend time with her family. Connect with Betsy on LinkedIn.