Fujairah, the UAE
Last updated on Jul 10, 2023
Summary: Expats, digital nomads and retirees talk about what it is really like living in Fujairah, UAE. They offer advice about meeting people, cost of living, finding a home and more.
What do I need to know before moving to Fujairah?
When we asked people what advice they would give someone preparing to move to Fujairah, they said:
"Fujairah, located on the east coast of the United Arab Emirates, is known for its mountainous terrain and beautiful beaches. Before moving to Fujairah, expats should be aware that the official language is Arabic, although English is widely spoken and understood. The local currency is the UAE dirham, which is pegged to the US dollar. The cost of living in Fujairah is generally lower than in other parts of the UAE, such as Dubai and Abu Dhabi. However, it's important to note that salaries are also typically lower. Housing options range from apartments to villas, with many expats choosing to live in compounds that offer a range of amenities. The climate in Fujairah is hot and arid, with temperatures often exceeding 40 degrees Celsius in the summer. The cooler months from November to March are more comfortable, with temperatures ranging from 20 to 30 degrees Celsius. Fujairah has a more relaxed pace of life compared to the bustling cities of Dubai and Abu Dhabi. It's a popular destination for outdoor activities such as hiking, snorkeling, and diving. The city also has a rich history and culture, with numerous historical sites and cultural events throughout the year. The healthcare system in Fujairah is of a high standard, with a number of public and private hospitals and clinics available. However, it's recommended that expats have comprehensive health insurance to cover any medical costs. The education system in Fujairah offers a variety of options for expat children, including international schools that follow the British, American, or International Baccalaureate curriculum. However, school fees can be quite high, so it's important to factor this into your budget. While Fujairah is a relatively safe city, it's important to respect the local customs and laws. The UAE has strict laws regarding alcohol consumption, dress code, and public behavior. It's also important to note that the UAE has strict internet censorship laws, with certain websites and apps being blocked. Finally, it's important to note that while Fujairah offers a high quality of life, it may not offer the same level of entertainment and nightlife as other parts of the UAE. However, its natural beauty, relaxed pace of life, and lower cost of living make it an attractive option for many expats," wrote one member in Fujairah.
How do I find a place to live in Fujairah?
About the Author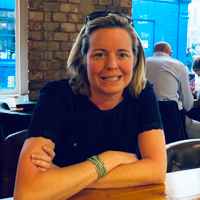 Betsy Burlingame is the Founder and President of Expat Exchange and is one of the Founders of Digital Nomad Exchange. She launched Expat Exchange in 1997 as her Master's thesis project at NYU. Prior to Expat Exchange, Betsy worked at AT&T in International and Mass Market Marketing. She graduated from Ohio Wesleyan University with a BA in International Business and German.
Some of Betsy's articles include 12 Best Places to Live in Portugal, 7 Best Places to Live in Panama and 12 Things to Know Before Moving to the Dominican Republic. Betsy loves to travel and spend time with her family. Connect with Betsy on LinkedIn.