Pula, Croatia
Last updated on Jul 16, 2023
Summary: Expats, digital nomads and retirees talk about what it is really like living in Pula, Croatia. They offer advice about meeting people, cost of living, finding a home and more.
What do I need to know before moving to Pula?
When we asked people what advice they would give someone preparing to move to Pula, they said:
"Pula is a city located in the Istria region of Croatia, known for its rich history, stunning beaches, and vibrant culture. The official language is Croatian, but English, Italian, and German are also widely spoken due to the city's popularity as a tourist destination. The cost of living in Pula is relatively low compared to other European cities, with affordable housing, groceries, and dining options. The city has a Mediterranean climate, with hot, dry summers and mild, wet winters. Pula is famous for its Roman architecture, including the well-preserved Pula Arena, one of the best-preserved Roman amphitheaters in the world. Public transportation in Pula is reliable and affordable, with a network of buses connecting different parts of the city and surrounding areas. The city has a strong expat community, with many social groups and activities available for newcomers. Healthcare in Pula is of a good standard, with a number of hospitals and clinics in the city. Croatian cuisine is a highlight of living in Pula, with local specialties including seafood, truffles, and wine. Pula is a safe city with a low crime rate, but like any tourist destination, it's important to be aware of your surroundings and take basic precautions. The city is surrounded by natural beauty, with opportunities for hiking, biking, and water sports. Pula has a slower pace of life compared to larger cities, which can be a welcome change for those looking for a more relaxed lifestyle. It's important to note that while Croatia is part of the European Union, it has not yet adopted the Euro, so the local currency is the Croatian Kuna. Finally, it's worth noting that while Pula is a popular tourist destination in the summer months, it can be quite quiet in the off-season, which some expats may find appealing," remarked one expat living in Pula, Croatia.
How do I find a place to live in Pula?
About the Author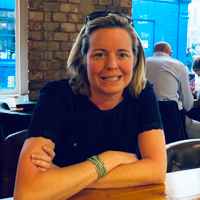 Betsy Burlingame is the Founder and President of Expat Exchange and is one of the Founders of Digital Nomad Exchange. She launched Expat Exchange in 1997 as her Master's thesis project at NYU. Prior to Expat Exchange, Betsy worked at AT&T in International and Mass Market Marketing. She graduated from Ohio Wesleyan University with a BA in International Business and German.
Some of Betsy's articles include 12 Best Places to Live in Portugal, 7 Best Places to Live in Panama and 12 Things to Know Before Moving to the Dominican Republic. Betsy loves to travel and spend time with her family. Connect with Betsy on LinkedIn.