Maadi, Egypt
Last updated on May 08, 2023
Summary: People describe Maadi, Egypt as a vibrant, cosmopolitan suburb of Cairo. It is known for its lush greenery, tree-lined streets, and its many parks and gardens. Expats love the sense of community in Maadi, as well as its proximity to the city center. The weather in Maadi is generally mild, with temperatures ranging from the mid-50s to the mid-80s Fahrenheit. The average cost of living for an expat is around $1,000 to $2,000 per month, depending on lifestyle. A one bedroom apartment in Maadi typically costs around $400 to $600 per month, while a two bedroom apartment costs around $600 to $800 per month. The approximate population of Maadi is around 500,000.
What do I need to know about living in Maadi?
When we asked people what advice they would give someone preparing to move to Maadi, they said:
"Expats considering retiring in Maadi, should be aware of several factors to ensure a smooth transition and comfortable lifestyle. Maadi is a popular suburb of Cairo, known for its greenery, quiet streets, and a large expat community. However, it is essential to research the cost of living, housing options, healthcare facilities, safety, and transportation before making the move. The cost of living in Maadi is generally lower than in many Western countries, but it can vary depending on one's lifestyle. Expats should budget for housing, utilities, groceries, transportation, and entertainment expenses. It is essential to have a clear understanding of the local currency, the Egyptian Pound, and the exchange rates. Housing options in Maadi range from apartments to villas, with various price points depending on the location and amenities. It is advisable to work with a reputable real estate agent to find a suitable home that meets one's needs and budget. Renting is a common option for expats, and it is essential to familiarize oneself with the rental process and local laws. Healthcare facilities in Maadi are generally of good quality, with several private hospitals and clinics available. Expats should ensure they have comprehensive health insurance that covers medical treatment in Egypt, as public healthcare may not meet their expectations. Safety is a concern for many expats moving to Egypt, but Maadi is considered one of the safer areas in Cairo. It is still essential to take precautions, such as avoiding walking alone at night and being aware of one's surroundings. It is also crucial to respect local customs and dress modestly to avoid drawing unwanted attention. Transportation in Maadi is relatively accessible, with taxis, buses, and the Cairo Metro available for getting around. However, traffic congestion can be a significant issue, and driving in Cairo can be challenging for those unfamiliar with local driving habits. Many expats choose to hire a driver or rely on taxis and ride-sharing services for transportation. Language barriers can be a challenge for expats in Egypt, as Arabic is the official language. While many locals in Maadi speak English, it is helpful to learn some basic Arabic phrases to navigate daily life more easily. Additionally, connecting with other expats and joining local clubs and organizations can help build a support network and ease the transition to life in Maadi. Finally, it is essential to understand the local culture, customs, and laws in Egypt. Expats should respect the predominantly Muslim culture, be aware of local holidays and religious practices, and adhere to local laws to ensure a positive experience while living in Maadi," wrote one member in Maadi.
"-It is important to consider budgeting costs for retirement in Maadi, including living expenses and healthcare costs. -You should research the availability of amenities and services you may need in Maadi, such as banks, shops, pharmacies, healthcare centers, and recreation facilities. -Check with local authorities to determine the requirements for residence in Maadi, as well as any special documentation you need to provide. -Taxation can be an important consideration when relocating to Maadi; it is wise to check the local regulations to determine your tax liabilities. -Public transportation options can be useful in Maadi, with several bus and metro lines available, as well as taxis. -Expatriates in Maadi will need to obtain an Egyptian Identification Card (EID), which can be obtained by completing an application form and visiting the local government office," remarked one expat who made the move to Maadi.
What do I need to know before moving to Maadi?
About the Author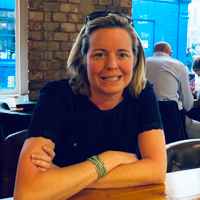 Betsy Burlingame is the Founder and President of Expat Exchange and is one of the Founders of Digital Nomad Exchange. She launched Expat Exchange in 1997 as her Master's thesis project at NYU. Prior to Expat Exchange, Betsy worked at AT&T in International and Mass Market Marketing. She graduated from Ohio Wesleyan University with a BA in International Business and German.
Some of Betsy's articles include 12 Best Places to Live in Portugal, 7 Best Places to Live in Panama and 12 Things to Know Before Moving to the Dominican Republic. Betsy loves to travel and spend time with her family. Connect with Betsy on LinkedIn.