Albufeira, Portugal
Last updated on Jul 02, 2023
Summary: Expats, digital nomads and retirees talk about what it is really like living in Albufeira, Portugal. They offer advice about meeting people, cost of living, finding a home and more.
What do I need to know about living in Albufeira?
When we asked people what advice they would give someone preparing to move to Albufeira, they said:
"Before retiring in Albufeira, expats should know that the cost of living is generally lower than in many other European countries, making it an attractive option for retirees. They should also be aware that the primary language spoken is Portuguese, so learning some basic phrases or taking language classes could be beneficial. The healthcare system in Portugal is of a high standard, with both public and private options available. Expats should research the best health insurance options for their needs. Albufeira is known for its Mediterranean climate, with hot summers and mild winters, which may be a significant change for those from colder climates. The city is also a popular tourist destination, particularly in the summer months, which can lead to crowded beaches and higher prices. Expats should also be aware that while Albufeira is a vibrant city with plenty to do, it may not offer the same level of cultural activities as larger cities like Lisbon or Porto. Portugal has a relaxed pace of life, which can be a significant change for those used to a faster, more hectic lifestyle. Finally, it's important to understand the visa and residency requirements for retiring in Portugal, as these can be complex and may require the assistance of a legal professional," remarked one expat who made the move to Albufeira.
"I live in Albufeira. We have a lot of tourists in the summer. There are certain areas I don't frequent because of the tourists. The strip, to a lesser degree Old Town. Go down some of the side streets and eat in restaurants the locals do. The food is great, inexpensive and they will even help you with your Portuguese. There are closures in the winter months but enough stays open that you don't suffer. The beaches are great, instead of going to Marinha where you can spend an hour looking for a parking spot, head to Sao Raphael in Sesmarias by Albufeira. Beautiful beach with a nice restaurant and good parking. I am a 25 minute walk from the beach and west of the strip and old town. Go closer to the beach.... you get more tourists. Come in the summer and spend two weeks, you will get a good feel and see if it is for you. If you come to Albufeira drop me a line and I will give you a tour," explained one expat living in Albufeira, Portugal.
What do I need to know before moving to Albufeira?
About the Author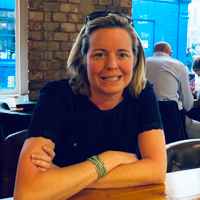 Betsy Burlingame is the Founder and President of Expat Exchange and is one of the Founders of Digital Nomad Exchange. She launched Expat Exchange in 1997 as her Master's thesis project at NYU. Prior to Expat Exchange, Betsy worked at AT&T in International and Mass Market Marketing. She graduated from Ohio Wesleyan University with a BA in International Business and German.
Some of Betsy's articles include 12 Best Places to Live in Portugal, 7 Best Places to Live in Panama and 12 Things to Know Before Moving to the Dominican Republic. Betsy loves to travel and spend time with her family. Connect with Betsy on LinkedIn.