Real Estate in Negril, Jamaica
Last updated on Jan 01, 2023
Summary: The average cost of a nice 2 bedroom home in Negril, Jamaica is around $200,000 USD. A nice 3 bedroom home in Negril is around $250,000 USD. These properties typically include modern amenities such as air conditioning, swimming pools, and private gardens. Foreigners are allowed to own property in Negril, however, they must obtain a permit from the Jamaican government. When searching for a home to buy in Negril, an expat should consider their budget, desired location, and amenities. It is also important to research the local real estate market and consult with a local real estate agent. The most desirable neighborhoods in Negril include West End, Bloody Bay, and Long Bay. These areas offer stunning views of the Caribbean Sea, easy access to beaches, and a variety of amenities.
How do I find a place to live in Negril?
We asked expats how they chose their neighborhood and found a place to live. They answered:
"Negril is best known for its beaches and resorts, so finding somewhere to stay is easy. There are plenty of hotels, resorts, villas and apartments to choose from in the area, ranging from beachfront luxury to budget-friendly options. Apartments can be rented from individual owners or from property companies. Long-term rentals are also available. AirBnB has a wide range of listings for Negril, and TripAdvisor also provides reviews for accommodation. Additionally, expat websites such as InterNations are a great place to connect with other people and ask for accommodation advice," remarked another member in Negril.
"I found my first place, through friends, and then found second place, which was perfect, thru a referral of someone i spoke to on email, for a while, who had lived in the same apt...it really is best to check out a place for a while, before you decide where you want to live...you will more than likely change your mind..at least once..," explained one expat living in Negril, Jamaica.
Answer Question & View More Answers
What is a typical expat home or apartment like in Negril?
"Expat homes and apartments in Negril are typically beachfront, boasting stunning views and a laid-back atmosphere. Most homes have multiple bedrooms and bathrooms, air-conditioning, and a landscaped, furnished patio or terrace. Furnishings range from basic to luxurious and apartments usually include modern appliances and technology. Gated complexes with swimming pools, private beach access, and other amenities, like gyms and clubhouses, are also available for expats who wish to have extra security and conveniences," remarked another foreigner who made the move to Negril.
"I lived in several places, and it's really a matter of personal choice..i love to swim early, in the morning, and so living close to beach or cliffs, if you're not going to have a car, is important to me..i also lived in someone else's yard, where it was very beautiful and in a garden paradise, but then i had a car, and could drive to the beach every morning...finding that the west end was more interesting for me, after a time..there are plenty of people to talk to, who will give you advice and tell you who has what, for rent.," explained one person living in Negril, Jamaica.
Answer Question & View More Answers
What is the average cost of housing in Negril?
If you are thinking about moving to Negril, cost of living in probably a key consideration. Expats commented about the cost of housing:
"The cost of housing in Negril varies, depending on the type and location of the property. Generally, prices are relatively low, with beachfront villas or apartments starting from around US$45,000 and going up to around US$700,000 for luxury homes. Lower-budget, non-beachfront residences range from around US$45,000 to US$120,000," added another expat who made the move to Negril.
"i would say at the time, that where i lived there, was cheaper or about the same..i dont' look for too much, when there, you spend alot of time outside, and for me, the space and the a/c and things like that were not as important..never had a/c. I did want to be able to cook, of course, and make coffee and a good place to hang my laundry, as i washed by hand, most of the time, and a place to park my car, access to taxis, safe yard (important)," explained one foreigner living in Negril, Jamaica.
Answer Question & View More Answers
Should I buy or rent a home in Negril?
If you have not spent a lot of time in Negril, you should rent before even thinking about buying. We asked expats there about the buy vs. rent decision:
"The decision to buy or rent a home in Negril is ultimately up to you. If you plan on being in Negril for a longer period of time and you want to put down roots and enjoy a permanent residence, buying a home might be the best option for you. However, if you plan on staying in the area for a shorter period of time, or if you are not ready to make a long-term commitment, then renting a home may be a better option for you. It is important to weigh your options and evaluate your own situation before making a decision," added another expat who made the move to Negril.
About the Author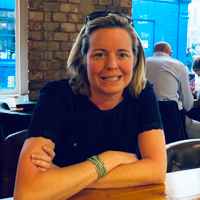 Betsy Burlingame is the Founder and President of Expat Exchange and is one of the Founders of Digital Nomad Exchange. She launched Expat Exchange in 1997 as her Master's thesis project at NYU. Prior to Expat Exchange, Betsy worked at AT&T in International and Mass Market Marketing. She graduated from Ohio Wesleyan University with a BA in International Business and German.
Some of Betsy's articles include 12 Best Places to Live in Portugal, 7 Best Places to Live in Panama and 12 Things to Know Before Moving to the Dominican Republic. Betsy loves to travel and spend time with her family. Connect with Betsy on LinkedIn.