10 Best Places to Live in Liguria, Italy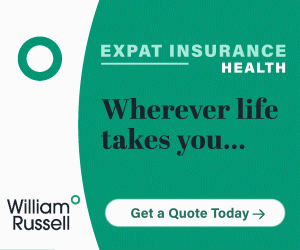 Summary: Liguria, Italy, also known as the Italian Riviera, is a stunning coastal region spanning from Tuscany to the French border. In Liguria you will find mild temperatures and a relaxed lifestyle. If you're thinking about moving here, our list of the 10 best places to live in Liguria is based upon expat advice and recommendations.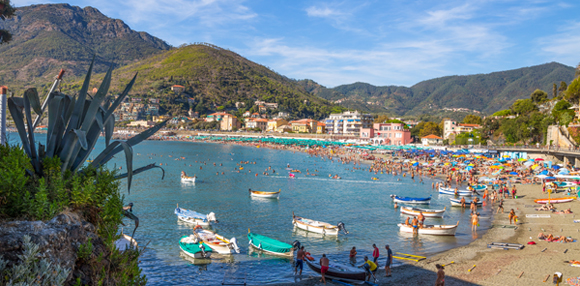 If you're moving to Liguria or considering a move there, here are the 10 best places to live in Liguria according to expats. This Medditerrainian oasis attracts tourists from around the world, who flock to Liguria's varied coast. However, Liguria has much more to offer its residents than the typical tourist attractions. As one expat in Liguria shares, "I love Liguria...we have mountains, temperate weather, the sea within 20 mins, 2 great airports (Pisa and Genoa) and really wonderful health facilities". Liguria is well known for Focaccia, Pesto, and, of course, Cinque Terre.
1. Genoa (in Italian: Genova)
Population: 862,175
Location: On the coast an hour and a half south of Milan.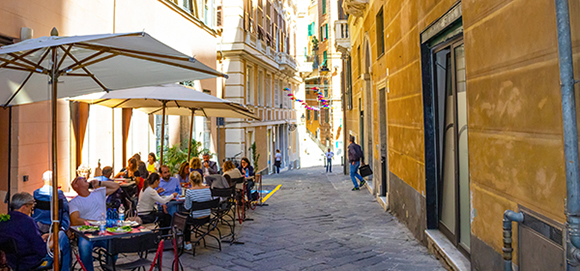 "Genova is a beautiful and interesting city. There are always surprises to look at, i.e. statues, frescoes on old buildings when you wander around the somewhat dirty, mysterious alleys. The piazza around the old port is beautiful. There is a great aquarium and some restaurants where you can have dinner or drinks overlooking the yachts and the water. There is a little village called Bocadese which is now incorporated into Genova. It has a small beach where you can swim and looks very traditional. Another small village, Nervi, has a beautiful seacliff walkway with lots of restaurants. Genova is connected by rail with Cinque terre, Santa Margarita Ligure, Pisa, Milan, and Nice, France - all of which make interesting day or overnight trips." advised one expat.
Restaurants: If you are in Genoa, we recommend the ravioli at Le Rune as well as the meatballs at SettePoipette.
2. Camogli
Population: 5,332
Location: 40 minutes east of Genoa's city center.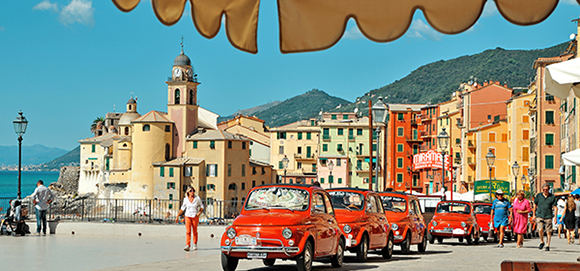 Camogli is a laid-back fishing village with wonderful restaurants and, of course, coastal views.
One expat shares, "Camogli is my one of my all time favorites...small town feel with all the history and glory of the sea."
Restaurants: While in camogli, enjoy the fresh and delicious seafood at Da Paolo and for a romantic dinner with a spectacular view don't miss Ristorante la Piazetta.
3. Rapallo
Population: 29,778
Location: 20 minutes east of Camogli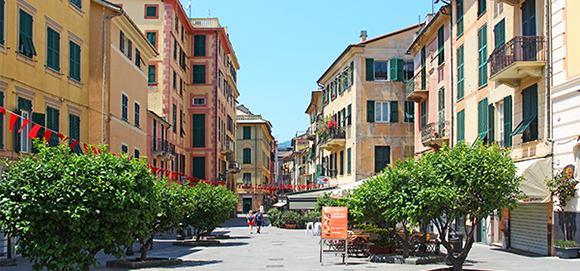 "Rapallo is probably my favorite go-to vacationing city and we go often to walk and shop and eat. The market on Thursdays is amazing." described one expat. Numerous expats also revealed that Rapallo is known for its state-of-the-art medical facilities since the build of its brand new hospital. As one Italian expat shares, "Rapallo has a beautiful new hospital and it equaled anything we saw at home in Boston."
Restaurants: In Rapallo you cannot go wrong with the highly regarded Hostaria Vecchia Rapallo. Also, be sure to head to Sole Bar for a sunset aperitivo.
4. Chiavari
Population: 27,429
Location: 20 minutes south east of Rapallo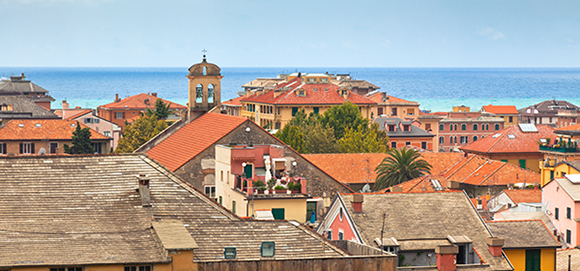 One expat from Chiavari noted "we live in a city called Chiavari, and we like it alot. We are close to the sea and the mountains, Genova, and Cinque Terre, this suits us fine. Chiavari is a village but as well a small city with all the services, shops, and social life." Another expat suggested "Have you been to Chiavari? I just spent the day there and it's wonderful...on the coast, good train station (35 min up to Genova or 45 min down to 5Terre). The architecture is beautiful old world, lively town center, good hospital services, antiques fair 1x a month and terrific fruit/veg/cheese market this am"
Restaurants: At Malu you can expect terrific hospitality and a delicious meal. For dessert, you cannot miss the unique and natural flavors of Italian ice cream served at Cremeria Spinola.
5. Moneglia
Population: 2,793
Location: 30 minutes south east of Chiavari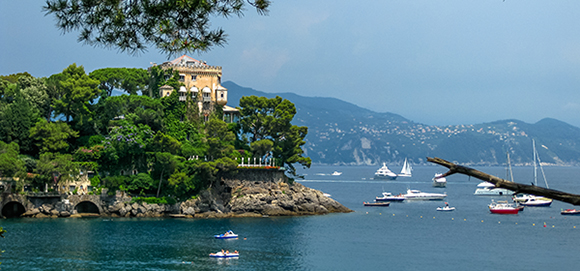 Moneglia is another magnificent coastal town just outside of Genoa.
"Cute little town, big enough to walk around and wander but small enough to walk everywhere" described one expat when writing about Moneglia.
Restaurants: Ristorante Levantino is the perfect beachfront eatery in Moneglia; it is well known for its scrumptious mussels and anchovies.
La Spezia
The province of La Spezia is one of the most popular places for expats. As one expat living in La Spezia shares, "our coast on the other hand is quite lovely with beautiful seaside towns and wonderful inland hill towns (we live 20 min from Levanto and the 5Terre) Shopping is good, market days in many larger towns, La Spezia has all medical and governmental requirements one would need." Listed below are a few of the most notable expat towns in this province.
6. Levanto
Population: 5,597
Location: 45 minutes south east of Moneglia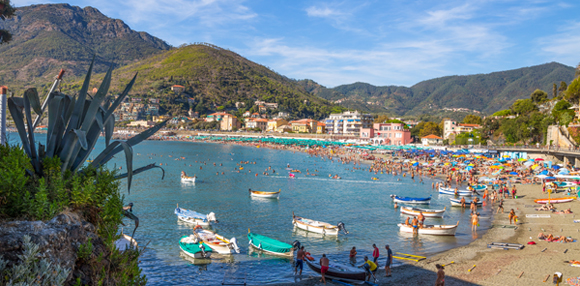 "Where would I suggest: Levanto. Maybe not to buy because it would be pricey but it's so central to everything north/south and east. It's a lovely coastal town with good services yet small enough to be homey. And great train service both north and south." one expat advicses.
Restaurants: In Levanto be sure to stop by Focacceria Dome for delicious focacceria, pizza, and pesto. Wednesday morning markets are also a great place to taste local cuisine including gattafin (fried ravioli) and farinata (chickpea flour pancake/crepe).
7. Carro
Population: 538
Location: 35 minutes north of Levanto (not on the coast)
Carro is a small municipality nestled in the mountains of Liguria. As an expat living in Carro, La Spezia describes, "The south was too hot and the far north too cold so we settled on just inside the 5Terre between Genoa to the north and Pisa to the south. We can be at a major airport in 1+hrs. There are plenty of ancient hill towns and then there is the sea. We live in a lovely tiny village with grand views, hiking all around and the beaches are only 20 minutes away. Prices of homes vary but for instance there is a charming little house with land to expand in good condition for 60K E, We even have a thriving vineyard on the hills producing very good reds and whites. Hospitals are within 30 minutes and there is a helipad in town for major emergencies."
Restaurants: While there may be fewer restaurant options in Carro, you can still find all the Italian classics at Locanda del Porcino and enjoy a slice from Ristorante Pizzeria Miramonti, a local pizzeria.
8. Lerici
Population: 10,160
Location: An hour east of Levanto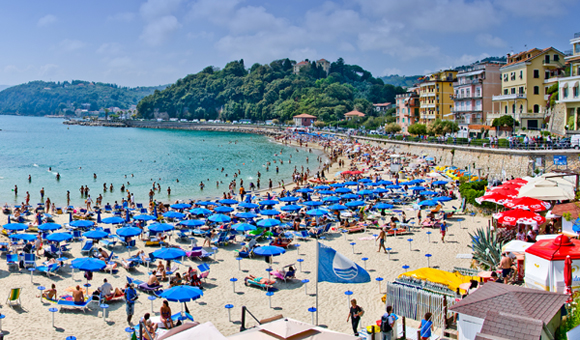 "We bought our apartment near Lerici in January 2018 and have absolutely no regrets. From Lerici & San Terenzo there are excellent (and frequent) bus services to/from La Spezia and Sarzanna (both with mainline railway stations to the rest of Italy). Pisa Airport is a 35 to 40 minute drive away (mostly on the E80 Autostrada/Motorway, with low cost flights to most of Europe)" wrote one expat in Lerici. Another expat in La Spezia shared, "A 20 minute walk around the bay brings you to Lerici with its excellent Saturday morning market, many restaurants, castle, marina and ferry to the stunningly beautiful Cinque Terre."
Restaurants: Enjoy an evening treat at the quaint Gelateria Arcobaleno and try their signature Lerici flavor: caramel gelato with toasted pine nuts and chocolate. Also be sure to stop by local favorite, Vertigo Bar, where there is live music every Thursday night.
9. San Terenzo
Location: Western Lerici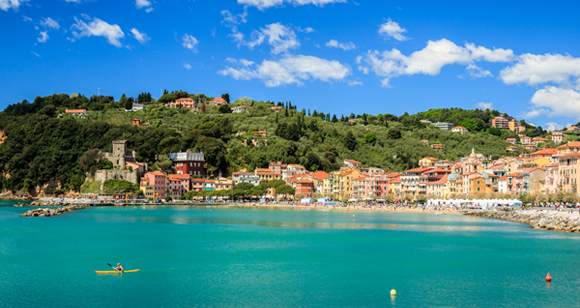 San Terenzo is a village worthy of highlighting in the western part of the Lerici region. As one expat remarks, "we are fortunate to have gorgeous ever-changing views over the Gulf of Poets (we are located in Solaro, a small village above San Terenzo with a short walk down to the sea). San Terenzo has a beautiful (Blue Flag) sandy beach (free) together with a wide variety of restaurants, shops and (arguably) the best ice-cream shop in Italy! San Terenzo is also a site of historic interest, with an ancient castle and the last home of the English Romantic poet Percy Bysshe Shelley -other famous poets and writers followed, including: Byron, D. H. Lawrence, Virginia Woolf etc.".
Restaurants: If you are visiting San Terenzo enjoy excellent and fresh seafood at La Griglia.
10. Sarzana
Population: 22,000
Location: 15 minutes north east of Lerici
Just north of coastal Lerici you will find the magnificent town, Sarzana.
As an Italian expat advised, "Check out Sarzana...beautiful, historic centro. Rentals c. E500 and up/month. Not too touristy, walkable and good bus/train connections. Good sized city but still has an old world feel."
Restaurants: While in Sarzana make sure to eat at the highly reviewed Mamagamma and the intimate il Calandrino.
About the Author

Elizabeth Hancock is the Summer 2020 intern for Expat Exchange. She is a rising junior studying economics at Davidson College with an interest in international studies. At school she enjoys being actively involved on campus. This upcoming semester Elizabeth looks forward to being treasurer for Davidson For the Kids, servant team leader & treasurer for RUF, kitchen manager at Rusk eating house, and a member of Club Tennis.
Comments
LJF
Thank you for posting this insightful article about Liguria. We have heard it is a beautiful area but hadn't considered it as a place to stay longterm or live. Hearing from Expats about the highlighted towns, their populations and activities has inspired us to pay more attention to this area of Italy as we continue to gather information for our future plans. Thank You!