Retire in Martinique
Last updated on Sep 23, 2022
Summary: Retirees share their experiences living in Martinique. What are the challenges and rewards of retiring in Martinique?
What type of recreational activities are there in Martinique?
"People generally go to the beach. There's a zoo, hiking activities, movie theater, large garden and a few other tourist attractions you can participate in. But not really too much to do," added another person in Schoelcher.
"You can find soccer fields randomly around the area as well as basket ball. Swimming and hiking seems to be the most go to sport. As long with biking and jogging. Fit ess clubs including the well known curves are also available throughout the island," explained one retiree living in Fort-de-France.
Where will I buy groceries and do other shopping in Martinique?
"Most people shop at hyper u, carrefour, and leader price. There aren't many corner stores near by - meaning it's really rare to see one. Stores open at 830 and close at 6. Hyper you gives you the extended time and closes at 830. Hyper is the only store open on Sunday until 12," explained one member in Schoelcher.
"It is true that stores close by six no later than 8. And only one store Hyper U is open on Sunday. Other groceries like Carrefour and Leader Price open until 6 Monday through Friday, and 12 pm on Saturday. Sometimes you may find a corner store open. Or some small shops may be open in the city. Most bakeries are closed after six, except the one in Terre Saint Ville, but the rough neighborhood may keep tourists or newcomers away," said another retiree in Fort-de-France.
About the Author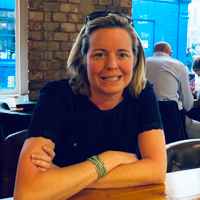 Betsy Burlingame is the Founder and President of Expat Exchange and is one of the Founders of Digital Nomad Exchange. She launched Expat Exchange in 1997 as her Master's thesis project at NYU. Prior to Expat Exchange, Betsy worked at AT&T in International and Mass Market Marketing. She graduated from Ohio Wesleyan University with a BA in International Business and German.
Some of Betsy's articles include 12 Best Places to Live in Portugal, 7 Best Places to Live in Panama and 12 Things to Know Before Moving to the Dominican Republic. Betsy loves to travel and spend time with her family. Connect with Betsy on LinkedIn.