Real Estate in Venezuela
Last updated on Nov 27, 2021
Summary: People living in Venezuela offer advice about real estate. How do you find a home in Venezuela? Should you buy or rent? What is the cost of housing?
How do I find a place to live in Venezuela?
We asked expats how they chose their neighborhood and found a place to live. They answered:
"When looking for a place here, you must go through an agent, who you the renter will have to pay one month's rent as commission. The trick is to use several agents because depending on your budget, they forget about you. We chose a neighborhood that was first safe and then close to everything since I don't drive. We chose an apartment for security reasons (most buildings have 24 hour security) and it has less upkeep," said another person in Caracas.
"My family and I chose a HUGE house in the La Virginia neighborhood. The rent is expensive, but we spent nearly three months living in a hotel before finding anything we liked," added another expat who made the move to Maracaibo.
What is a typical expat home or apartment like in Venezuela?
"Most expats live in apartments because of security and some will go for furnished homes. If looking for something furnished, it is much easier to find a one or two bedroom. Anything bigger is rare," said another person in Caracas.
"We chose a house. Although most expats choose to live in apartment buildings, because of security," remarked another foreigner who made the move to Maracaibo.
What is the average cost of housing in Venezuela?
If you are thinking about moving to Venezuela, cost of living in probably a key consideration. Expats commented about the cost of housing:
"In comparison to South Florida, housing prices are much more expensive. There are expats who pay 3,000 Euro for a 3 bedroom, two bathroom apartment. I would say the average cost for a 2 bedroom, 2 bathroom apartment is about $1,200," added another expat who made the move to Caracas.
"The housing average I don't know. But I know I'm paying a lot more in house and a lot less in the electrical bill," explained one foreigner living in Maracaibo, Venezuela.
About the Author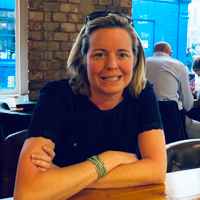 Betsy Burlingame is the Founder and President of Expat Exchange and is one of the Founders of Digital Nomad Exchange. She launched Expat Exchange in 1997 as her Master's thesis project at NYU. Prior to Expat Exchange, Betsy worked at AT&T in International and Mass Market Marketing. She graduated from Ohio Wesleyan University with a BA in International Business and German.
Some of Betsy's articles include 12 Best Places to Live in Portugal, 7 Best Places to Live in Panama and 12 Things to Know Before Moving to the Dominican Republic. Betsy loves to travel and spend time with her family. Connect with Betsy on LinkedIn.