Caracas, Venezuela
Last updated on May 08, 2023
Summary: The approximate population of Caracas, Venezuela is 3.2 million people. People often describe Caracas as a vibrant and bustling city with a unique culture and a strong sense of community. Expats love the city's vibrant nightlife, its diverse cultural offerings, and its friendly people. The weather in Caracas is typically hot and humid, with temperatures ranging from the mid-70s to the mid-90s Fahrenheit (24-35 Celsius). The average cost of living for an expat is around $1,500 USD per month. The cost of a one bedroom apartment is around $500 USD per month, while a two bedroom apartment is around $700 USD per month.
What do I need to know about living in Caracas?
When we asked people what advice they would give someone preparing to move to Caracas, they said:
"Expats considering retiring in Caracas, should be aware of the political and economic instability in the country, which has led to high crime rates, shortages of basic goods, and unreliable public services. It is essential to have a comprehensive health insurance plan, as the healthcare system in Venezuela is severely strained, and many medical facilities lack basic supplies and equipment. Expats should also be prepared for frequent power outages and water shortages. The cost of living in Caracas can be high, particularly for imported goods, due to the country's economic crisis and hyperinflation. Expats should ensure they have a reliable source of income and access to foreign currency, as the local currency, the bolivar, is subject to rapid devaluation. Learning Spanish is crucial for navigating daily life in Caracas, as English is not widely spoken. Expats should also familiarize themselves with local customs and cultural norms to better integrate into Venezuelan society. Housing options in Caracas can be limited, and expats should prioritize finding a secure and comfortable living arrangement, preferably in a gated community or a building with security personnel. It is also important to establish a reliable network of local contacts and friends who can provide support and advice during the transition to life in Caracas. Finally, expats should stay informed about the political situation in Venezuela and be prepared to adapt to changing circumstances. Registering with their home country's embassy or consulate in Caracas can provide access to important updates and assistance in case of emergencies," wrote one member in Caracas.
"In general terms people in this city are nice and kind. But you shouldn't trust everybody. Personal Security must be in your mind everytime you go out especially if you go on foot (without car), because delinquency is a serius issue here. Subway is safer than autobus unlike other countries. And if u have to take the bus avoid western routes. Indeed avoid getting around on the west part of the city and lower class zones because are the most risky," remarked one expat who made the move to Caracas.
What do I need to know before moving to Caracas?
About the Author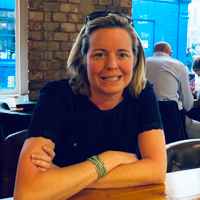 Betsy Burlingame is the Founder and President of Expat Exchange and is one of the Founders of Digital Nomad Exchange. She launched Expat Exchange in 1997 as her Master's thesis project at NYU. Prior to Expat Exchange, Betsy worked at AT&T in International and Mass Market Marketing. She graduated from Ohio Wesleyan University with a BA in International Business and German.
Some of Betsy's articles include 12 Best Places to Live in Portugal, 7 Best Places to Live in Panama and 12 Things to Know Before Moving to the Dominican Republic. Betsy loves to travel and spend time with her family. Connect with Betsy on LinkedIn.