Porlamar, Venezuela
Last updated on Sep 17, 2022
Summary: Expats, digital nomads and retirees talk about what it is really like living in Porlamar, Venezuela. They offer advice about meeting people, cost of living, finding a home and more.
What do expats in Porlamar appreciate most about the local culture?
"The Venezuelans sense of family...and found them to be very open to new people no matter where you had come from," said another person in Porlamar.
What do expats find most challenging?
"There were a few...supplies at the grocery were sometimes little to none. You could go on any day and there would be no milk, no butter, certain types of meat..as well as household/kitchen items. Getting used to 'armed' guards at certain locations..like the grocery or your local panaderia. There were sometimes water shortages that were supplied into your home..and running the water through a tank/pump system was sometimes frustrating. Two of the hardest things for me were the amount of garbage that was dumped anywhere.. and seemed everywhere. And there seemed to be very little compassion for animals..particularly dogs and cats. I saw many hungry and un-cared for dogs. It was heart-breaking," explained one expat.
Is there a lot of crime in Porlamar?
We asked people if there is a lot of crime. They answered:
"Well, with the financial climate the way it is you need to be careful with what you carry around with you. There are lots of telephone robberies and bag snatchings. I have lost 2 car batteries in front of the house because I was careless. Other than that, there are not many problems," explained one expat living in Porlamar.
About the Author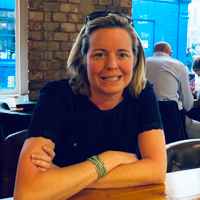 Betsy Burlingame is the Founder and President of Expat Exchange and is one of the Founders of Digital Nomad Exchange. She launched Expat Exchange in 1997 as her Master's thesis project at NYU. Prior to Expat Exchange, Betsy worked at AT&T in International and Mass Market Marketing. She graduated from Ohio Wesleyan University with a BA in International Business and German.
Some of Betsy's articles include 12 Best Places to Live in Portugal, 7 Best Places to Live in Panama and 12 Things to Know Before Moving to the Dominican Republic. Betsy loves to travel and spend time with her family. Connect with Betsy on LinkedIn.