Moving to Maadi, Egypt
Last updated on May 08, 2023
Summary: Maadi, Egypt is a popular destination for expats due to its close proximity to Cairo, its vibrant expat community, and its many amenities. Maadi is known for its excellent schools, hospitals, and shopping centers, making it an ideal place for expats to settle down. Additionally, Maadi is home to a number of international restaurants, cafes, and bars, making it a great place to socialize and meet new people. Before moving to Maadi, it is important to be aware of the cultural differences between Egypt and other countries. It is also important to be aware of the local laws and regulations, as well as the local customs and etiquette. Additionally, it is important to be aware of the security situation in Maadi, as it is located in a large city. Finally, it is important to be aware of the cost of living in Maadi, as it can be higher than in other parts of Egypt.
What do I need to know before moving to Maadi?
When we asked people what advice they would give someone preparing to move to Maadi, they said:
"Expats moving to Maadi, should be aware that it is a popular residential area for foreigners, offering a more relaxed and green environment compared to other parts of Cairo. The cost of living in Maadi can be higher than other areas, but it offers a wide range of housing options, from apartments to villas. It is essential to negotiate rental prices and ensure that the lease agreement is clear and in writing. Maadi has a well-established international community, with several international schools available for expat children. These schools often have waiting lists, so it is crucial to apply early. The area also has various clubs and organizations catering to expats, such as the Maadi Community Church and the Community Services Association, which can help newcomers settle in and meet new people. Public transportation in Maadi is limited, and many expats choose to drive or hire a driver. Traffic can be chaotic, and it is essential to be cautious and patient on the roads. Alternatively, taxis and ridesharing apps like Uber and Careem are widely available and affordable. While Maadi has a range of supermarkets, shops, and restaurants, some expats may find that certain imported goods or specific brands are not available or more expensive than in their home country. It is essential to be open to trying local products and adapting to the local lifestyle. Egypt has a hot and dry climate, with temperatures soaring during the summer months. Expats should be prepared for the heat and take necessary precautions, such as staying hydrated and wearing sunscreen. It is crucial to respect local customs and traditions, especially when it comes to dress codes and public behavior. Modest clothing is recommended, particularly for women, and public displays of affection should be avoided. Finally, learning some basic Arabic phrases can be helpful in navigating daily life and interacting with locals. While many people in Maadi speak English, knowing some Arabic can make a significant difference in feeling more comfortable and integrated into the community," said one expat who made the move to Maadi.
"Before moving to Maadi, it is important to know that it is a populous and diverse area of Cairo, located in the heart of the city. Maadi is home to many expats and commuters and the price of living can be quite high. English is widely spoken making it a great area for expats. Maadi's infrastructure is good and it is safe, although there are areas with extra security. Traffic in the area can be congested and there may not be a lot of green spaces. Shopping centers, international schools and hospitals are often nearby," explained one expat living in Maadi, Egypt.
How do I find a place to live in Maadi?

Expat Health Insurance in Egypt
Expats interested in International Health Insurance should take a minute to get a quote from our trusted expat health insurance partner, CIGNA.
GET A QUOTE
About the Author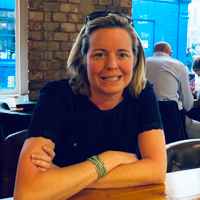 Betsy Burlingame is the Founder and President of Expat Exchange and is one of the Founders of Digital Nomad Exchange. She launched Expat Exchange in 1997 as her Master's thesis project at NYU. Prior to Expat Exchange, Betsy worked at AT&T in International and Mass Market Marketing. She graduated from Ohio Wesleyan University with a BA in International Business and German.
Some of Betsy's articles include 12 Best Places to Live in Portugal, 7 Best Places to Live in Panama and 12 Things to Know Before Moving to the Dominican Republic. Betsy loves to travel and spend time with her family. Connect with Betsy on LinkedIn.