Khor Fakkan, the UAE
Last updated on Jul 10, 2023
Summary: Expats, digital nomads and retirees talk about what it is really like living in Khor Fakkan, UAE. They offer advice about meeting people, cost of living, finding a home and more.
What do I need to know before moving to Khor Fakkan?
When we asked people what advice they would give someone preparing to move to Khor Fakkan, they said:
"Khor Fakkan is a city located along the Gulf of Oman on the east coast of the United Arab Emirates (UAE). It is part of the Emirate of Sharjah and is known for its beautiful beaches and mountainous landscape. Before moving to Khor Fakkan, expats should know that the official language is Arabic, although English is widely spoken and understood. It is important to learn some basic Arabic phrases to help with daily life and to show respect for the local culture. The UAE is a Muslim country and Khor Fakkan is no exception. Expats should be aware of the local customs and laws, which are heavily influenced by Islamic traditions. This includes dressing modestly, especially in public places, and refraining from public displays of affection. The cost of living in Khor Fakkan is generally lower than in other parts of the UAE, such as Dubai and Abu Dhabi. However, expats should still budget carefully as the cost of imported goods can be high. The climate in Khor Fakkan is hot and humid, with temperatures often exceeding 40 degrees Celsius in the summer. Expats should be prepared for this and take necessary precautions to stay hydrated and avoid sunburn. Khor Fakkan has a range of accommodation options, from apartments to villas. It's advisable to secure accommodation before arriving, and to consider factors such as proximity to work and schools. The healthcare system in the UAE is of a high standard, and Khor Fakkan has several hospitals and clinics. However, expats should ensure they have comprehensive health insurance, as healthcare can be expensive. The city is safe with a low crime rate, but expats should still take basic precautions to protect their personal safety and belongings. Khor Fakkan has a diverse food scene, with a mix of traditional Emirati cuisine and international options. Pork and alcohol are restricted due to religious reasons, but are available in certain licensed venues. Finally, expats should be aware that the weekend in the UAE runs from Friday to Saturday, with Friday being a day of prayer. Most businesses and schools are closed on these days," commented one expat who made the move to Khor Fakkan.
How do I find a place to live in Khor Fakkan?
About the Author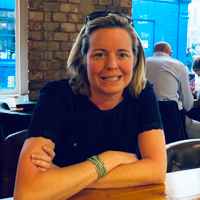 Betsy Burlingame is the Founder and President of Expat Exchange and is one of the Founders of Digital Nomad Exchange. She launched Expat Exchange in 1997 as her Master's thesis project at NYU. Prior to Expat Exchange, Betsy worked at AT&T in International and Mass Market Marketing. She graduated from Ohio Wesleyan University with a BA in International Business and German.
Some of Betsy's articles include 12 Best Places to Live in Portugal, 7 Best Places to Live in Panama and 12 Things to Know Before Moving to the Dominican Republic. Betsy loves to travel and spend time with her family. Connect with Betsy on LinkedIn.