Andros Island, Bahamas
Last updated on Jul 10, 2023
Summary: Expats, digital nomads and retirees talk about what it is really like living in Andros Island, Bahamas. They offer advice about meeting people, cost of living, finding a home and more.
What do I need to know before moving to Andros Island?
When we asked people what advice they would give someone preparing to move to Andros Island, they said:
"Andros Island is the largest of the 26 inhabited Bahamian Islands, known for its stunning beaches, clear waters, and vibrant coral reefs. The official language is English, so communication should not be a problem for English-speaking expats. The currency used is the Bahamian dollar, which is pegged to the US dollar, and US dollars are widely accepted. The cost of living on Andros Island is relatively high, as most goods are imported. Housing can be expensive, but varies depending on the location and size of the property. Utilities like electricity and water can also be costly due to the island's remote location. The island has a tropical monsoon climate, with a wet season from May to November and a dry season from December to April. Hurricanes can occur between June and November, so it's important to be prepared and have a plan in place. Healthcare facilities on Andros Island are limited, with only a few small clinics available. For serious medical conditions, patients are often airlifted to Nassau or the United States. Therefore, it's recommended to have comprehensive health insurance that covers medical evacuation. Andros Island is known for its laid-back lifestyle and friendly locals. The island has a rich culture with deep roots in folklore, music, and dance. There are also plenty of outdoor activities to enjoy, such as fishing, snorkeling, and exploring the island's blue holes and national parks. Public transportation is limited on Andros Island, so having a car is beneficial. However, be aware that driving is on the left-hand side of the road. Also, the island's infrastructure can be underdeveloped, with many unpaved roads and limited signage. The island has a low crime rate, but like anywhere, it's important to take basic safety precautions. Be aware of your surroundings, especially at night, and secure your home and belongings. Internet and cell phone service can be unreliable, especially in more remote areas of the island. It's recommended to have a backup plan for communication, especially if you need to work remotely. Finally, while Andros Island is a beautiful place to live, it's also a remote location with limited amenities and services. It's important to be prepared for a slower pace of life and to be self-sufficient," said one expat in Andros Island.
How do I find a place to live in Andros Island?
About the Author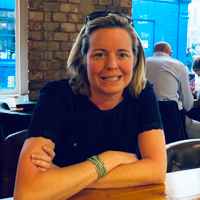 Betsy Burlingame is the Founder and President of Expat Exchange and is one of the Founders of Digital Nomad Exchange. She launched Expat Exchange in 1997 as her Master's thesis project at NYU. Prior to Expat Exchange, Betsy worked at AT&T in International and Mass Market Marketing. She graduated from Ohio Wesleyan University with a BA in International Business and German.
Some of Betsy's articles include 12 Best Places to Live in Portugal, 7 Best Places to Live in Panama and 12 Things to Know Before Moving to the Dominican Republic. Betsy loves to travel and spend time with her family. Connect with Betsy on LinkedIn.