Holetown, Barbados
Last updated on Jul 09, 2023
Summary: Expats, digital nomads and retirees talk about what it is really like living in Holetown, Barbados. They offer advice about meeting people, cost of living, finding a home and more.
What do I need to know before moving to Holetown?
When we asked people what advice they would give someone preparing to move to Holetown, they said:
"Expats moving to Holetown should be aware that the official language is English, making it easier for English-speaking expats to communicate. The cost of living in Holetown can be quite high, especially when it comes to housing and dining out. The local currency is the Barbadian dollar, but US dollars are also widely accepted. The climate in Holetown is tropical, with warm temperatures year-round and a rainy season from June to November. It's important to note that Barbados is in the hurricane belt, and while direct hits are rare, they can occur. Healthcare in Barbados is of a high standard, with both public and private hospitals available. However, expats should ensure they have comprehensive health insurance as medical costs can be high. Holetown is known for its beautiful beaches, vibrant nightlife, and excellent restaurants. It's a popular tourist destination, so it can get crowded during peak travel seasons. Driving is on the left side of the road in Barbados, and while public transportation is available, having a car can be more convenient for getting around. Barbados has a relatively low crime rate, but like anywhere, petty crime such as theft can occur, so it's important to take standard precautions. The work culture in Barbados tends to be more relaxed than in many Western countries, but punctuality is still important. Finally, Barbadians, or Bajans, are known for their friendliness and hospitality, so expats can look forward to a warm welcome," wrote one member in Holetown.
What is a typical expat home or apartment like in Holetown?
About the Author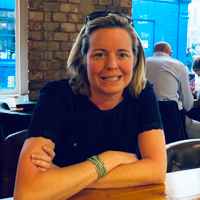 Betsy Burlingame is the Founder and President of Expat Exchange and is one of the Founders of Digital Nomad Exchange. She launched Expat Exchange in 1997 as her Master's thesis project at NYU. Prior to Expat Exchange, Betsy worked at AT&T in International and Mass Market Marketing. She graduated from Ohio Wesleyan University with a BA in International Business and German.
Some of Betsy's articles include 12 Best Places to Live in Portugal, 7 Best Places to Live in Panama and 12 Things to Know Before Moving to the Dominican Republic. Betsy loves to travel and spend time with her family. Connect with Betsy on LinkedIn.