St. Joseph, Barbados
Last updated on Jul 09, 2023
Summary: Expats, digital nomads and retirees talk about what it is really like living in St. Joseph, Barbados. They offer advice about meeting people, cost of living, finding a home and more.
What do I need to know before moving to St. Joseph?
When we asked people what advice they would give someone preparing to move to St. Joseph, they said:
"Before moving to St. Joseph, expats should know that the official language is English, but Bajan, a local dialect, is also widely spoken. The cost of living can be high, especially for housing and imported goods. The local currency is the Barbadian dollar, which is pegged to the US dollar. Public transportation is reliable and affordable, with minibuses and route taxis being the most common modes of transport. Driving is on the left-hand side of the road, and an international driving permit is required to drive in Barbados. The climate is tropical, with a wet season from June to November and a dry season from December to May. Hurricanes can occur during the wet season. Healthcare in Barbados is of a high standard, with a mix of public and private facilities available. However, health insurance is recommended as medical costs can be high. Barbados has a relatively low crime rate, but petty crime such as theft can occur. It's advisable to take standard precautions to protect personal belongings. The culture in Barbados is a blend of African, Indian, Irish, Creole and British influences. Cricket is the national sport and is passionately followed by locals. Barbados has a strong education system, with a literacy rate of nearly 100%. There are both public and private schools, as well as international schools. The work culture in Barbados is generally relaxed, but punctuality is highly valued. Work permits are required for expats and can be difficult to obtain unless you have skills that are in demand. Barbados has strict laws on drug use and possession, with severe penalties for violations. The country is also conservative in its views on LGBTQ+ rights, with same-sex activity being illegal. Finally, Barbados is known for its vibrant festivals, with the most famous being Crop Over, a traditional harvest festival that takes place in the summer," said one expat in St. Joseph.
What is a typical expat home or apartment like in St. Joseph?
About the Author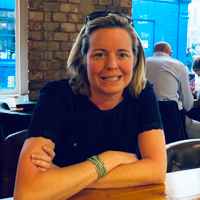 Betsy Burlingame is the Founder and President of Expat Exchange and is one of the Founders of Digital Nomad Exchange. She launched Expat Exchange in 1997 as her Master's thesis project at NYU. Prior to Expat Exchange, Betsy worked at AT&T in International and Mass Market Marketing. She graduated from Ohio Wesleyan University with a BA in International Business and German.
Some of Betsy's articles include 12 Best Places to Live in Portugal, 7 Best Places to Live in Panama and 12 Things to Know Before Moving to the Dominican Republic. Betsy loves to travel and spend time with her family. Connect with Betsy on LinkedIn.