Waterford, Ireland
Last updated on Jul 10, 2023
Summary: Expats, digital nomads and retirees talk about what it is really like living in Waterford, Ireland. They offer advice about meeting people, cost of living, finding a home and more.
What do I need to know before moving to Waterford?
When we asked people what advice they would give someone preparing to move to Waterford, they said:
"Waterford, located in the southeast of Ireland, is the country's oldest city with a rich history dating back to Viking times. It's known for its crystal production, so a visit to the House of Waterford Crystal is a must for newcomers. The city has a maritime climate with mild winters and cool summers, so packing a variety of clothing is advisable. The cost of living in Waterford is lower compared to Dublin, but still higher than many places in Europe. Renting a one-bedroom apartment in the city center can be quite affordable. The city is small, so getting around is relatively easy, and many people walk or cycle to work. The healthcare system in Ireland is good, but it can be expensive if you're not a resident. Therefore, it's important to have health insurance. The education system in Ireland is also highly regarded, with a number of good schools in Waterford. Irish people are known for their friendliness and hospitality, and Waterford is no exception. The city has a vibrant arts scene, with numerous festivals throughout the year. The local cuisine is also worth exploring, with a focus on fresh, locally sourced ingredients. English is the main language spoken in Waterford, but you'll also hear Irish, especially in schools and on public signage. It's not necessary to learn Irish to live in Waterford, but it could enhance your experience. Finally, it's important to note that Ireland is part of the European Union, so EU citizens can move and work freely in Waterford. Non-EU citizens will need to secure a visa or work permit before moving to Waterford," remarked one expat who made the move to Waterford.
How do I find a place to live in Waterford?
About the Author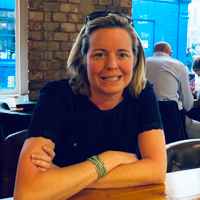 Betsy Burlingame is the Founder and President of Expat Exchange and is one of the Founders of Digital Nomad Exchange. She launched Expat Exchange in 1997 as her Master's thesis project at NYU. Prior to Expat Exchange, Betsy worked at AT&T in International and Mass Market Marketing. She graduated from Ohio Wesleyan University with a BA in International Business and German.
Some of Betsy's articles include 12 Best Places to Live in Portugal, 7 Best Places to Live in Panama and 12 Things to Know Before Moving to the Dominican Republic. Betsy loves to travel and spend time with her family. Connect with Betsy on LinkedIn.