Expats Talk about Health Insurance and Healthcare in Nassau, Bahamas
Last updated on Feb 02, 2023
Summary: The quality of medical care in Nassau, Bahamas is generally comparable to that of the United States, though some services may be more limited. The main hospitals and clinics in Nassau are the Princess Margaret Hospital, the Rand Memorial Hospital, the Doctors Hospital, the Bahamas Medical Center, and the Lyford Cay Hospital. Emergency services are available in Nassau, and an ambulance can be called by dialing 911.
How are healthcare services Nassau?
When we asked expats and global nomads about the quality of medical care in Nassau, they replied:
"As compared to Canada the availability and quality of some health care services is lacking but still adequate. The speed of which they will see you at the clinics and private hospitals is much faster then it is in Canada and for what is missing a quick trip to Florida will provide you with all you need that can not be found in New Providence," mentioned another expat in Nassau.
"The majority of people who can afford insurance use the local private hospital as a reference to have any real work done in the US. Probably the most advanced procedure you can have here with accuracy is MRI/CAT scans. From there, you are diagnosed and sent to US for treatment," said an expat in Nassau.
"For any major healthcare needs I would travel back home or to Florida and not risk a major surgery here," commented one expat living in Nassau, Bahamas.
Answer Question & View More Answers
Are healthcare and health insurance expensive in Nassau?
"I have found that the health insurance costs is more related to your health history then where you choose to live. Exclusions in new policies are common if you have a history of certain health problems. I have expat insurance as well as international health care insurance and have found them to be adequate in paying for both emergency situations as well as routine costs. The one problem has always been that I must pay for many services on my own first and then have it reimbursed by the health care provider, this can be hard on the cash flow if you don't have the money put aside for an emergency situation," wrote an expat living in Nassau.
What are emergency services like in Nassau?
When we asked about emergency services, members in Nassau wrote:
"We live on the west end of the Island which is close to the Lyford Cay Hospital (Private) and the Doctor's Clinic (Private). Both the public hospital and the Doctor's Hospital are in the downtown area and not that far of a drive. I have used all three of the private clinics and hospitals without any problems and have found the care and service to be more then adequate. I have not used the public hospital. All of them are serviced by an ambulance service as well," wrote an expat living in Nassau.
Will I need to travel to see a specialist?
"I have no need to leave the island for health services yet. However most people take the short trip to Florida for any services they can not receive on island," said another expat.
Are common prescription medications available in Nassau?
"Most prescriptions are readily available. I have found for those not commonly at the pharmacies that they will order them for you without a problem. I have a reoccurring prescription that they order from England and I have been getting it every month at my local pharmacy without any problem. The cost is generally a little higher then it would be in the USA but my prescription coming from England is actually cheaper then what I paid for it in Canada. Prescriptions are needed for all prescribed medicines but are easily obtained at any of the clinics," wrote an expat living in Nassau.
What have your experiences during the pandemic with the local healthcare system been like?
When we asked expats in Nassau if common prescription medications are available in Nassau, they wrote...
"I had an MRI done on my back and hip. And an ultrasound on my testicles. No issues at all. Felt the standard of care was met on all fronts," remarked another expat living in Nassau.
"Fortunately I have not had need to seek healthcare during the pandemic but the public hospital is regularly overrun and lacking beds for those who are sick. The private clinics can help more but you would still be required to stay home and would not have access to a ventilator should you need it. For non emergency and non COVID-19 related issues the private healthcare is still adequate. If I or someone in my family were to get COVID-19 I would likely stay home while seeking help from a private physician," said one expat living in Nassau.
What advice do you have for expats having a baby in Nassau?
We asked expat moms who gave birth in Nassau about their experiences and advice they have for other moms to be. They said:
"Some advice for expats having a baby in Nassau is to research childbirth and newborn care options ahead of time. There are a variety of providers offering different types of care from home births to natural birthing centers and doctors who specialize in maternal and infant care. It may be helpful to identify which doctors and hospitals accept your insurance or you may want to explore a private health care provider. Another important factor to consider is the cost of the medical care and whether it will be covered by your insurance. Additionally, you may want to look into the availability of postnatal support groups and prenatal classes. Finally, it's important to consider the language barrier as English is the primary language spoken in Nassau," remarked another in Nassau.
Are healthcare services good in Nassau?
We asked people if they have access to good medical care in Nassau. They wrote:
"Nassau offers a variety of healthcare services to its residents. The primary providers of healthcare in Nassau are the government-run Princess Margaret Hospital, the privately-run Doctors Hospital and the Rand Memorial Hospital. Princess Margaret is the only hospital in Nassau that offers inpatient services, which includes emergency room treatment, surgeries, and medical procedures. Doctors Hospital features an expansive outpatient facility, providing patients with convenient primary care. The Rand Memorial Hospital is a private facility that offers a wide range of specialty services, including cardiology, oncology, obstetrics, and gynecology. Other healthcare services provided in Nassau include dentists, optometrists, chiropractors, home health organizations, physical therapists, mental health professionals and nutritionists. Additionally, Nassau is home to a number of medical laboratories, including LabTech and Public Medical Centre, providing a variety of diagnostic and laboratory tests," explained one expat.
"We have both a general hospital and private hospitals as well as private clinics. The healthcare is adequate. For major health issues many people choose to fly to Florida as well. The cost is comparable but the choice of healthcare is perceived to be greater," said another person in Coral Harbour.
About the Author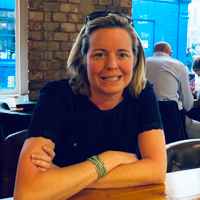 Betsy Burlingame is the Founder and President of Expat Exchange and is one of the Founders of Digital Nomad Exchange. She launched Expat Exchange in 1997 as her Master's thesis project at NYU. Prior to Expat Exchange, Betsy worked at AT&T in International and Mass Market Marketing. She graduated from Ohio Wesleyan University with a BA in International Business and German.
Some of Betsy's articles include 12 Best Places to Live in Portugal, 7 Best Places to Live in Panama and 12 Things to Know Before Moving to the Dominican Republic. Betsy loves to travel and spend time with her family. Connect with Betsy on LinkedIn.