Expats Talk about Health Insurance and Healthcare in Tamarindo, Costa Rica
Last updated on Jan 22, 2023
Summary: Expats and global nomads in Tamarindo, Costa Rica share their experiences with health insurance, healthcare in Costa Rica, local hospitals and specialists, quality of medical care and more.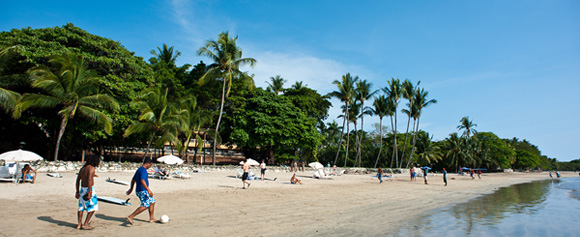 How are healthcare services Tamarindo?
When we asked expats and global nomads about the quality of medical care in Tamarindo, they replied:
"National health care may not provide a sufficient safety net - it may require a long wait for medical procedures. Private health care is recommended, but coverage for "pre-existing conditions" is generally not available except through national health care," said one expat living in Tamarindo.
"The caja is randomly assigned and not really a great value for what you get, private care is better and expat insurance isn't inexpensive. I do better to have my home health insurance and pay cash for services in CR however the providers here are excellent," said an expat in Tamarindo.
What are emergency services like in Tamarindo?
When we asked about emergency services, members in Tamarindo wrote:
"45 minutes to a private hospital, 1 hr 30 minutes to a public hospital. Local ambulances provide local emergency care although severe medical issues may require 45 minutes or more to a hospital," remarked another expat living in Tamarindo.
Will I need to travel to see a specialist?
"Drive 1 hr 30 minutes to see specialists in Liberia. Some medical procedures, such as an MRI, require a drive to San Jose, 5 hours away," added another expat.
Are common prescription medications available in Tamarindo?
"Most are available locally at a nearby pharmacy. Most are available without a prescription, except narcotics. Generic "prescription" drugs are lower cost but typical OTC drugs seem to be more expensive (ibuprofen, aceotminophen)," said another expat.
What have your experiences during the pandemic with the local healthcare system been like?
When we asked expats in Tamarindo if common prescription medications are available in Tamarindo, they wrote...
"I've only had the testing and it was expensive but easy to get and results were a little fumbled. Overall, it worked for what I needed," commented one expat living in Tamarindo, Costa Rica.
What advice do you have for expats having a baby in Tamarindo?
We asked expat moms who gave birth in Tamarindo about their experiences and advice they have for other moms to be. They said:
"Be aware that the health care system may be different than what you are accustomed to back home. Make sure to look into the best hospitals and doctors to find the right level of care. Expats should also inquire about having their baby at a private hospital, as this may provide more comfortable services and better support. Additionally, make sure that you are prepared to live in Tamarindo as you adjust to life with a newborn. Gather information on local stores and shops that deliver and get to know your nearby neighbourhood. Talk to other expats with children to get a better idea of local services and advice, as well as to form a supportive community," explained one expat living in Tamarindo.
Are healthcare services good in Tamarindo?
We asked people if they have access to good medical care in Tamarindo. They wrote:
"Healthcare services in Tamarindo are generally good, with several hospitals, clinics and specialists to choose from. Various specialized treatments and services are offered, including general practice, cardiology and dentistry. The main hospital in the town is Hospital Vizcaya, with a 24-hour emergency service, modern facilities, and bilingual staff. Clinica Tamarindo is a smaller clinic providing basic medical services for the local population and tourists. In addition, there are several private medical clinics in town that specialize in different medical and dental treatments. Tamarindo also has several pharmacies where medications can be purchased, as well as a Red Cross clinic for urgent medical needs," explained one expat living in Tamarindo.
About the Author

Joshua Wood, LPC joined Expat Exchange in 2000 and serves as one of its Co-Presidents. He is also one of the Founders of Digital Nomad Exchange. Prior to Expat Exchange, Joshua worked for NBC Cable (MSNBC and CNBC Primetime). Joshua has a BA from Syracuse and a Master's in Clinical and Counseling Psychology from Fairleigh Dickinson University. Mr. Wood is also a licensed counselor and psychotherapist.
Some of Joshua's articles include Pros and Cons of Living in Portugal, 10 Best Places to Live in Ireland and Pros and Cons of Living in Uruguay. Connect with Joshua on LinkedIn.