Retire in Izmir, Turkey
Last updated on Feb 03, 2023
Summary: Izmir, Turkey is a popular destination for retirees due to its Mediterranean climate, stunning beaches, and vibrant culture. The weather in Izmir is typically mild, with average temperatures ranging from the mid-50s to the mid-70s Fahrenheit. There are several retirement communities in Izmir, offering a variety of amenities such as swimming pools, fitness centers, and social activities. The cost of a nice two-bedroom home in Izmir is typically around $100,000 USD, while a nice three-bedroom home can cost around $150,000 USD.
What is it like to retire in Izmir?
"Retiring in Izmir can be a great experience for those looking for a vibrant city with many activities and attractions. The city is situated on the Aegean Coast, and its warm Mediterranean climate makes it a great place to spend retirement years. Izmir has a rich history dating back to ancient times, and there are plenty of cultural and historical sites to explore. There are also excellent public transportation systems and modern amenities for those who want to make the city their home. There is a vibrant local food culture with many delicious restaurants, and the city is home to an array of shopping centers and markets. Those looking for an active retirement can take advantage of Izmir's beaches and parks, as well as its many sporting venues, festivals, and concerts. There is something for everyone in this lively and lively city," added another person in Izmir.
What advice do overseas retirees have for others considering retiring abroad?
"Research your chosen destination thoroughly and validate it meets your needs and expectations; understand the local laws and be sure to establish your legal rights in the chosen country; consult with a local financial and legal advisor to ensure that your investments, banking, taxes and healthcare are all in order; establish a relationship with a local contact and become familiar with the local culture and customs; budget accordingly and save money to cover unexpected costs and to protect your financial security; learn the language if possible to make the transition smoother; visit the location before making a commitment; and create a linear plan and developing strategies to help ensure that you make the very most of your new life in a new country," remarked another retiree in Izmir.
What are the most challenging aspects of retiring in Izmir?
"The cost of living in Izmir can be high and the cost of medical care can also be expensive, so it is important to plan for retirement costs. Additionally, navigating the government and legal system can be challenging since services may not be easily accessible outside of larger cities and most services are not designed for English-speaking people. Finally, Izmir can experience extreme temperatures in the summer, so retirees must make sure they have adequate air conditioning to protect their health and well-being," explained a retiree in Izmir.
What are the most rewarding aspects of retiring in Izmir?
"Living in a cultural hub with diverse entertainment and arts, enjoying the warm Mediterranean climate year-round, having access to a wide range of outdoor activities, sampling the delicious local cuisine, sightseeing places of historical significance, being in close proximity to significant points of interest, relaxing on beautiful beaches and taking advantage of financial benefits such as low taxes and low cost of living," said another retiree in Izmir.
What are healthcare services like in Izmir?
We asked retirees if they have access to good medical care in Izmir. They wrote:
"Izmir offers an extensive range of health care services, with several hospitals, clinics and pharmacies providing high-quality medical care. There are three top-rank hospitals in Izmir—Ata?ehir T?p Merkezi Hastanesi, Izmir International Hospital and Konak Physical Medicine and Rehabilitation Hospital. These hospitals provide treatments for a wide range of diseases and symptoms, from cardiology and oncology to physical therapy and orthopedics. Furthermore, there are countless private clinics and pharmacies providing general medical services, as well as specialized treatments. Overall, Izmir has a comprehensive healthcare infrastructure and offers good quality services," added another person in Izmir.
How do I meet people in Izmir?
When we asked people living in Izmir about club and activities where newcomers can meet others, they responded:
"Izmir is a vibrant city with plenty of opportunities to make new friends! To meet people in Izmir, you can attend local meetups, join interest-based clubs, attend volunteer or cultural events, or visit places like cafés, parks, malls, and cultural venues. You can also meet people online through social media or communication apps like Meetup, Couchsurfing, and Expat Izmir. Additionally, joining a language exchange group can help you meet people who speak different languages," explained one retiree living in Izmir.
"There's the Izmir Turkish American Association which has various activities for Turks and Americans and some of them are free and for others there's a fee. They do things such as go on outings to historical sites, cooking classes, English lessons, poetry club and movie nights, just to name a few. Also, there's the IWAI (International Women's Association of Izmir), which hosts coffee mornings, dinners, and other events," said another retiree in living in Izmir, Turkey.
What is life like in Izmir?
When we asked people living in Izmir what life is like and how people spend their time, they said:
"Life as an expat in the area can vary greatly, depending on one's individual situation. Many expats live and work in larger cities, such as Belgrade or Novi Sad, or even smaller towns or villages, but the culture and lifestyle in each area will be different. There are numerous opportunities to explore the local culture, with plenty of historic and cultural sites, and plenty of opportunities for outdoor activities and sightseeing. The weather is mild and the cost of living is relatively low, making it a great place to live. Expats will have access to a wide range of amenities, from great transportation systems to international schools and supermarkets. The locals are usually friendly and welcoming and are usually open to meeting expats. While it may not be the most exciting destination, it does offer a sense of stability that many expats appreciate," said another retiree in Izmir.
"In my opinion people focus mainly on work and family (with family comes the socializing). My strata is mainly with folks in their 30's and 40's and so they work (life requires it) and then want to spend time with their family and friends. Many Turks work long hours unfortunately so when they have free time they want to socialize. I'm not sure about the college folks etc. They probably have a whole different scene," commented one retiree living in Izmir, Turkey.
What do I need to know before retiring in Izmir?
When we asked people what advice they would give someone preparing to move to Izmir, they said:
"If you are planning to retire in Izmir, you should research the cost of living in the area. You should also familiarize yourself with the city's climate and local culture. Look into health care options and find out if you'll need a visa or residency permit. It's also important to consider where you will live and what types of amenities, transportation and recreational activities are available in the area. Additionally, research the tax laws and regulations for retirees in Izmir to ensure you are compliant when filing your taxes," explained one retiree living in Izmir.
"If a friend of mine was thinking of moving here I would be delighted! I think it's a great city. I would advise them to learn some Turkish beforehand (it'll make things a little smoother) and not to forget their winter stuff (even though Izmir is on the Aegean and has hot summers it gets cold here in the winter)," said another retiree in living in Izmir, Turkey.
About the Author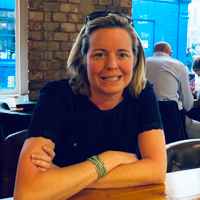 Betsy Burlingame is the Founder and President of Expat Exchange and is one of the Founders of Digital Nomad Exchange. She launched Expat Exchange in 1997 as her Master's thesis project at NYU. Prior to Expat Exchange, Betsy worked at AT&T in International and Mass Market Marketing. She graduated from Ohio Wesleyan University with a BA in International Business and German.
Some of Betsy's articles include 12 Best Places to Live in Portugal, 7 Best Places to Live in Panama and 12 Things to Know Before Moving to the Dominican Republic. Betsy loves to travel and spend time with her family. Connect with Betsy on LinkedIn.