Real Estate in Izmir, Turkey
Last updated on Dec 08, 2022
Summary: People living in Izmir, Turkey offer advice about real estate. How do you find a home in Izmir? Should you buy or rent? What is the cost of housing?
How do I find a place to live in Izmir?
We asked expats how they chose their neighborhood and found a place to live. They answered:
"Izmir is a popular destination for its Mediterranean climate, cultural attractions and stunning sea views. There are a variety of accommodation options in Izmir, ranging from luxury hotels to budget guesthouses and apartments. Depending on your budget and preferences, you can search online for suitable accommodation such as HotelsCombined and Booking.com for hotels, AirBnB for apartments and homestays, or TripAdvisor for user reviews and recommendations. Additionally, there are real-estate websites in Turkey where you can compare prices and locations before buying a property, such as sahibinden.com, gayrimenkul.com and zingat.com. Finally, it is also possible to find a place to rent directly from landlords or contact local estate agents to help you find the perfect place to live," said another expat in Izmir.
"I recently married a lovely Turkish man and he already has his own home in a very nice neighborhood of Karsiyaka. It's a 10 min. walk to the seaside and parks and there are ample corner markets, bakeries, pharmacies and grocery stores nearby. The post office isn't far away either, so we are in a good location," remarked another member in Izmir.
What is a typical expat home or apartment like in Izmir?
"Typical expat homes or apartments in Izmir tend to be luxurious and well-appointed. They typically have modern appliances and amenities like high-speed internet, air-conditioners, and comfortable furnishings. Many offer access to nearby recreational facilities like pools, tennis courts, and golf courses. Expats can typically find homes or apartments located in areas near the city centre, close to shopping, restaurants, and entertainment. Most properties will also have access to good public transport links and are often located in gated compounds for added safety and security," said another person in Izmir.
"We live in an apartment ('daire' as they say in Turkish) which is of a good size for us (open kitchen and a decent size living room, one bathroom, two bedrooms and a balcony). I have met a few expats and they all have similar housing," remarked another foreigner who made the move to Izmir.
What is the average cost of housing in Izmir?
If you are thinking about moving to Izmir, cost of living in probably a key consideration. Expats commented about the cost of housing:
"The average cost of housing in Izmir is generally considered to be moderate. Prices can vary depending on the area, but generally range from around 500-1600 euros per month for a one-bedroom apartment or house," said another person in Izmir.
"Lower--because in the States I paid rent. My husband had his own home so there's no rent. Yay! However, even if we did pay rent it would be cheaper than back in the US. A person can find a nice apt. for anywhere between 450 to 600 Turkish lira. But 500 TL seems to be more of the average in our neighborhood," added another expat who made the move to Izmir.
Should I buy or rent a home in Izmir?
If you have not spent a lot of time in Izmir, you should rent before even thinking about buying. We asked expats there about the buy vs. rent decision:
"Whether to buy or rent a home in Izmir depends largely on your budget, needs, and the current local real estate market conditions. Buying a home may be a better option if you plan to stay in Izmir long-term and you can get a good deal. However, if you may move in the near future, renting could be better because it provides more flexibility and generally involves less upfront costs. Research the local market, consider your individual situation, and weigh the pros and cons of each option to determine which is the best fit for you," said another person in Izmir.
About the Author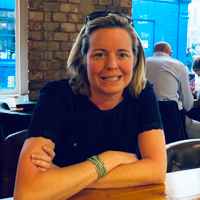 Betsy Burlingame is the Founder and President of Expat Exchange and is one of the Founders of Digital Nomad Exchange. She launched Expat Exchange in 1997 as her Master's thesis project at NYU. Prior to Expat Exchange, Betsy worked at AT&T in International and Mass Market Marketing. She graduated from Ohio Wesleyan University with a BA in International Business and German.
Some of Betsy's articles include 12 Best Places to Live in Portugal, 7 Best Places to Live in Panama and 12 Things to Know Before Moving to the Dominican Republic. Betsy loves to travel and spend time with her family. Connect with Betsy on LinkedIn.