What do expats find most challenging?
We asked expats and digital nomads what they find the most challenging about the local culture in Austria. They wrote...
"Language is still somewhat a challenge because I don't speak fluently. Nearly everyone speaks English here, so it's not a big deal until you plan to study or get some certain job," remarked another expat in Vienna, Austria.
"Being alone and finding friends who are of like ideas and interests. I am happily married and am not looking for romance but having close friends with which to do things is a challenge," said a member in Vienna, Austria.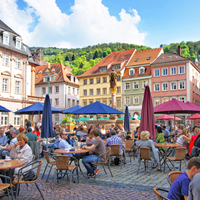 Furnished Rentals in Austria from Homelike
We've partnered with Homelike, to connect expats and newcomers with temporary accommodations in Austria. If you're moving to Austria, rent a short-term, furnished apartment or home for the first few months from Homelike and take your time figuring out the best place to live in Austria.
SEARCH RENTALS
Other Questions:
What do expats find most challenging?
If you live in Austria, newcomers to Austria would love to hear your answer to this question.