Puglia, Italy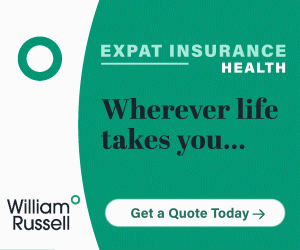 Why is Puglia described as the new Tuscany? People are drawn to Puglia's low cost of living, amazing climate, beautiful beaches hidden away in coves, and, most importantly, the wonderful Pugliese people. If Puglia is on your shortlist, this overview of life in Puglia, Italy is an essential read.
Puglia, Apulia in Italian, is the heel region of Italy's boot. "Puglia is increasingly being touted as the new Tuscany," wrote one expat. "There are two regional airports in Puglia with good connections to other other parts of Europe. Climate was a big draw to sunny Puglia, and the people here are kind and patient. They are not yet jaded by excessive tourism. The landscape and beaches are captivating, the food is very healthy and inexpensive. Even restaurant dining is inexpensive as is good local wine. The quality of life in my opinion is very high and the cost of living quite reasonable. Food in the outdoor markets is sourced from farms very close by. I have traveled all over Italy over many years and loved every place I visited. But when it came time to choose a place to live, I realized that Puglia was an authentic, low-stress region with its own unique character," said one expat.
In this article, you'll find:
The Pugliese People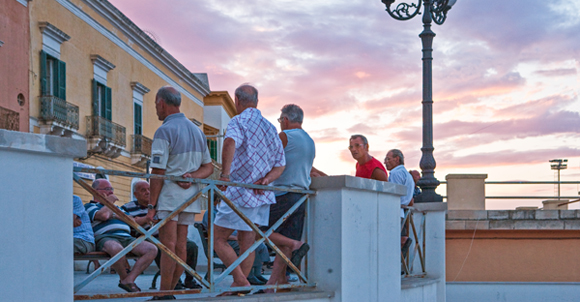 "There are countless pros for me for Italy in general, but living in Puglia revealed the wonderful nature of the Pugliese people. They are not jaded by tourism, they are patient with those who do not speak the language, they are empathetic, helpful and generous. My neighbors have been welcoming and curious about us Americans moving in down the street. I am so fortunate to have these people in daily contact and it has aided my transition here immensely," commented one expat in Puglia.
Cost of Living in Puglia
"Puglia has much to offer. Prefer country living and like being in an area, with a minimum of tourists and great wine. Cost of living is very low and locals treat us very, very well," said one expat in Puglia. "I would suggest a trip to Puglia. The medieval towns are beautiful, not too touristy, fabulous climate and beaches. Search Locorotondo, Martina Franca, Monopoli, Polignano a Mare, Cisternino and many more. Lovely old style apartments from 100.000 euro plus and friendly beautiful people plus fabulous food! We live here partime from Australia and love it," wrote one expat.
Healthcare in Puglia
"You should understand an important characteristic of Italy: that unlike in the USA, things are not at all consistent over the whole country, and this is also often, but not always, true of health care. Each region is different in a number of ways from the other regions, and the differences between the northern and southern halves of Italy are even more stark. I know because I have lived in both Puglia and Friuli Venezia Giulia," wrote one expat in a discussion about living in Puglia.
"It's pretty much hit and miss, really, but be aware that southern Italy is generally more haphazard, laid back (they'll take care of it domani, domani) [tomorrow, tomorrow], and less clean. When we lived there almost everyone we knew had their houses broken into or their cars stolen all within a couple of years. It reminded me a lot of Mexico. The people are generally friendlier than northern Italians though, at least that was our experience," commented another expat.
Many expats in Puglia purchase private health insurance to have access to private hospitals and be able to travel to hospitals in northern Italy or elsewhere in Europe.
What is the Climate like in Puglia?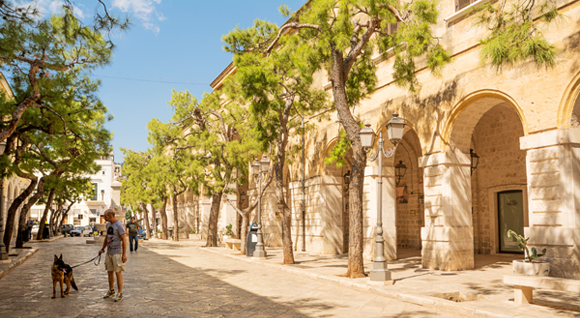 "Spring arrives early in Puglia and the wild flowers are spectacular. I like that it becomes arid in summer because I hate humidity. Fall is gorgeous and the landscape slowly turns back to green. I?m not fond of winter here, but there is only a dusting of snow one or two days for the season. Temps below freezing are very limited. Even in winter there may be sunny days when you can have lunch outdoors with a light jacket or sweater. There are still some flowers in the garden like camellias that bloom in February. But more often wintertime in Puglia is when it is humid, rainy and damp. The cisterns get filled with water, you get a break from mist gardening, and you keep a watchful eye to any muffs (mold) that can develop on walls and ceilings with high humidity. Winters are short though? 3 months at most," described one expat.
Some people, who had considered Puglia but chosen elsewhere in Italy, had a different view of the climate in Puglia. One said, "I've heard a lot about Puglia on this forum. I went there on vacation a couple years ago. I drove down from Marche and passed thru the center of Puglia from the north to the southern tip. Reminded me a lot of Texas! Yea the costal areas are nice but travel inland and it looks a bit bleak. Nothing like traveling thru Umbria or Marche with their lush rolling hills." "I could not have described it any better! Puglia = Texas. Le Marche = California," replied one expat (not living in Puglia).
Where Should I live in Puglia? Choosing Between the Coast and Inland Cities and Villages
"The Valle d'Itria is a beautiful area and a short drive to the sea. If you are only here in the warm months, a seaside location may suit you well; but you might be interacting with a more transient international population. I live here all year and I wanted a yearround community with an established Italian residency. There are many types of living situations in the Valle d?Itria and elsewhere in Puglia. The south of Puglia tends to be flatter and more rustic. Some of the best beaches are in the south both in the Adriatic and Ionian Seas, but some of these places become ghost towns in winter. One active poster in this forum sings the praises of San Vito dei Normanni where I happened to be last evening. I can see the appeal there too. Oh, and Puglia has low humidity in summer months. I detest humidity! It really comes down to what situation will sustain you and your goals. You need to scout around and imagine yourself in a place from both a romantic and a practical perspective. The good news is that there is adequate diversity of living situations that should provide a good choice and fit for your needs," wrote one expat.
"I live in San Vito Dei Normanni, a city of about 20,000 and we are 7 kilometers from the sea, however, in the summer months the population can swell to double that. Most 'beach towns' around us, Specchiola, Torre Santa Sabina, Costa Merlata, Villanova and even larger towns such as Otranto, are pretty desolate from October - April, but vibrant during the warmer months. A lot of Italians (and Europeans) come South on holiday and own or rent homes by the sea so the towns swell in the summer. Smaller towns a few kilometers inland tend to have more amenities with year round populations... San Vito, Carovigno, Ostuni etc. But there are beautiful larger cities (Lecce, Santa Maria de Leuca, Gallipoli, Taranto) and smaller towns all along both coasts of the heel as I mentioned before. You really need to visit in the summer and in the winter to get a good feel of the area you'd like to call 'home'.
Where are the Best Places to Live in Puglia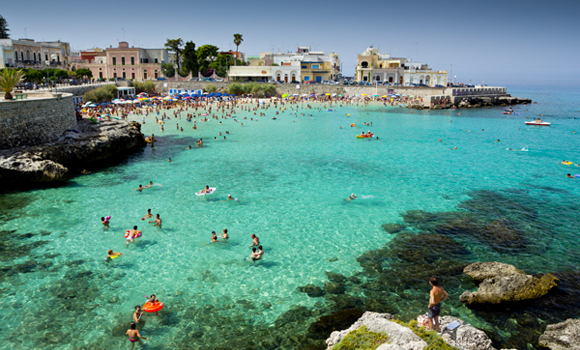 Our article, 10 Best Places to Live in Puglia, may help you narrow down your options about the best places to live in Puglia. The cities and towns in our list were chosen based upon the advice of expats who've gone through the process of choosing where to live in Puglia.
Day-to-Day Challenges of Living in Puglia
"I'm an American who lived and worked in Puglia for over a year. I have friends from that time that will never be forgotten. Living in a villa etc. in a place like Ostuni has some challenges. I had to have water brought in by truck and pumped into a tank. My oven ran off of propane and heating came by way of a pellet stove. Drying clothes outside on a drying rack, even in winter. If you live in the city areas these things do change to be closer to the way you live now but the prices increase," explained one expat in a discussion about retiring in Ostuni.
Airports in Puglia
There are two main airports in Puglia. Bari's international airport, called Palese Airport, has direct flights to many European cities. A direct train line that connects the airport to Bari's Central Station opened in 2013. A few hours south is Brindisi's airport, ,Papola Casale Airport, which also offers direct flights to many European cities.
About the Author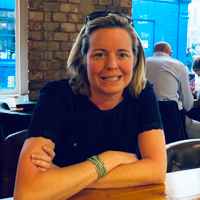 Betsy Burlingame is the Founder and President of Expat Exchange and is one of the Founders of Digital Nomad Exchange. She launched Expat Exchange in 1997 as her Master's thesis project at NYU. Prior to Expat Exchange, Betsy worked at AT&T in International and Mass Market Marketing. She graduated from Ohio Wesleyan University with a BA in International Business and German.
Some of Betsy's articles include 12 Best Places to Live in Portugal, 7 Best Places to Live in Panama and 12 Things to Know Before Moving to the Dominican Republic. Betsy loves to travel and spend time with her family. Connect with Betsy on LinkedIn.
Comments
whidden39
A very good resource article for anyone considering living in Puglia as I do. I felt all firsthand information and comments offered were reliable. While I know the word is out on Puglia's charms, I hope we are NOT the next Tuscany. Being too popular and too discovered often brings irreparable changes to the character that brings one here in the first place. It calls to mind a FB group called with tongue in cheek "Non Venite in Puglia" (Don't Come to Puglia) that undermines this heading with alluring photos of all the places you speak of in your article. Thankfully the brief copy is only in Italian which I hope limits its marketing potential globally. Again, I enjoyed your article on Puglia.
reserche
Thanks for the great info!
britapuglia
Thanks for this informative article. We would like to make contact with others who have discovered Puglia's charms and make new friends.