Rome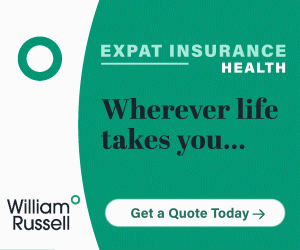 If you're moving to Rome, our Guide to Living in Rome provides answers to the questions most often asked by newcomers. Is living in Rome expensive? Which are the best International Schools in Rome? What if my apartment is a little smaller than the size required for obtaining a Residency Card? Where do expats live in Rome? The list goes on.
With a population of over 2.8 million, Rome ranks among the top 20 most visited cities in the world by tourists. Expats are drawn to Rome for its food, art, history and religion. If you're moving, you'll need more than a travel guide. In this article, expats answer the questions most commonly asked by people moving to Rome:
Is Rome a good place to live?
"The experience of living in the Eternal City can't be beat. The food is fantastic. Fresh pasta is divine. However, the Italian way of life is very different than that of the US way of life. At times, you will be frustrated and upset. For example, imagine going to the supermarket for days on end and there is no milk or fresh produce because there is a transportation strike going on. All notions of right and wrong do not exist here especially when driving. Italians will honk at you if you are going too slowly and they want to pass you or if you pause to wait for a pedestrian to cross the street you will be yelled at and honked at for not attempting to swerve around the pedestrian. My advice is to try to always remain calm and practice patience. If life gets too exasperating, go have a cappucino or better yet, get some good pizza and pasta and tackle your problem the next day. Another good tip, learn Italian. Make Italian friends who can help you overcome any difficulties," wrote one expat living in Rome.
Is Rome a good place for families to live?
"I had a huge honeymoon phase - since living in Rome had always been a dream of mine. But the honeymoon ended as soon as I picked up the kids from school everyday - it was a hard place to live with 2 small kids," confessed one expat mom.
Is living in Rome expensive?
The cost of living in Rome is much lower than New York, London, Paris and Tokyo. It is similar to the cost of living in cities like Columbus, Ohio and Edinburgh (source: Numbeo Cost of Living Index Rate) "Housing costs are much higher here than where we used to live outside of Seattle, WA. We pay 2077 euros a month for our apartment. This is probably a little below average as our apartment is on the 1st floor. The higher you go up in floors, the higher the rent. We only paid $1500 in a mortgage payment when we lived in Washington State," explained another expat.
What types of Jobs in Rome are typical for expats?
Use job sites to learn what types of jobs in Rome are currently available for English speakers. Tourism and fashion are key industries in Rome, but employers like Abbott Laboratories, Merck, Deloitte and Expedia are also hiring English speaking employees in Rome. Key resources include:
What are apartments like in Rome?
An expat in Rome described their apartment, "We live in a 2 bedroom, 2 bathroom (140 square meter) apartment with 3 separate balconies. This is typical for the type of housing available in the city. A little further out of the center, you can find 'villinos' which are like townhouses or even villas with gardens. Apartments here are either furnished or unfurnished. In an unfurnished apartment, you may even have to provide your own lights, kitchen appliances and counters."
This was mentioned before, but it's worth repeating... unfurnished apartments in Rome often do no include kitchen appliances - even counters and lights. Budget and plan accordingly.
Where do expats live in Rome?
Some expats like living in Trastevere and Centro Storico, because they're right in the middle of all the action. They're buzzing with young people, restaurant-goers and lots of tourists. Families often prefer neighborhoods that are near the international schools. Many of these schools are in northern Rome, making these neighborhoods attractive to expat families:
How do you find an apartment in Rome?
"My husband and I looked at over 35 apartments before finally finding the 'right' one. We used leasing agents. We lived in a corporate apartment for 3 months and walked around/drove around a lot looking at the buildings and neighborhoods. A lot of the apartments we saw were too dark, the spaces were all cut up into smaller areas, weren't big enough, no elevator available (big consideration when you have small children), etc," recalled one expat.
If you're moving to Rome and are new to the city, rent a short-term, furnished apartment for a few months in order to find the right neighborhood and apartment.
Do the apartment size requirements in Italy for obtaining a Residency Card apply in Rome?
An expat asked, "I just read about a couple who are living in Italy and they were refused a Residency Card because the home they were renting did not meet the Regional Requirements for a family of 3, parents and child. Their house is 44,5 square meters and the requirement states that it must be 46 square meters. They were told they would have to rent another apartment to meet the requirements. Does anyone know if this rule is the same in the Rome area? Also, what is the square footage requirement for just one person? I have a very small pension and I am planning on renting a very economical small apartment. I would really appreciate any and all information on this subject."
One member replied, "We just received our certificate of residence and they never asked us about the size of our apartment nor was it required on the form we filled out to apply for the certificate. Perhaps it's different in the case of a family with children, but it was not an issue in our case." Another expat added, "Officially, before approving residency, the town police will make an unannounced visit to the address to ensure that you are really living there and that it meets requirements for minimum size, hot and cold potable water, sanitary facilities, etc. If this wasn't done in your case, it is likely that the comune already knew your situation, was familiar with your address, etc. Just like in the US, you will find that rules in Italy can be applied in very unequal fashion."
What do expats recommend bringing to Rome?
"Wish I had brought: 1. Lots of books. The books in English here are really expensive. Paperbacks at Feltrinelli International range anywhere from 12 euros to 25 euros or more. 2. Typical American sauces, seasonings and mixes like barbecue sauce, taco sauce, cake mix, instant pudding mix, jello mix, etc. These can be found here only at Castroni and are really expensive. 3. Vitamins (bulk kind that can be found at Sam's or Costco) because they are also very expensive here and come in small bottles. Wish I had left at home: Most of my clothes. The Italian clothing style is chic and trendy. If you hit the massive biannual sales in February and August, you will be able to pick up some really nice pieces at greatly reduced prices (50-70% off)," said one expat.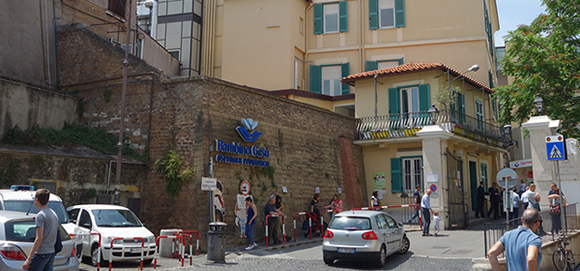 What are the Best Hospitals in Rome?
There are many well-respected private and public hospitals in Rome. For coverage at private hospitals, you may want to consider expat health insurance.
William Russell's private medical insurance will cover you and your family wherever you may be. Whether you need primary care or complex surgery, you'll have access to the best hospitals & doctors available. Unlike some insurers, we also include medical evacuation and mental health cover in our plans (except SilverLite).
Get a quote from our partner, William Russell
.
Which are the best International Schools in Rome?
If you're planning to send your kids to international schools, here are some popular choices:
Do I need to speak Italian to live in Rome?
The answer is of course no. You can get by in Rome without learning the language. But, any expat who has lived abroad long enough will tell you that learning the language will make you happier. One expat said, "If I had thrown myself into the Italian culture and language from the beginning, I would have had an easier transition and would have been happier. The language continues to be a struggle now that my children attend the local Italian school and all the meetings and paperwork are in Italian. I also long for meaningful friendships with the Italians, but my vocabulary is still too limited to have in depth conversations. My kids are fluent and I so envy them!"
Do I need to be fluent in Italian to live in Rome?
One member shared some encouraging advice, "I can say that any lessons you take will be beneficial, so take whatever lessons you can (here or there) and be the better for it. And don't hesitate to make mistakes when using what few language skills you have at hand. Just plough ahead and learn-by-doing. And remember: the Italians will all want to speak to you in English, but their language skills will (mostly) be no better than your language skills in Italian, so just dive right in and make those mistakes. They will understand you, as you will understand them. It's what makes life interesting."
One expat advised, "Learn the language as soon as possible - immerse yourself in it, make friends with the locals, send your kids to the local school, learn local recipes and customs - you will get so much more out of the culture that way!!!"
Are there any affordable language schools in Rome recommended by expats?
language schools in Rome, one expat said, "I had a good experience at RomIT, Via del Boschetto 68. The classes are small, fun, and not expensive, and there are inexpensive extracurricular activities to participate in. I made new friends from several different countries with whom I am still in touch. You can study for a couple of months or a couple of weeks, as you like. New classes start on a regular basis, not just a semester basis."
How long can I stay in Rome before I have to apply for residency?
"Americans must have an entrance visa which should be obtained at an Italian consulate before coming to Italy, in order to remain in Italy more than three months and gain resident status. This procedure will take several weeks to complete so it is advisable to apply well in advance of the departure date. The visa will be granted only for the time indicated on the application. Americans already in Italy without a visa will have to leave Italy to obtain one before they will be able to gain resident status," wrote the US Embassy in Rome.
Unless you know you are staying in Rome for less than 3 months, you must have obtain an entrance visa prior to traveling to Italy.
Where in Rome do I apply for my permesso di soggiorno (permit of stay)?
"Upon arrival in Italy, the American must obtain a permesso di soggiorno (permit of stay). As of December 11, 2006, an application "kit" for the permesso di soggiorno may be requested from one of 14,000 national post offices (Poste Italiane). The kit must then be returned to one of 5,332 designated Post Office acceptance locations," wrote the US Embassy.
William Russell's private medical insurance will cover you and your family wherever you may be. Whether you need primary care or complex surgery, you'll have access to the best hospitals & doctors available. Unlike some insurers, we also include medical evacuation and mental health cover in our plans (except SilverLite). Get a quote from our partner, William Russell.
William Russell's private medical insurance will cover you and your family wherever you may be. Whether you need primary care or complex surgery, you'll have access to the best hospitals & doctors available. Unlike some insurers, we also include medical evacuation and mental health cover in our plans (except SilverLite). Get a quote from our partner, William Russell.
About the Author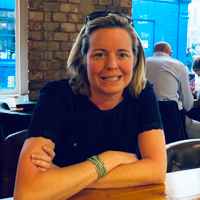 Betsy Burlingame is the Founder and President of Expat Exchange and is one of the Founders of Digital Nomad Exchange. She launched Expat Exchange in 1997 as her Master's thesis project at NYU. Prior to Expat Exchange, Betsy worked at AT&T in International and Mass Market Marketing. She graduated from Ohio Wesleyan University with a BA in International Business and German.
Some of Betsy's articles include 12 Best Places to Live in Portugal, 7 Best Places to Live in Panama and 12 Things to Know Before Moving to the Dominican Republic. Betsy loves to travel and spend time with her family. Connect with Betsy on LinkedIn.