Overseas Property Advice
9 Tips for Buying Property in Jaco, Costa Rica
By Lisapuravida
An expat in Costa Rica offers incredible insight into buying a home in Jaco, Costa Rica. She also talks about the best places in Costa Rica to invest in real estate at this time.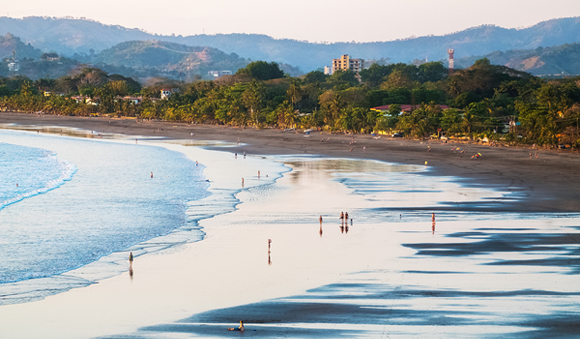 Where Most Expats Purchase Property in Jaco, Costa Rica
The most popular areas for expats in Jaco are condominium complexes. Most notibly Vista Las Palmas, Acqua, Diamante, Jaco Bay, Paloma Blanca, Jaco Beach Village and Bahia Azul. These properties are direct waterfront (with the exception of Jaco Bay only one block east). These properties are attractive to expats as they offer security, easily rented due to their proximity to the water, many amenities such as on site gym, pool and property management services. If looking for single family homes, a quiet neighborhood close to groceries, restaurants, and the beach is an area known as "Calle Rich and Famous" (Calle Rico Y Famoso). (It does have an actual municipality name but no one knows what it is!) This is a quiet neighborhood of well kept homes, well treed and very private. A little bit of oasis in the center of what can be at times a busy city.
How to Find a Property in Jaco
There are many realtors in Jaco so finding a real estate agency is easy! I recommend Keller Williams. All realtors have listing pages on their business window so simply walking thru the city and looking at listings in this manner gives a buyer a good education on what your money will purchase. Another very attractive way to find property is thru real estate listings on Facebook. There are multiple sites offering seasonal and full time rentals along with homes for sale. Don't discount "Word of Mouth" either! Frequent any restaurant/bar that the expats gather and let it be known that you are looking! You will get many responses and in a city of 12,000 people the word travels quickly.
Home Prices in Jaco, Costa Rica
Direct waterfront condos with Pacific view will start at $400,000 and of course higher based on number of bedrooms, condo amenities and location.
As Jaco is a beach destination, the most expensive but most sought after in beachfront. Homes become more affordable as it's location to the beach increases. However, there are many small complexes that are highly rentable and popular with Costa Ricans within one to two blocks to the beach and these prices start at $100,000.
At a point of $250,000 you can purchase a single family home in a quiet neighborhood.
Jaco has a very large tourist base and those involved in working the tourist industry generally live in the immediate area. The attractiveness of this feature is that you can find homes in all price ranges. You can purchase from a local at a reasonable price and this home may be next to a larger complex with many amenities of higher value.
Advice for Expats Looking at Houses in Jaco
Know the neighborhoods and price ranges is key! Spend as much time as possible in your desired area or neighborhood. Go at night especially. Is the neighborhood safe, noisy, close to a nightclub? If you want to live in a condominium complex, observe the type of clientele it attracts in their rental pool. And in this case, find out how much turnover there is (daily, weekly, monthly) As Jaco is a tourist town, make sure your visit your desired neighborhood during "high season" and especially Easter and Christmas holidays as the busiest two weeks of the year.
Hire an Attorney
Absolutely hire an attorney! Do not depend on the sellers attorney to provide a background check on the property you want to purchase. An attorney hired by YOU will make sure the property is free of liens and other incumbrances that may negatively affect your property. In the event of HOA's, your attorney will ensure that the fees are paid and you will not incur any additional fees if the seller has fallen behind.
Taxes & Fees When Buying a Home in Costa Rica
The rule of thumb in real estate sales are that attorney fees are split. Therefore it is highly recommended that the buyer employ an attorney to review and verify the sellers attorney's paperwork. The approximate fees for this is $600 per attorney. The real estate fee are paid by the seller. The fees for transfer of a properties corporation (if applicable) is split and the fee for a corporation is approximately $600. The taxes are prorated and the seller is responsible up to the day of the closing.
Foreigners are Not Restricted When Buying Real Estate in Costa Rica
Absolutely not. Foreigners can purchase property in Costa Rica. You do not need to be a citizen or resident. If you have the money, look and purchase to your content!
Best Places in Costa Rica to Buy Real Estate
In my opinion, the best areas in Costa Rica right now are in the Central Pacific region.
In this region, I recommend Playa Herradura. The most sought out areas in Herradura are close to the marina at the Los Suenos development. Within Los Suenos are high end homes and condos which are a huge draw as full time residence and investment opportunity.
Immediately south of Herradura is Jaco Beach. Jaco has 4 kilometers of walkable beach and the main business district one block east of the beach. This is an attractive area for tourism so any property with income potential is key here. The area boasts some of the best restaurants in the country which contributes to its draw by locals and tourists alike.
Continuing south is Playa Hermosa. This area is attractive to surfing as one of the top class surfing áreas in the world. It is attractive due to it's proximity to the amenities of Jaco but still very quiet and peaceful boasting miles and miles of non-commercialized beachfront land. In Hermosa, single family homes are the most attractive and homes higher in the mountain of Hermosa are attractive for their cooling breezes and sweeping vistas of the coasts.
No. 4 is the region of Esterillos (Oeste, Central, Este) This area attracts expats and locals alike for it's beautiful beaches and laid back atmosphere. This area is up and coming with a new shopping center featuring restaurants and new shops.
No. 5 Manuel Antonio/Quepos. Manuel Antonio boasts the most beautiful national park in Costa Rica. The area is quick to draw tourists and locals alike. The new Pez Vela Marina is bringing a modern face to the region and the area continues to grow and prosper.
Quickly and easily find trusted moving, insurance, relocation and other providers with Expat Exchange's Moving Planner. Select which of our trusted partners you would like to hear from and we'll do the rest.
Quickly and easily find trusted moving, insurance, relocation and other providers with Expat Exchange's Moving Planner. Select which of our trusted partners you would like to hear from and we'll do the rest.
Steps Involved in Buying Property in Costa Rica
First determine what area you wish to live and spend time in that area before purchasing. Find your property thru an agent or on your own (for sale by owners). Make an offer based on "doing your homework" on what is available in the area and price range. After negotiation, then hire an attorney to do a title search and make sure the paperwork is in order for a clear title exchange. Make sure to make your offer subject to a qualified home inspection. If you're satisfied at that point, you will basically follow the steps outlined under costs (answered previously).