Living in Venezuela
Last updated on Feb 06, 2023
Summary: The approximate population of Venezuela is 31 million people. The largest cities in Venezuela are Caracas (the capital), Maracaibo, Valencia, Barquisimeto, and Maracay. Expats love living in Venezuela for its beautiful beaches, vibrant culture, and friendly people. Life in Venezuela is described as being full of energy and excitement, with a strong sense of community and a relaxed atmosphere. Popular foods in Venezuela include arepas (corn cakes), cachapas (corn pancakes), empanadas (stuffed pastries), and pabellón criollo (a dish of rice, black beans, and shredded beef). The cons of living in Venezuela include a high crime rate, a weak economy, and a lack of basic services. The average cost of living for an expat is around $1,000-$1,500 per month in US dollars. This includes rent, utilities, food, and other basic expenses.
What do I need to know about living in Venezuela?
When we asked people what advice they would give someone preparing to move to Venezuela, they said:
"1. Before retiring in Venezuela, it is essential to have a good understanding of the current political and economic conditions in the country. It is important to research the cost of living and the availability of necessary resources like quality food, transportation, and medical care. Understanding the language and culture of Venezuela will also be beneficial. 2. It is also important to consider whether to obtain Venezuelan legal residency status or a visa if you plan to reside in the country for an extended period of time. Obtaining a Venezuelan identity card known as a cedula should also be considered for certain legal and financial purposes. 3. Depending on one's legal status in Venezuela, it may be difficult to open a bank account or transfer money in or out of the country. It is important to research and consider the need for foreign currency exchange and the ability to safely store money. 4. It is also important to research and decide on the best health care options for oneself in Venezuela. The public health care system is free but inadequate in service and supplies. Acquiring private health insurance and familiarizing yourself with where to find the best quality health care may be essential when retiring in Venezuela. 5. To be a successful expat in Venezuela, it is important to interact and network with the local community in order to find reliable information, services, and sources. Making friends and connecting with people who can offer insider knowledge and assistance may make adapting to local culture and day-to-day living easier," added another expat who made the move to Venezuela.
"In general terms people in this city are nice and kind. But you shouldn't trust everybody. Personal Security must be in your mind everytime you go out especially if you go on foot (without car), because delinquency is a serius issue here. Subway is safer than autobus unlike other countries. And if u have to take the bus avoid western routes. Indeed avoid getting around on the west part of the city and lower class zones because are the most risky," explained one expat living in Caracas, Venezuela.
How do I meet people in Venezuela?
When we asked people living in Venezuela about club and activities where newcomers can meet others, they responded:
"Meeting people in Venezuela is relatively easy. You can join a local Meetup or Couchsurfing group, attend festivals or cultural events such as carnivals, or even check out some of the many bars and clubs in big cities like Caracas. Online communities such as Expat.com and InterNations are also a great way to meet expats and learn more about Venezuela's culture. Another great way to meet people is to volunteer with a local charity or organization - you can learn a great deal about the country and make some valuable connections," commented one expat who made the move to Venezuela.
What is life like in Venezuela?
When we asked people living in Venezuela what life is like and how people spend their time, they said:
"Living as an expat in the area can be an exciting and rewarding experience. There are a diverse range of cultures and experiences available, with plenty to explore. Expats generally enjoy a good quality of life, with an array of activities, restaurants and bars to visit. The cost of living can be expensive in some areas but there are plenty of reasonably priced options as well. Public transportation is generally efficient, connecting most parts of the city. Many expats find they make good friends and build strong social networks, while being able to gain insight into different cultures," commented one expat who made the move to Venezuela.
Is there a lot of crime in Venezuela?
We asked people if there is a lot of crime. They answered:
"Yes, there is a lot of crime in Venezuela. The country has one of the highest murder rates in the world and inflation and a weak economy have caused a rise in organized crime and illegal activities. This includes drug smuggling and human trafficking. Venezuela also has a high rate of kidnapping and extortion," said another expat in Venezuela.
"Well, with the financial climate the way it is you need to be careful with what you carry around with you. There are lots of telephone robberies and bag snatchings. I have lost 2 car batteries in front of the house because I was careless. Other than that, there are not many problems," added another expat who made the move to Porlamar.
Is there a lot of diversity? Are people in Venezuela accepting of differences?
"There is some diversity present in Venezuela, but it is largely a homogenous country mostly made up of people of Spanish, Venezuelan, Indigenous American, and African descent. Despite this, Venezuela is relatively accepting of differences in religion, race, and gender. The government has done a lot to make sure that citizens enjoy freedom of expression and religious freedom. Discrimination against members of the LGBT community remains a problem, however," said another expat in Venezuela.
"Yes, not too much but yes, here are a lot descendants of a lot of inmigrants that came from europe to this country in the post-secondWar period. In that sense Caracas is a little cosmopolitan," added another expat who made the move to Caracas.
What are the schools in Venezuela like?
"Education in Venezuela is provided both publicly and privately. Education is compulsory for children aged 6-15. The system is administered by the Ministry of Education and is divided into three stages: Basic Education (grades 1-9), Secondary Education (grades 10-12) and Higher Education (undergraduate and postgraduate degrees). Basic education generally consists of six hours of instruction per day, consisting of five hours of academic instruction and one hour of religious instruction in the Catholic faith. Secondary education is typically a three-year programme and may include specialisations such as Science, Arts, or Humanities. Higher education is offered in public universities, private universities, and polytechnic institutes. All institutions of higher education must receive accreditation from the National Council of Universities before they are permitted to operate. The quality of education in Venezuela varies greatly across the country and is often affected by factors such as poverty and political turmoil," explained one expat living in Venezuela.
"Go for it! You will not be disappointed in this school, due to the amazing staff, facilities, and community the school has. The class sizes are perfect, the training of the staff is amazing (these are teachers handpicked from hundreds of applicants), and the overall community of the school is exemplary. I know parents with children in other international schools in Caracas and none speak as highly about their school as I do - and many have switched their kids over. A top notch school," said another parent with children at British International School Caracas in Caracas.
Is the cost of living in Venezuela high?
We asked people how much they someone comfortably live on in Venezuela, they wrote:
"The cost of living in Venezuela is generally considered high when compared to other countries in the region. Since 2017, Venezuela has experienced one of the most severe economic crises in its history, leading to inflation and devaluation of the currency. This has caused the cost of living to skyrocket, making basic goods and services much more expensive for ordinary Venezuelans," wrote a member in Venezuela.
About the Author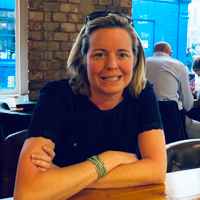 Betsy Burlingame is the Founder and President of Expat Exchange and is one of the Founders of Digital Nomad Exchange. She launched Expat Exchange in 1997 as her Master's thesis project at NYU. Prior to Expat Exchange, Betsy worked at AT&T in International and Mass Market Marketing. She graduated from Ohio Wesleyan University with a BA in International Business and German.
Some of Betsy's articles include 12 Best Places to Live in Portugal, 7 Best Places to Live in Panama and 12 Things to Know Before Moving to the Dominican Republic. Betsy loves to travel and spend time with her family. Connect with Betsy on LinkedIn.