Living in Kenya
Last updated on Feb 10, 2022
Summary: Expats, digital nomads and retirees talk about what it is really like living in Kenya. They offer advice about meeting people, cost of living, finding a home and more.
What do I need to know about living in Kenya?
When we asked people what advice they would give someone preparing to move to Kenya, they said:
"Do it! This is a great city. Ignore the reputation. Kenya does have some crime and social unrest issues but with care and caution these can be avoided. This is a beautiful city in a beautiful, friendly country," remarked another expat who made the move to Nairobi.
How do I meet people in Kenya?
When we asked people living in Kenya about club and activities where newcomers can meet others, they responded:
"Nairobi is one of those rare places where you may be as invisible as you wish. It has this vibe where many people disappear home with their families not to be seen for months; they are chilling out, watching their gardens, writing books, taking their kids to the cinema, being romantic old fashioned families. Schools are a main socializing point its very old school and traditional. Malls and gyms provide many points of contact. We have harriers, which I hear is a great way to meet people. Java coffee shop with its world famous coffee and cuisine is also a fine way to meet up. There are wonderful art galleries such as Ramoma. The Alliance Francaise has film festivals and very good exhibitions and plays. Nightlife and Eating out we have a wide array of wonderful places to eat check out; http://www.eatout.co.ke such a lovely array of wonderful places to eat. Nightlife = www. xpatlink.info," commented one expat who made the move to Nairobi.
"There are lots of social clubs. A good place to start is the notice board in many of the city's main malls," remarked another expat living in Nairobi, Kenya.
What is life like in Kenya?
When we asked people living in Kenya what life is like and how people spend their time, they said:
"Nairobi is traditional work first. But there is plenty of fun to be had many people take advantage of the holiday homes that dot the country and the absolutely stunning beaches of Watamu, Lamu and Diani. The cottages are mostly second homes for old Kenya families and steeped in beauty with tumbling exotic flowers and large open spaces to inhale the views; www.holidayhomeskenya.com Kids are very treasured and there is plenty to do; Go to the National Park for a picnic catch sight of a lion or two. Splash and The Village Market have water parks that are wonderful. Paradise Lost is a large picnic site complete with boats and camels and ancient caves. www.kenyakidz.com," said another expat in Nairobi.
"Kenyans are very family-centric and will be flattered if you show an interest in their home life. "Harambee" is the name of a family or community party which will require a small donation but is well worth attending. If you are invited to one by a Kenyan colleague, be sure to make a donation and attend, you won't regret it. Music and nightclubs, bars and fun carnivals are regular events," added another expat who made the move to Nairobi.
Is there a lot of diversity? Are people in Kenya accepting of differences?
"People are very accepting but tough like New Yorkers they want to know what you are doing here and if it is deemed of true value. They are all very smart and take great pride in hard work and professionalism," commented one expat who made the move to Nairobi.
"This is an incredibly diverse city with tens of thousands of white, Indian, Chinese and other foreign residents. You might have to look hard to see them though as people tend to stay in their own locales," remarked another expat living in Nairobi, Kenya.
What are the schools in Kenya like?
"I Would definitely put mye primary School children into Braeburn. I would advise you to see if there are other options for the high School," said another parent with children at Braeburn Gitanga in Nairobi.
"The school is located in a rural area, sitting on a 300-acre piece of land. It has plenty of space for the kids to grow up in a "home away from home" environment," commented one expat when asked about St. Andrew's, Turi in Nakuru.
Answer Question & View More Answers
About the Author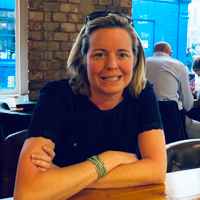 Betsy Burlingame is the Founder and President of Expat Exchange and is one of the Founders of Digital Nomad Exchange. She launched Expat Exchange in 1997 as her Master's thesis project at NYU. Prior to Expat Exchange, Betsy worked at AT&T in International and Mass Market Marketing. She graduated from Ohio Wesleyan University with a BA in International Business and German.
Some of Betsy's articles include 12 Best Places to Live in Portugal, 7 Best Places to Live in Panama and 12 Things to Know Before Moving to the Dominican Republic. Betsy loves to travel and spend time with her family. Connect with Betsy on LinkedIn.