Living in Philippines
Last updated on Feb 02, 2023
Summary: The population of Philippines is approximately 108 million people. The largest cities in Philippines are Manila, Quezon City, Davao City, Cebu City, and Zamboanga City. Expats love living in Philippines for its friendly people, beautiful beaches, and tropical climate. Life in Philippines is often described as laid-back and relaxed. Popular foods in Philippines include adobo, sinigang, kare-kare, and lechon. The cons of living in Philippines include the high cost of living, traffic congestion, and air pollution. The average cost of living for an expat is around $1,000 to $2,000 per month. This includes rent, utilities, food, and transportation.
What do I need to know about living in Philippines?
When we asked people what advice they would give someone preparing to move to Philippines, they said:
"The cost of living in the Philippines is lower than most western countries, however it is important to research the location you plan to retire to in order to ensure it is safe and secure. It is recommended to have a strong understanding of the local laws, customs, and language to help navigate the country and ensure a smoother transition to your new home. Healthcare in the Philippines is limited, so it is important to research your health insurance options before retiring. Additionally, obtaining a valid visa or residency status is necessary in order to remain in the Philippines. You may want to consider enrolling in a pensioner's visa program, which can provide access to certain discounts in the country. Finally, establishing a support system of family and friends is highly recommended to ensure you are settling into your new home in a comfortable and efficient manner," explained one expat living in Philippines.
"If coming from the United States: 1. Make sure that you have a reliable income of at least $1,500/month. Lots of older expats here live on SS or pensions. 2. Open an account at Charles Schwab bank before you depart, as they refund 100% of your ATM fees each month. Philippines is a mostly cash society so you will be doing lots of ATM trips. 3. Practice driving a motorbike if coming to Dumaguete. There are no taxis here, public transit is limited and cars are quite expensive. We actually live in Valencia which is 8 miles outside of Dumaguete. The higher elevation means that it is cooler. Motorbike is a must otherwise you are stuck! 4. Eat like a local to save a few bucks. Foreign foods are available at a few stores but prices are high. 5. Keep an open mind and calm down! Filipino society is much more laid-back than the U.S. You will need to be patient at times. 6. Have fun! I've visited many other places in The Philippines but so far Dumaguete is my favorite," said another expat in Dumaguete.
Answer Question & View More Answers
How do I meet people in Philippines?
When we asked people living in Philippines about club and activities where newcomers can meet others, they responded:
"There are many ways to meet people in the Philippines. Join a club or organization that caters to your interests, such as a sports team, a church, or a service organization. You can also attend community events like festivals or workshops. Visit the local shopping malls, take a day trip outside of the city, or join organized group activities such as hiking, bird watching, or cultural tours. Online resources such as social media websites and dating websites are also a great way to meet people. Lastly, don't be afraid to simply strike up conversations with strangers – they can turn out to be interesting, friendly people who may even become your new friends," explained one expat living in Philippines.
"I've met a lot of fellow expats at my apartment complex. Most of them have lived there for years and are currently in their 60s or 70s. It's also easy to meet new Filipinos. Everyone has a smile on their face and most are quite friendly," said another expat in Dumaguete.
Answer Question & View More Answers
What is life like in Philippines?
When we asked people living in Philippines what life is like and how people spend their time, they said:
"Life as an expat in the area can be quite enjoyable. It offers plenty of opportunities to experience the culture, food and language. The cost of living is relatively low, so expats can get a good quality of life at an affordable price. Transportation is easy, with excellent bus and train connections to other parts of the country. There are lots of new people from all over the world to meet, making it easy to make friends. Expats will find a vibrant nightlife with plenty of restaurants, pubs, and clubs to explore. The weather is mild year round, so outdoor activities such as skiing, hiking, and fishing are readily available. On top of this, the healthcare system is excellent, making it a great place for expats to call home," wrote a member in Philippines.
"Filipino culture revolves around the family. They are much more cohesive and loving than the average Western family. That being said, locals are very welcoming to foreigners here. The Filipino couple that owns the sari-sari (small store) down the street invited me over to sing karaoke," commented one expat who made the move to Dumaguete.
Answer Question & View More Answers
Is there a lot of crime in Philippines?
We asked people if there is a lot of crime. They answered:
"Yes, there is a lot of crime in the Philippines. In 2017, the Philippine National Police reported over 200,000 criminal offenses. Violent crimes, such as rape and murder, are a major problem within the country. General crimes, including theft, burglary, and robbery are also quite common. The country also has a notable drugs problem, with the use and distribution of illicit substances constituting a major issue," wrote a member in Philippines.
"Live in a highend subdivision that INFORCES its rules and regulations. There is a reason EVER single house has an 8 ft wall and barbed wire around the top.," commented one expat who made the move to Davao.
Answer Question & View More Answers
Is there a lot of diversity? Are people in Philippines accepting of differences?
"The Philippines is a diverse nation that is rich in culture. People are generally accepting and tolerant of cultural and religious differences. The country celebrates its diversity in many ways, including its large LGBTQ+ community, its strong Roman Catholic faith, its unique indigenous tribal groups, and its various ethnicities represented by its citizens. People of various ages, races, sexual orientations and religions are accepted," remarked another expat living in Philippines.
"Most people are Catholic and the local church is well attended. I would say that they are accepting as long as people with different beliefs are respectful," added another expat in Dumaguete.
Answer Question & View More Answers
What are the schools in Philippines like?
"Schools in the Philippines are heavily influenced by the educational standards set by the Department of Education. Most of the schools in the Philippines are public, but there are now options for private education. The school system consists of elementary schooling which typically lasts six years and secondary schooling which lasts four years. Higher education is available at various universities and tertiary institutes around the country. The quality of education varies greatly from school to school but there are now efforts being made to implement standardised benchmarks in order to improve the whole system," added an expat with kids at in .
"Since it is a small school, easier to make friends and parents are welcoming, as well as the teachers. It's like a family, no bullying. Academically, there are homeworks so kids can learn more. Also, since it is a Chinese international school, kids will be taught Chinese culture and Mandarin language. My experience is Grade 1 -5 and so far I am satisfied. What the school lacks in facilities, they compensate with caring teachers/staff and good curriculum. For elementary, I do recommend it," commented one expat when asked about Chinese International School Manila in Taguig.
Answer Question & View More Answers
Is the cost of living in Philippines high?
We asked people how much they someone comfortably live on in Philippines, they wrote:
"The cost of living in the Philippines depends on many factors including location and lifestyle. Generally, it is considered an affordable country, but prices for essential goods and services may still be lower than other countries," wrote a member in Philippines.
"That's a difficult question. It all depends on the retiree's needs and his ability to live within his means. I believe that one can make it work at almost any income level if they are willing to make the appropriate sacrifices," commented one expat who made the move to Angeles City.
Answer Question & View More Answers
Are healthcare and health insurance expensive in Philippines?
"I have not had to use my insurance here because the cost of care has been so inexpensive. I had to get an MRI which cost me less than 200 USD," commented one expat who moved to Angeles City.
About the Author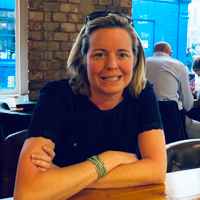 Betsy Burlingame is the Founder and President of Expat Exchange and is one of the Founders of Digital Nomad Exchange. She launched Expat Exchange in 1997 as her Master's thesis project at NYU. Prior to Expat Exchange, Betsy worked at AT&T in International and Mass Market Marketing. She graduated from Ohio Wesleyan University with a BA in International Business and German.
Some of Betsy's articles include 12 Best Places to Live in Portugal, 7 Best Places to Live in Panama and 12 Things to Know Before Moving to the Dominican Republic. Betsy loves to travel and spend time with her family. Connect with Betsy on LinkedIn.