Moving to Philippines
Last updated on Apr 22, 2023
Summary: Expats and digital nomads move to the Philippines for its low cost of living, warm climate, and friendly people. The most popular cities for expats and digital nomads in the Philippines are Manila, Cebu, and Davao. People looking for a place to live in the Philippines can search online for rental listings, contact real estate agents, or look for postings on expat forums.
What do I need to know before moving to Philippines?
When we asked people what advice they would give someone preparing to move to Philippines, they said:
"Brace yourself for endemic poverty and filth, poor infrastructure and noise and humidity. Personally, I would avoid most city environments except, perhaps, gated compounds," said one expat in Guimaras.
"Don't be scared to move to Manila. It is not nearly as scary as people would have you believe. I am more scared wandering around deserted Sydney streets at night than in Manila. Of course be sensible. Dress modestly, don't wear expensive jewellery or watches etc. Look out for pickpockets on the trains - I got a wallet with a chain after my introduction to pickpockets on the LRT! You can't really live an insulated western life so try to fit in with the locals wherever you can. For example, jeepneys are often convenient, NOT scary and you really get to live the local life. Learning how to get around teaches you a lot which you will find valuable in your time here. Smile a lot! It really opens doors," said one expat who made the move to Manila.
Answer Question & View More Answers
How do I find a place to live in Philippines?
We asked expats how they chose their neighborhood and found a place to live. They answered:
"I had Cendant relocation services and in the end, negotiated the contract myself. The landlord let me know that the relo rep was "on the take," so I took over," commented one expat who made the move to Angeles City.
"I lived in Pasay/Malate first because it was close to my first Uni course. Found the building (Asiawealth Tower) on the net. Second condo was just outside Valle Verde 1, recommended by someone who I knew. Much quieter and richer area. I didn't enjoy it as much. A car would be helpful if you decide to live more than walking distance from the LRT/MRT," remarked one expat in Manila, Philippines.
Answer Question & View More Answers
What is a typical expat home or apartment like in Philippines?
"Mine is typical but larger than most in the neighborhood. 6 bedrooms, 4 baths and truly huge living and dining rooms. It's the standard concrete block/stucco home and I was fortunate enough to also buy the lot behind my home so I now have a huge yard with one of the best possible views in the city," remarked one expat in Angeles City, Philippines.
"The house was beautiful. It was in Angeles City in an upscale gated community,not upscale like Forbes Park in Manila, but guarded well and kept clean. The houses were all very different and some were the size of a mansion. Mine was large -- too large for a single woman. There were 4 bedrooms and I was often too nervous and jittery to walk into the other ones. The house was finished as I was moving in. It was large and had tile and hardwood floors throughout and I had airconditioners put in all of th rooms, but the loft. It was too hot up there, so I never furnished that room. Lizards became my shower-mates and the cockroaches scared the living daylights out of me. The balut man came around everyday chanting his pitch to sell the fertilized duck embryo that I successfully declined until a recent return visit. I lived there for a year before finding that I was not very comfortable living away from other expats. The expat community up in the Clark area is small and I was alone. I moved to the Holiday Inn property and into a lovely golf villa. Had to do some good negotiating to get something that would be covered under my allowance, but it worked and was very comfortable. I had my own household help and a guard stationed outside 24x7. Estrada was about to be ousted and our security team felt it wise to have a guard. It turned out to be totally unnecessary, but it's better to be safe than sorry," said one expat in Angeles City.
Answer Question & View More Answers
What is the average cost of housing in Philippines?
If you are thinking about moving to Philippines, cost of living in probably a key consideration. Expats commented about the cost of housing:
"Much lower. Total cost of our house in Philippines in 2000 was 10,000 including all white goods and three months building work. (Really.) Similar property in the UK multiply by a factor of at least 10," explained one expat living in Guimaras, Philippines.
"Lower than Sydney by miles! Condos can be had for 20k/mo and up, all the way to 70k/mo if you are getting a good allowance or feeling rich. Furnished adds far more than the cost of buying stuff, so if you are staying more than a year consider going unfurnished," said one expat in Manila.
Answer Question & View More Answers
Should I buy or rent a home in Philippines?
If you have not spent a lot of time in Philippines, you should rent before even thinking about buying. We asked expats there about the buy vs. rent decision:
"Bought a nice 2 bedroom home, but the title had liens dating back to 1965 so it was not conveyed. We have a lawyer working on that who will petition the court to expunge these encumbrances and issue a new clean title," said one expat in Prudential Village, Daliao, Davao City.
Answer Question & View More Answers
What should I pack when moving to Philippines?
We asked people living in Philippines to list three things they wish they had brought and three they wish they had left behind. They responded:
"When moving to the Philippines, it is important to pack light but be prepared for all kinds of weather. Clothes and other items such as beachwear and raincoats should be included, as temperatures can vary widely throughout the year. Additionally, due to the tropical climate of the Philippines, it is important to pack insect repellent and mosquito nets. Be sure to bring basic toiletries, sunscreen, and any medications that may be necessary while living in the Philippines. Electrical adaptors and converters will also be needed to use any electronic items brought with you, such as laptops or phones. Finally, basic kitchen supplies and cooking equipment will help ensure a smooth transition once the move is complete," explained one expat living in Philippines.
"AN exit plan!!!! 50% end up leaving that country due to the stupidity. I swore when i moved there it was forever.. LOL oh what fool I was," said one expat in Davao.
Answer Question & View More Answers
What cultural faux pas should I try to avoid making in Philippines?
We asked people in Philippines if they could share any humorous cultural blunders they commited. For new expats, keep in mind that these incidents are an inevitable part of expat life. Learning to laugh about them is the key!:
"I find the same answers interesting for the various areas around the Philippines but would like to differ when in Makati and Cebu: First, Filipinos are younger as a country, they enjoy Korean young vibe as well as the younger vibe in Japan (I understand Japan is a much older population, I'm referring to the younger population there). I say this because when it comes to clothing and dress, showing skin is a given like the belly and short shorts/dresses. in those countries by the young, young being less than 45. The Philippines has beauty contests often and this means small outfits as well. We live in Greenbelt Makati and my wife feels real comfortable wearing smaller outfits and she's a dual citizen (we are from the US) and there is never a negative vibe toward us, in fact the women keep complimenting her. My wife is from Gensan and there as well as Iloilo and much of the Philippines I understand it's more conservative but we also see that this younger population is way more eager rather than hesitant to take on more of a western look and they certainly welcome US citizens. In our condo and around Greenbelt we've noticed that other Asians, from other countries, living here as well as foreigners from Europe really don't engage with the people and we've found that simply smiling and being outwardly friendly toward Filipinos they end up going extra out of their way to be helpful and nice to you because you treat them as friends and equals, which they are. Yes, this is a very religious country and respect for all people is why we are now living here rather than the US where the Liberal ideas have ruined society," commented one expat who made the move to Philippines.
"I am very careful, I must have made blunders, but would not know, I might have laughed it off, like they do here. After a while you know what to say and how to say it, which jargon to use so a lot of filipinos will understand," remarked one expat in Metro Manila, Philippines.
Answer Question & View More Answers
Why do people move to Philippines?
When we asked people why foreigners move to Philippines, they responded:
"Foreigners mainly move to Manila because of the low living costs and the fact that many people in the Philippines speak English. Beside that people generally are friendly," offered one expat living in Manila.
Answer Question & View More Answers
How are healthcare services Philippines?
When we asked expats and global nomads about the quality of medical care in Philippines, they replied:
"Depending where you live or want to live, there are great hospitals. Such as the ACE hospital system which is jayhco certified. Not sure if the spelling. They are up to date and modern hospital. You can actually invest in this hospital system like in the United States and get great service. ," commented one expat who moved to Philippines.
"It's very important to have cash ready, or to be on one of the many local medical insurances available. Without money, you are doomed," said one expat.
Answer Question & View More Answers
What are medical services in Philippines like?
When we asked expats and global nomads about the quality of medical care in Philippines, they replied:
"Healthcare is good and less expensive than in the US. I can buy my Prevastatin over the counter without a prescription," replied one expat when asked about moving to Cebu.
"Competent doctors. Took an appointment a week in advance for an MRI that was needed immediately," stated one expat who made the move to Cebu.
About the Author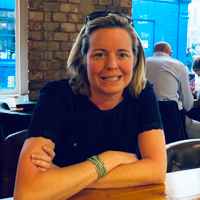 Betsy Burlingame is the Founder and President of Expat Exchange and is one of the Founders of Digital Nomad Exchange. She launched Expat Exchange in 1997 as her Master's thesis project at NYU. Prior to Expat Exchange, Betsy worked at AT&T in International and Mass Market Marketing. She graduated from Ohio Wesleyan University with a BA in International Business and German.
Some of Betsy's articles include 12 Best Places to Live in Portugal, 7 Best Places to Live in Panama and 12 Things to Know Before Moving to the Dominican Republic. Betsy loves to travel and spend time with her family. Connect with Betsy on LinkedIn.