Cost of Living in Philippines
Last updated on Nov 27, 2021
Summary: What is the cost of living in Philippines? Expats, digital nomads and retirees living in Philippines talk about the general living costs, the cost of housing and health insurance.
Is the cost of living in Philippines high?
We asked people how much they someone comfortably live on in Philippines, they wrote:
"That's a difficult question. It all depends on the retiree's needs and his ability to live within his means. I believe that one can make it work at almost any income level if they are willing to make the appropriate sacrifices," said another expat in Angeles City.
"For Air conditioning, internet, phone, cable TV, water, tax, transportation, pharmacy, food and hardware, and all extras cost me $1200 Canadian dollars a month," added another person living in Prudential Village, Daliao, Davao City.
Will I save money living in Philippines?
"Having been here before I had a good idea of what to expect after retirement. My expectations have been met (and they were gracious)," explained one expat living in Angeles City.
"With the local currency weakening over the past year, it has exceeded my plans. I have good spending power here, but try to economize when possible," said another expat in Cebu City.
What is the average cost of housing in Philippines?
If you are thinking about moving to Philippines, cost of living in probably a key consideration. Expats commented about the cost of housing:
"Housing costs run about 40% of US prices and are usually furnished with linens and silverware (flatware). Most have a few cups and plates to get you going, a rice cooker, micro, fridge and a pot and pan are almost always included! We buy a few things as we need them," said another expat in Davao .
"I found a lovely home which had all we needed, and more, at a fraction of the rental costs in Germany. We paid a mere U.S.$ 180 per month for this two bedroom house," added another person living in Angeles City.
Answer Question & View More Answers
About the Author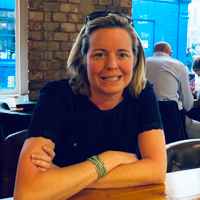 Betsy Burlingame is the Founder and President of Expat Exchange and is one of the Founders of Digital Nomad Exchange. She launched Expat Exchange in 1997 as her Master's thesis project at NYU. Prior to Expat Exchange, Betsy worked at AT&T in International and Mass Market Marketing. She graduated from Ohio Wesleyan University with a BA in International Business and German.
Some of Betsy's articles include 12 Best Places to Live in Portugal, 7 Best Places to Live in Panama and 12 Things to Know Before Moving to the Dominican Republic. Betsy loves to travel and spend time with her family. Connect with Betsy on LinkedIn.