Retire in Colombia
Last updated on Nov 27, 2021
Summary: Retirees share their experiences living in Colombia. What are the challenges and rewards of retiring in Colombia?
What is it like to retire in Colombia?
"Medellin is a beautiful city, and it is very easy to live here. We can walk to at least 200 places to eat from our apartment. We have access to the metro train or a huge amount of buses that can take us all over the city and all over Colombia. One of my favorite activities is walking Poblado Avenue Sunday mornings. Half of the Avenue is shut down to all motorized traffic. Thousands of people walk, skate, ride bicycles, etc. You wouldn't believe the number of people who walk their dogs - every kind of dog. I pass three different Zumba sessions on that walk," added another person in Medellin.
"Colombian's are friendly, hospitable people eager to show you their excellent life style and culture. Tons of activities for everyone and beautiful sites to visit. Whether relaxing in my hot tub enjoyed the mountain views of attending a family barbecue, life is beautiful," remarked another retiree in Medellin.
Answer Question & View More Answers
What advice do overseas retirees have for others considering retiring abroad?
"To my mind there are many, well known reasons for retiring as an expat in Colombia, but it would be prudent to not overlook some disadvantages that may, sometimes apply.Firstly, whilst your pension incomes when you first arrive in Colombia may make you feel very comfortable in comparison with that you enjoyed in your "home" country. However, beware; this initial advantage may (will?) erode over time. The rates of inflation in your "home" country and Colombia are usually very different so your COP based living costs will increase much faster than your (say) US$ based living costs in the USA. Unfortunately, this differential in inflation rates links directly to your pension incomes which will normally be based on inflation in the USA. Result, your COP living costs are increasing at a faster rate than your pension incomes. In my case, this has been a significant factor over the 20 odd years I have been living in Colombia and my initial "comfort" level has gradually been decimated. Of course, this disadvantage can (will?) be offset by the relative strength of the US$ to the COP, but this can be very variable and, in any event, the US$'s relative strength may be useful in this "costs" context, but it will be prejudicial if you have Colombian tax liabilities arising on your US$ pension incomes.So, the other factor to take into account is your liability to Colombian taxes. If you intend to live in Colombia, the famous 183 day rule on determining where you are deemed a tax resident will apply. This is a very complex and much debated factor which very few people, me included, do not fully understand. What is sure however is that the higher graduated tax rate levels will quickly impact any Colombia tax liabilities. For instance, if you are deemed a resident of Colombia for tax purposes, your USA based incomes will very quickly attain the highest tax rates in Colombia (say 35%) once your USD incomes are converted to COP. You could, very quickly end up being taxed at high rates in Colombia, whereas your equivalent taxes in the USA were nil, or very little. The above is just the darker side of the Pension Rainbow; there are plenty of good factors to add flavor to the overall taste," explained one retiree living in Colombia.
"If you are thinking about it, do it as soon as you can. You do not need nearly as much money as you would need to live in a retirement community in the US," said another retiree in living in Medellin, Colombia.
Answer Question & View More Answers
What are the most rewarding aspects of retiring in Colombia?
"We have so many more friends than we had in the US. We are much more relaxed. Our marital relationship is better than it has ever been. We don't need or want a car. We feel very safe. We are working to establish a new English speaking church specifically for Expats," explained a retiree in Medellin.
"Fresh air, healthy, preservative free food, excellent health care, a warm, happy extended family, low cost of living index, beautiful scenery, a safer environment without so many guns and terrorist events," explained one retiree living in Medellin.
What are healthcare services like in Colombia?
We asked retirees if they have access to good medical care in Colombia. They wrote:
"We are very pleased with the healthcare system. We feel it is high quality, and much less expensive than in the US," said another retiree in Medellin.
"I have a carte blanche insurance policy in Colombia that covers my wife, our two daughters (who live in the US) and me for the low monthly fee of $300.00. No network, copay, deductible or pre existing condition nonsense either: the policy pays $100% of everything, period. Hospitals and clinics in Colombia are world renowned," commented one retiree living in Medellin, Colombia.
Answer Question & View More Answers
What is life like in Colombia?
When we asked people living in Colombia what life is like and how people spend their time, they said:
"In general, in my opinion, this is a very fine, large Latin city of over four million. Being Latin, families are very strong, work is strong, socializing is very strong and the people of Medellin are some of the nicest you will find worldwide. They welcome expats. This is a very diverse city, thirteen universities, excellent medical facilities, clean, excellent food, water, air (seasonal concerns). Worldwide metropolitan city that is very difficult to beat. You will look long and hard to find a better worldwide city," explained a retiree in Medellin.
What do I need to know before retiring in Colombia?
When we asked people what advice they would give someone preparing to move to Colombia, they said:
"A person can develop a beautiful life here, however, it will take time and not happen magically .The assets of this city are well worth the investment. Be kind to yourself and patient. Don't believe all you hear. Everyone (expat, other) has their best visa person, you can loose a lot of money on that one. Just because someone has lived here two years, or in four Latin countries, does not mean they are experts, at all. Find the ones who have lived here fifteen years. Listen to what people say, put what they say through your own filter system, use your head, you can do this. You can do this! You will make mistakes, everyone does! It is part of moving abroad. You will have to put some effort into this and give yourself three years in the long term. One has to learn how to live here, the resources are excellent and again, Medellinguru.com is very helpful. It is worth the investment of your time and energy to learn how to do this," explained a retiree in Medellin.
What type of recreational activities are there in Colombia?
"Near the Stadium (Estadio) there is a huge sports complex with a gigantic swimming pool and comprehensive sports options. The city is in a valley in the Andes mountains. The options for hiking are endless," said another member in Medellin.
Where will I buy groceries and do other shopping in Colombia?
"Local stores are littered throughout every neighborhood. They provide both handy shopping for locals and a livelihood for many, so I like to patronize them. When there is something you can't find elsewhere, a large chain grocery/department store called Exito! has a store within walking distance. Lunch is a great meal to eat out, as there are many restaurants that only open for lunch, offer choices as simple as "which meat/fish do you want?" and it is a sit-down meal with soup, a large plate of food, and some fruit juice with the speed and convenience of fast food," said another member in Medellin.
About the Author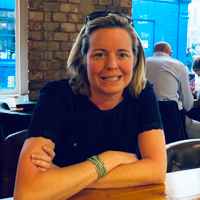 Betsy Burlingame is the Founder and President of Expat Exchange and is one of the Founders of Digital Nomad Exchange. She launched Expat Exchange in 1997 as her Master's thesis project at NYU. Prior to Expat Exchange, Betsy worked at AT&T in International and Mass Market Marketing. She graduated from Ohio Wesleyan University with a BA in International Business and German.
Some of Betsy's articles include 12 Best Places to Live in Portugal, 7 Best Places to Live in Panama and 12 Things to Know Before Moving to the Dominican Republic. Betsy loves to travel and spend time with her family. Connect with Betsy on LinkedIn.