Santa Marta, Colombia
Last updated on Jul 02, 2023
Summary: Expats, digital nomads and retirees talk about what it is really like living in Santa Marta, Colombia. They offer advice about meeting people, cost of living, finding a home and more.
What do I need to know about living in Santa Marta?
When we asked people what advice they would give someone preparing to move to Santa Marta, they said:
"Santa Marta is a popular retirement destination due to its tropical climate, beautiful beaches, and affordable cost of living. Before retiring in Santa Marta, expats should be aware of several important factors. Firstly, it's important to understand the cost of living. While it is generally lower than in many Western countries, prices can vary depending on your lifestyle. Rent, utilities, groceries, and healthcare are typically cheaper, but imported goods can be more expensive. Secondly, healthcare in Colombia is of a high standard, especially in larger cities. However, it's recommended to have a comprehensive health insurance plan. Many expats choose to pay for private healthcare, which is still affordable compared to the U.S. Language can be a barrier for some expats. While English is spoken in tourist areas and by some younger Colombians, the primary language is Spanish. Taking Spanish lessons could be beneficial for day-to-day interactions. Safety is another concern for many expats. While Santa Marta is generally safe, like any city, it has areas that are best avoided. It's advisable to stay vigilant, avoid displaying wealth, and be aware of your surroundings. The climate in Santa Marta is tropical, meaning it's hot and humid year-round. This can take some adjustment if you're used to a temperate climate. Colombia has a residency program for retirees, which requires proof of a monthly income from a pension or social security. It's advisable to consult with a local attorney or immigration expert to understand the process and requirements. Finally, it's important to understand that while Santa Marta offers a relaxed lifestyle, it's still a developing city. Infrastructure and services may not be as reliable as in your home country. However, for many, the laid-back lifestyle, natural beauty, and friendly locals make it a worthwhile trade-off," said one expat who made the move to Santa Marta.
What do I need to know before moving to Santa Marta?
About the Author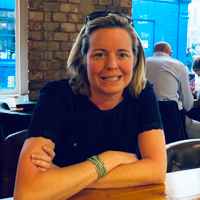 Betsy Burlingame is the Founder and President of Expat Exchange and is one of the Founders of Digital Nomad Exchange. She launched Expat Exchange in 1997 as her Master's thesis project at NYU. Prior to Expat Exchange, Betsy worked at AT&T in International and Mass Market Marketing. She graduated from Ohio Wesleyan University with a BA in International Business and German.
Some of Betsy's articles include 12 Best Places to Live in Portugal, 7 Best Places to Live in Panama and 12 Things to Know Before Moving to the Dominican Republic. Betsy loves to travel and spend time with her family. Connect with Betsy on LinkedIn.