Cost of Living in Portugal
Last updated on Nov 27, 2021
Summary: What is the cost of living in Portugal? Expats, digital nomads and retirees living in Portugal talk about the general living costs, the cost of housing and health insurance.
Is the cost of living in Portugal high?
We asked people how much they someone comfortably live on in Portugal, they wrote:
"I think one could live quite well, everything included, for around $3000 per month, and if one were to budget a bit, probably even less than that," said another expat in Cascais.
"The minimum required by the governs $550/mo. That is about what the average Portuguese makes. More than that, and you can have a very. Ice lifestyle," added another person living in Tavira .
Answer Question & View More Answers
Will I save money living in Portugal?
"Everything is quite a bit cheaper here. Supplemental health insurance for example, via the local bank, is just 48 Euros per month! at age 70. Dentistry is much much cheaper and the care is superb. Medications cost a fraction of what they cost in the States. Food is cheaper, eating out is much cheaper - A good bottle of wine costs about $5. Publis transportation is very cheap for the over 65 crowd. We're pleased," explained one expat.
"The cost of living is quite low, but the standard of living is high. That is, for very little money, one can rent a nice home, buy a nice car, enjoy travel and local culture and receive medical treatment pennies on the dollar," said another person in Tavira .
Answer Question & View More Answers
What is the average cost of housing in Portugal?
If you are thinking about moving to Portugal, cost of living in probably a key consideration. Expats commented about the cost of housing:
"Housing cost is less than half of what we were paying in Denver, Colorado. Depending on the size of place you need and location, $700-1200/month can be average. Porto is more affordable than Lisbon and Vila Nova de Gaia, which is a 10 minute drive from Porto, across the river can be several hundred dollars cheaper than Porto. Neighboring smaller cities are even more affordable," said another person in Porto.
"Housing costs are lower here, but we're comparing a mortgage on a million-dollar plus condo in the US to rent on a 2 bedroom apartment with ancient appliances. It is easy to find a clean, modern, 2 bed/2 bath apartment with new appliances in the upscale, coastal Estoril/Cascias area for less than $2200/month if one works with a local realtor, and can cut those costs in about half in the smaller towns and villages inland. Utilities per month can add about $100. Internet service is about $30. On average, this feels like one can get a bit more with less but Portugal's Lisboa coast isn't a low cost choice. South and North and inland are less costly," remarked another expat in Cascais and Estoril.
Answer Question & View More Answers
About the Author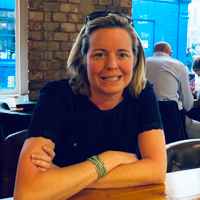 Betsy Burlingame is the Founder and President of Expat Exchange and is one of the Founders of Digital Nomad Exchange. She launched Expat Exchange in 1997 as her Master's thesis project at NYU. Prior to Expat Exchange, Betsy worked at AT&T in International and Mass Market Marketing. She graduated from Ohio Wesleyan University with a BA in International Business and German.
Some of Betsy's articles include 12 Best Places to Live in Portugal, 7 Best Places to Live in Panama and 12 Things to Know Before Moving to the Dominican Republic. Betsy loves to travel and spend time with her family. Connect with Betsy on LinkedIn.