Paradise Island, Bahamas
Last updated on May 08, 2023
Summary: People describe Paradise Island, Bahamas as a tropical paradise with stunning beaches, crystal clear waters, and lush vegetation. Expats love the laid-back atmosphere, the friendly locals, and the abundance of outdoor activities. The weather in Paradise Island is typically warm and sunny, with temperatures ranging from the mid-70s to the mid-80s Fahrenheit. The average cost of living for an expat is around $2,000 to $3,000 per month. The cost of a one bedroom apartment is around $1,500 to $2,000 per month, while a two bedroom apartment can cost up to $3,000 per month. The approximate population of Paradise Island is around 8,000 people.
What do I need to know about living in Paradise Island?
When we asked people what advice they would give someone preparing to move to Paradise Island, they said:
"Expats considering retiring in Paradise Island, should be aware of several factors before making the move. Firstly, they should research the cost of living, which can be high due to the island's reliance on imported goods. This includes housing costs, groceries, utilities, and transportation. It is essential to understand the residency and visa requirements for living in the Bahamas. Retirees can apply for a permanent residency permit, which allows them to live in the country without working. This permit requires proof of financial independence and a clean criminal record. Healthcare is another important consideration, as the quality of medical facilities on Paradise Island may not be up to the standards of those in the expat's home country. Expats should ensure they have adequate health insurance coverage and may need to travel to Nassau or the United States for more specialized care. The climate in the Bahamas is tropical, with warm temperatures and high humidity year-round. Expats should be prepared for hurricane season, which typically runs from June to November, and take necessary precautions to protect their property. The official language of the Bahamas is English, making it relatively easy for expats from English-speaking countries to communicate with locals. However, it is still essential to learn about and respect the local culture and customs. Taxes are another important factor to consider. The Bahamas does not have an income tax, but there are other taxes, such as property tax and value-added tax (VAT) on goods and services. Expats should consult with a financial advisor to understand their tax obligations. Finally, expats should consider the availability of social and recreational activities on Paradise Island. While the island offers beautiful beaches and a relaxed lifestyle, it may not have the same range of cultural and entertainment options as larger cities. Expats should be prepared to adapt to a slower pace of life and find ways to stay engaged and connected with their new community," remarked one expat living in Paradise Island, Bahamas.
"Before retiring in Paradise Island, it is important to research the cost of living and the availability of health care in the area. It is also important to know the local laws, including any visa regulations and tax laws. Additionally, familiarity with the area and its climate is important, as weather may impact activities and clothing needs. Finally, it is important to understand the local culture and be aware of the different customs and laws that are unique to Paradise Island," wrote one member in Paradise Island.
What do I need to know before moving to Paradise Island?
About the Author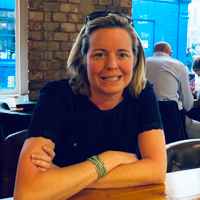 Betsy Burlingame is the Founder and President of Expat Exchange and is one of the Founders of Digital Nomad Exchange. She launched Expat Exchange in 1997 as her Master's thesis project at NYU. Prior to Expat Exchange, Betsy worked at AT&T in International and Mass Market Marketing. She graduated from Ohio Wesleyan University with a BA in International Business and German.
Some of Betsy's articles include 12 Best Places to Live in Portugal, 7 Best Places to Live in Panama and 12 Things to Know Before Moving to the Dominican Republic. Betsy loves to travel and spend time with her family. Connect with Betsy on LinkedIn.