Abaco Islands, Bahamas
Last updated on Jul 10, 2023
Summary: Expats, digital nomads and retirees talk about what it is really like living in Abaco Islands, Bahamas. They offer advice about meeting people, cost of living, finding a home and more.
What do I need to know before moving to Abaco Islands?
When we asked people what advice they would give someone preparing to move to Abaco Islands, they said:
"The Abaco Islands are part of the Bahamas and are known for their beautiful beaches, clear waters, and friendly locals. Before moving there, expats should be aware of several important factors. Firstly, the cost of living in the Abaco Islands can be quite high, especially when it comes to housing and groceries. Imported goods are particularly expensive due to high import taxes. Secondly, the islands are prone to hurricanes, with the hurricane season typically running from June to November. It's important to have a plan in place for these events, including adequate insurance coverage. Thirdly, while English is the official language of the Bahamas, the local dialect can sometimes be difficult to understand for newcomers. It may take some time to get used to the local accent and phrases. Fourthly, healthcare facilities on the islands are limited and may not offer the same level of care as in larger countries. Serious medical conditions may require evacuation to Nassau or the United States. Fifthly, while the islands are generally safe, petty crime can be an issue. Expats are advised to take standard precautions to protect their belongings. Lastly, the pace of life in the Abaco Islands is much slower than in many Western countries. This can be a big adjustment for some people, but others find it to be one of the most appealing aspects of island life. In terms of transportation, there is no public transport system on the islands, so expats will likely need to purchase a car or boat for getting around. The Abaco Islands have a lot to offer, but it's important for expats to do their research and be prepared for a different way of life," remarked one expat living in Abaco Islands, Bahamas.
How do I find a place to live in Abaco Islands?
About the Author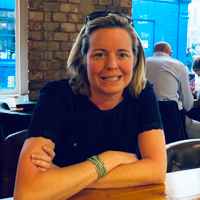 Betsy Burlingame is the Founder and President of Expat Exchange and is one of the Founders of Digital Nomad Exchange. She launched Expat Exchange in 1997 as her Master's thesis project at NYU. Prior to Expat Exchange, Betsy worked at AT&T in International and Mass Market Marketing. She graduated from Ohio Wesleyan University with a BA in International Business and German.
Some of Betsy's articles include 12 Best Places to Live in Portugal, 7 Best Places to Live in Panama and 12 Things to Know Before Moving to the Dominican Republic. Betsy loves to travel and spend time with her family. Connect with Betsy on LinkedIn.