Kilkenny, Ireland
Last updated on Jul 09, 2023
Summary: Expats, digital nomads and retirees talk about what it is really like living in Kilkenny, Ireland. They offer advice about meeting people, cost of living, finding a home and more.
What do I need to know before moving to Kilkenny?
When we asked people what advice they would give someone preparing to move to Kilkenny, they said:
"Kilkenny is a charming city known for its rich history, vibrant arts scene, and friendly locals. Before moving to Kilkenny, expats should be aware of several key factors. Firstly, the cost of living in Kilkenny is relatively lower compared to Dublin or other major cities in Ireland. However, it's still important to budget carefully, as prices for goods and services can be higher than in other countries. The weather in Kilkenny is typically mild, with a lot of rainfall throughout the year. Expats should be prepared for this and invest in good quality rain gear. Public transportation in Kilkenny is reliable, but the city is also very walkable. Many residents choose to walk or cycle to get around. Kilkenny is a small city, so it may not offer the same level of amenities or entertainment options as larger cities. However, it's known for its lively arts scene, with numerous festivals and events throughout the year. The healthcare system in Ireland is generally of a high standard. Expats will need to register with a local General Practitioner (GP) to access healthcare services. Ireland's education system is well-regarded, and Kilkenny has a number of good schools. However, it's important to research and apply for school places well in advance, as demand can be high. Irish people are known for their friendliness and hospitality, and Kilkenny is no exception. Expats should take the time to get to know their neighbors and become involved in the local community. Finally, while English is the main language spoken in Kilkenny, the Irish language is also taught in schools and used in certain contexts. Expats may find it helpful to learn a few basic phrases in Irish," remarked one expat who made the move to Kilkenny.
How do I find a place to live in Kilkenny?
About the Author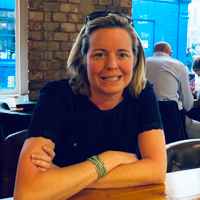 Betsy Burlingame is the Founder and President of Expat Exchange and is one of the Founders of Digital Nomad Exchange. She launched Expat Exchange in 1997 as her Master's thesis project at NYU. Prior to Expat Exchange, Betsy worked at AT&T in International and Mass Market Marketing. She graduated from Ohio Wesleyan University with a BA in International Business and German.
Some of Betsy's articles include 12 Best Places to Live in Portugal, 7 Best Places to Live in Panama and 12 Things to Know Before Moving to the Dominican Republic. Betsy loves to travel and spend time with her family. Connect with Betsy on LinkedIn.