Expats Talk about Health Insurance and Healthcare in Negril, Jamaica
Last updated on Feb 02, 2023
Summary: The quality of medical care in Negril, Jamaica is generally considered to be lower than that of the United States. However, there are several hospitals and clinics in Negril that provide basic medical services. These include the Negril Health Centre, the Negril Polyclinic, the Negril Medical Centre, and the Negril Community Hospital. Emergency services are available in Negril, and an ambulance can be called by dialing the local emergency number, which is 911.
What advice do you have for expats having a baby in Negril?
We asked expat moms who gave birth in Negril about their experiences and advice they have for other moms to be. They said:
"When planning to give birth in Negril, it is important to research your options and choose a healthcare provider that is well-regarded and experienced in providing care to expatriates. Additionally, you may wish to find out if your health insurance will cover the costs of pre- and post-natal care, as well as any delivery or related medical services. You should also contact your embassy to inquire about any specific rules and regulations related to birthing in Negril for expats. Lastly, it is important to familiarize yourself with the customs and culture in Negril related to birth, so that you can ensure a safe and comfortable delivery," remarked another expat in Negril.
Are healthcare services good in Negril?
We asked people if they have access to good medical care in Negril. They wrote:
"Negril offers a variety of healthcare services to its residents and visitors. The Negril Community Hospital provides inpatient and outpatient services to the public, and there are private hospitals, such as the Negril Health Clinic, offering specialized services. There are also pharmacies, clinics, and medical centers that offer general services for minor ailments. Negril also has a wide variety of health care practitioners, including doctors, nurses, dentists, psychologists, optometrists, and pharmacists. Additionally, a variety of alternative medicine practitioners can be found in the area as well, such as acupuncturists, herbalists, and chiropractors," said another expat in Negril.
About the Author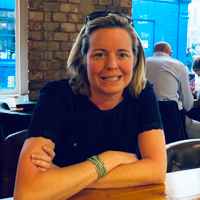 Betsy Burlingame is the Founder and President of Expat Exchange and is one of the Founders of Digital Nomad Exchange. She launched Expat Exchange in 1997 as her Master's thesis project at NYU. Prior to Expat Exchange, Betsy worked at AT&T in International and Mass Market Marketing. She graduated from Ohio Wesleyan University with a BA in International Business and German.
Some of Betsy's articles include 12 Best Places to Live in Portugal, 7 Best Places to Live in Panama and 12 Things to Know Before Moving to the Dominican Republic. Betsy loves to travel and spend time with her family. Connect with Betsy on LinkedIn.